It's been over four months since Extinction Rebellion brought London to a standstill for a two week period during the Easter holidays.
Over the fortnight, Waterloo Bridge, Parliament Square and Oxford Circus were blocked by thousands of activists, while other stunts including a "die-in" at the Natural History Museum were staged to capture media attention.
They had three demands: that those in power must tell the world the truth about climate change, to reduce greenhouse gas emissions to zero by 2025, and finally that a Citizens' Assembly on climate and ecological justice should be set up to deal with the problem.
One of the crucial, and most headline-grabbing, parts of the civil disobedience was that many of the protestors were willing to get arrested for the cause. 1130 people were arrested in London just in those two weeks alone.
But what has happened to those people since?
On Tuesday, Bristol Live reported on a senior university lecturer who broke down as he explained to the judge why his actions at the April protests were justified.
Dr Steve Melia had to take a break while giving evidence at Westminster Magistrates Court, where he faced two public order charges.
He told the court: "I never even had a parking ticket before I stopped driving 10 years ago. I have always paid my taxes, obeyed the law, so it was a big step to do this. There really was no hope left."
Magistrates found Melia guilty of failing to comply with a condition to disperse, and fined him £500, with £300 costs to pay - and a £30 victim surcharge.
Melia is one of 70 people who have been charged for offences relating to April's action. Each Friday during the summer, plea hearings are being held in City Of London magistrates court. A spokeswoman for Extinction Rebellion told HuffPost she believes all 1130 arrested in London could still be charged.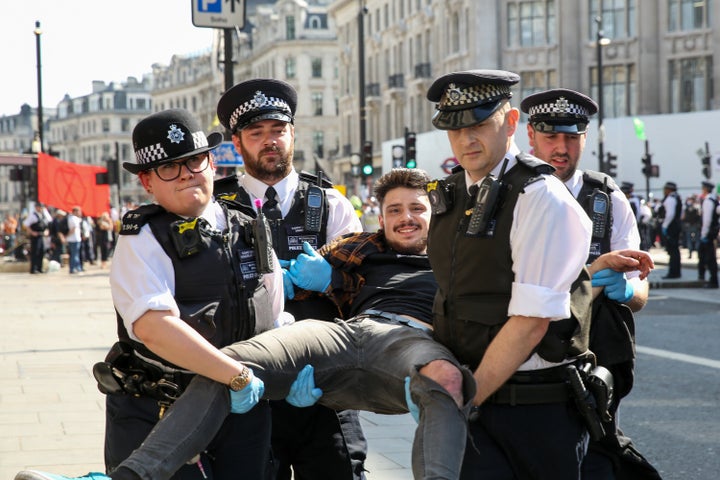 Individuals are choosing themselves whether to plead guilty or not guilty, but all are being supported and given advice on consequences and what legal representation is available by the organisation. The solicitors used are recommended by Extinction Rebellion because they specialise in protest law.
On August 21, there will be the first of a series of group trials, with defendants represented by solicitors who will argue their case. Until now most of been done individually and most have self-represented.
Some are choosing to pay for fines and charges themselves while others are being funded by an Extinction Rebellion central legal defence fund. So far more than £30,000 has been raised on CrowdJustice.
Others are being given money for charges and fines through fundraising efforts in local Extinction Rebellion branches.
Extinction Rebellion in their own numbers

Total arrests in UK: 1401 people

Number of groups: 130 groups in the UK, and 339 branches across the world.

Willing to get arrested: 3705

Willing to go to prison: 3326
Freelance editor and researcher Anthea Lawson from Totnes in Devon pleaded guilty at her plea hearing on Friday in London. She was sentenced on the spot to six months conditional discharge plus court costs, which amount to £105, which she has chosen to pay herself.
Lawson, who was arrested on the first night of the protests on Waterloo Bridge, told HuffPost UK it was the first time she had ever taken part in direct action and the first time she had ever been arrested.
"I was really in two minds [about getting arrested]. I was thinking I would be willing to be arrested but maybe I would save doing it until later in the week because I was thinking of childcare practicalities and that my husband is expecting me back."
By the evening on the first day, many people had gone home for the night and it became clear the remaining activists wouldn't be able to hold it if more people left.
"I decided to just sit there and see what happens because it would be a shame if there weren't enough of us to continue holding the bridge," she said.
Lawson says she was conscious of her privilege as a white middle class woman and is aware of the criticism Extinction Rebellion faced for potentially not taking into account experiences people of colour have with law enforcement.
"I am very aware of it. My friend who put me up before the hearing is from Indian origin and she said there was no way she would have done it. I am glad I am able to do it when others can't."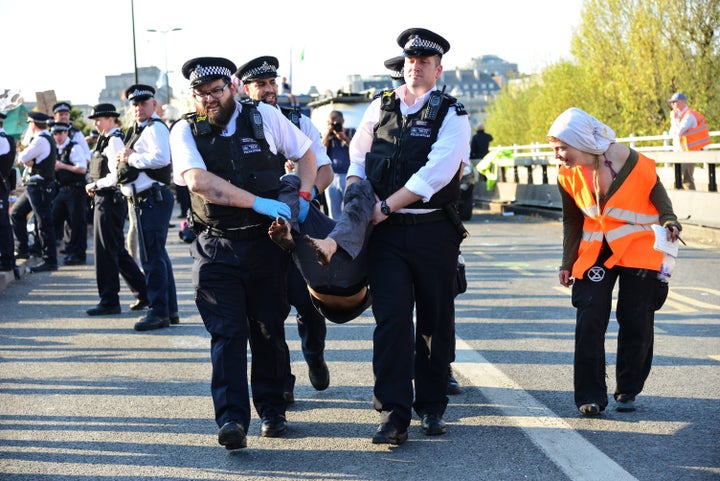 Another reason she said the experience has been worth it has been the number of conversations it has sparked with family, friends, neighbours and even a man on a train she met on the way home to Devon after her day in court.
"I just look like a middle-class mum at the school gate, which I am, and somehow doing something this outlandish takes people aback and it starts a conversation," Lawson says.
The fact that many of those who took part in the civil disobedience weren't seen as typical climate change activists is one reason Extinction Rebellion has received so much attention.
Many taking part were retired. Phil Kingston, aged 83, is thought to have been the oldest person arrested during the demonstrations. He clambered onto a DLR train at Canary Wharf on 25 April.
Lawson says many in the Totnes group are retired and are willing to go to great lengths to make the point about the climate emergency. "This group of grannies here have got nothing to lose. I'm quite sure some of them are prepared to go to prison," she says.
In court on Friday, Lawson said it was like a production line with all those pleading guilty going in one after the other. She chose not to have legal representation but did speak in court.
"My hands were shaking. I was nervous but also I had a similar feeling to how I felt on that bridge which is a combination of 'I never thought I would be doing this' and 'this is exactly what I should be doing'."
She chose to plead guilty for practical reasons. "It's the summer holidays, I'm freelance, I've got some big deadlines coming up and there is another rebellion happening in October that I would like to take part in."
An electrician from London, who cannot be named for legal reasons, is one of two thirds of those who have been charged who has decided to plead not guilty. His trial will take place during autumn.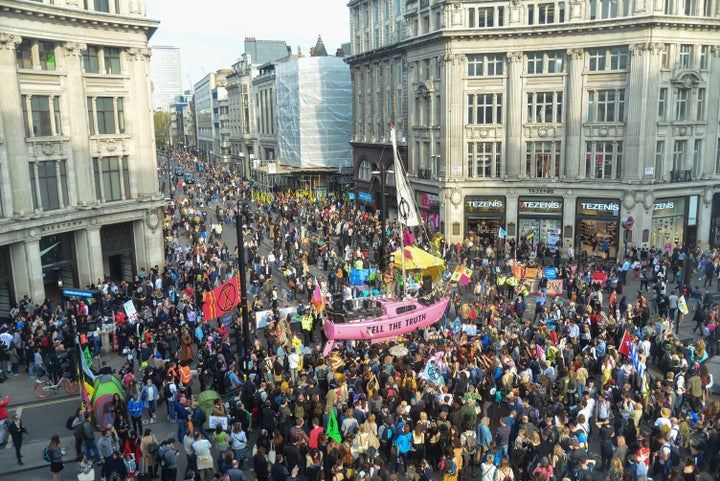 He first heard of Extinction Rebellion last year and decided to go and watch a smaller bridge-blocking protest that took place in November. By March this year he had decided to get involved and took part in non-violent direct action training.
The tactic used by Extinction Rebellion is for activists to not resist arrest, but they don't co-operate either. The key way they do this is to go limp when they come into contact with the police.
"After you do the training, you split up into your local areas and form what's called an affinity group. You have different roles so if you have 10 people, you might have two or three who are up for getting arrested," the activist says.
The other people take on different roles including wellbeing, arrestee support and legal observers. This meant XR were easily able to ensure those who got arrested felt supported.
"There were four people waiting for me outside with food and drink. It was lovely. They gave me a lift back," he says.
"I was a little bit nervous and as soon as they arrest you, it kind of sets in what you have done. It was mainly just boring though. We were kept in a room for nearly 24 hours because they were deciding whether to charge us or not."
Solicitors working pro-bono were on hand to provide legal advice about what to say in interviews and if they were charged.
Later legal firms took on groups of protestors as clients if at least two or three of the group were able to claim legal aid. Others, particularly those who have decided to plead guilty like Lawson, have chosen to represent themselves.
The man's family are behind him – his mum had actually travelled down from Yorkshire to take part in April's protest herself – but some of his friends are bemused by his willingness to get arrested.
He says he is convinced Extinction Rebellion needs to step things up and people need to be willing to go to prison, because he believes nothing will change unless people are willing to make a sacrifice.
"The situation is so bad, I don't think people are really aware of the consequences. When we talk about the climate and how there will be food shortages due to harvests failing, people aren't really putting the two together and realising it will mean society is going to breakdown. We aren't preparing for this.
"Climate denial is still happening and you are hear commentators on talk radio shows just openly calling us eco-loons and nutcases and saying it's a cult. They are trying to make out we are doom-mongers but it's becoming backed more and more by science. We are not crazy.
"It's becoming clear, we are heading for something quite bad now and it could only be five or ten years away."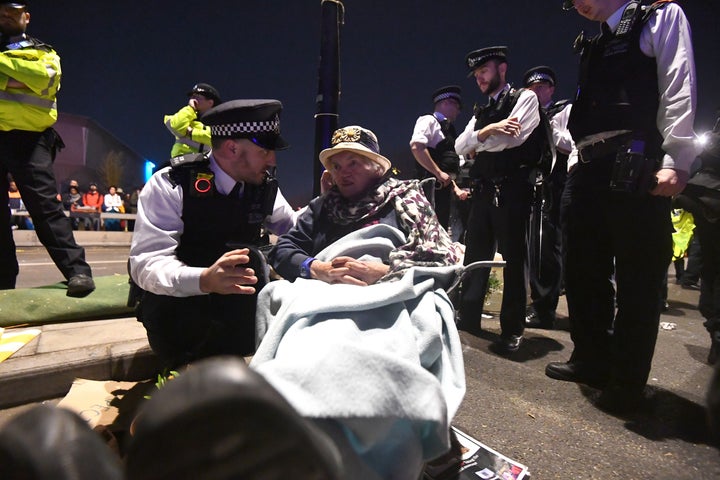 Nuala Gathercole Lam, a spokeswoman for Extinction Rebellion, says the main motivation for so many people getting arrested is to create a dilemma for the authorities.
"We're in this crazy situation where we're hurtling down the road towards climate collapse and people have tried all sorts of things for years to bring the issue to the attention of authorities to get an adequate response so we can protect ourselves from what's coming.
"That hasn't happened and so based on research about what brings about social change, a set of tactics was designed to create dilemmas," she said.
Lam says large numbers taking part in civil disobedience means authorities need to decide whether to crack down on it and use force, which would a negative reaction given the protestors are peaceful. The alternative, to leave them be, means continued disruption, such as shutting down central London for 12 days.
She says Lawson isn't the only person who had never carried out direct action before and was also willing to get arrested.
"People do it as part of a movement and with the best support network in place that we can master. It's not the same as going out and doing it alone.
But, she adds, "It's still a hugely brave and scary thing that people are doing."
Additional reporting by Josh Kent.