Facebook has unveiled a new feature in Messenger that could have us all talking to fewer human friends and more robots.
The company introduced Messenger bots at its developer conference, F8, designed to attend to your every whim and need when it comes to the weather, traffic, shopping and pretty much anything else needed for modern day life.
So far, the bots include 'Poncho,' which will send you local weather reports, 'Spring,' a personal shopping assistant, and a few other news bots that will give you the latest headlines.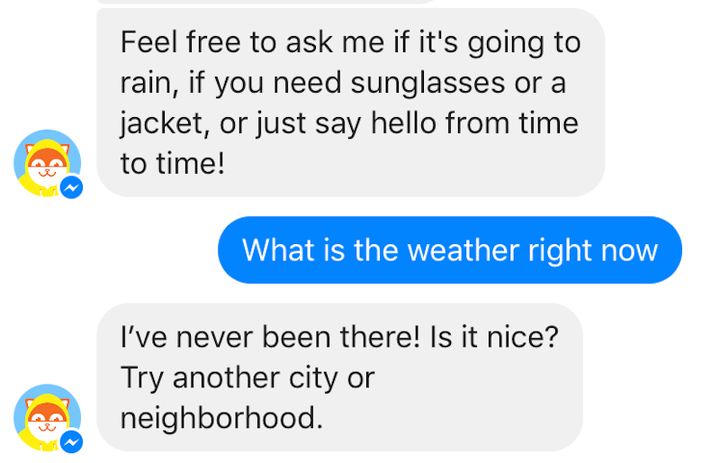 As you can see from the conversation above, the bot's responses could easily engage you in a conversation that is similar to one you could have with a human friend.
More than 900 million people use Messenger every month and it was dubbed the fastest growing app in the US in 2015.
Facebook explained that the bots are designed to make interactions between businesses and customers easier.
However, given how the Internet reacted to Microsoft's bot, Tay. online bot-based communication could get hairy.
iAdvize, a company that specialises in online customer service, stated that Tay is one of the reasons why Facebook's bots won't do away with human-to-human interaction.
Julien Hervouët, CEO of iAdvize, told the Huffington Post UK "these bots won't replace humans, especially now that customer conversations have become so important, especially evidenced by the recent controversy surrounding the abusive AI bot Tay, which had to be turned off within 16 hours.
"Instead, bots and human agents are complementary when it comes to offering the best customer experience possible".
Popular in the Community