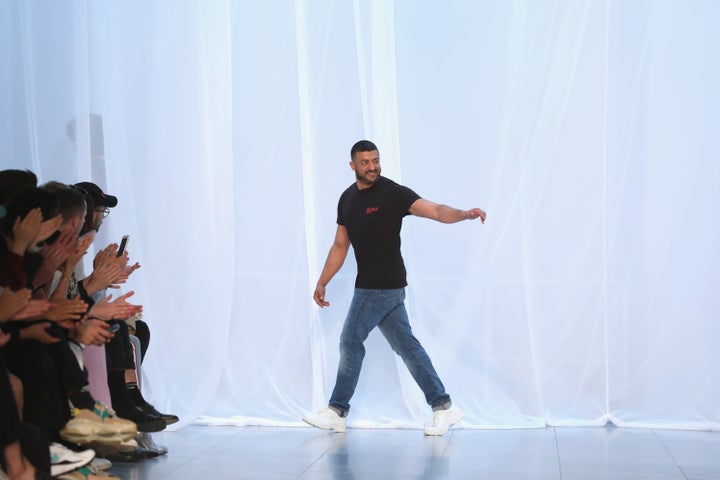 A fashion designer who is the son of the Emir of Sharjah has died suddenly aged 39.
Khalid Al Qasimi, a crown prince who founded an eponymous fashion brand in 2016 and had shown collections at London and Paris Fashion weeks, was found dead in a Knightsbridge penthouse.
He was the second son of Dr Sheikh Sultan bin Mohammed Al Qasimi. Three days of mourning, with flags flying at half mast have been announced in the United Arab emirate following the death of Qasimi, who was described as a "great philosopher and artist".
Photographer Mariano Vivanco was among those paying tribute, calling him "my angel". The UK's ambassador to the UAE, Patrick Moody, expressed "deepest condolences" to Sharjah's royal family.
Details around Qasimi's cause of death have not been released, though a source told The Sun: "There had apparently been a party where some guests were taking drugs and having sex.
"It is suspected that Sheik Khalid may have died suddenly as a result of taking drugs. As well as the police inquiry, an urgent internal probe has been ordered and staff have been ordered to keep quiet."
A London Ambulance Service spokesman said: "We were called at 10.32am Monday to reports of an incident on Knightsbridge, SW7.
"We sent an ambulance crew and a medic in a car to the scene. Sadly a person was pronounced dead at the scene."
The spokesman was unable to confirm what the victim was treated for.
His father posted on Instagram about the death, saying: "The arrival of the body of the deceased and prayers upon him will be announced."
Qasimi studied architecture and fashion design at Central Saint Martins in London and was the brother of Sheikh Mohammed bin Sultan Al Qasimi, who died of a heroin overdose in 1999.
The ruler of the Emirate state of Sharjah found his eldest son dead on the floor of his quarters in the family's £3 million English manor house in Sussex, an inquest heard.
Qasimi moved to the UK from the UAE when he was nine.
The designer was educated at Tonbridge School where he was awarded an art scholarship upon entry, and went on to read French and Spanish at University College London, subsequently completing a degree in architectural studies at the Association School of Architecture, his website said.
He later studied architecture and fashion design at Central Saint Martins in London, and launched his first fashion label, Qasimi Homme, in 2008.
A statement on the Qasimi website said: "Khalid was praised for his tenacious yet sensitive exploration of social-political issues, particularly pertaining to the Middle East and its sometimes strained relationship with the West, a subject very close to his heart and upbringing.
"His goal was to create 'a world of beautifully crafted products infused with cultural, social and political undertones to inform and inspire'.
"The design world has lost a great philosopher and artist."
It said Qasimi is stocked in 50 stores in 30 cities and 15 countries worldwide.
The Met Police are treating his death as unexplained. A post-mortem examination carried out on Tuesday proved inconclusive and further tests are being carried out.
No arrests have been made.