Nothing says 'Happy Father's Day' more than a homemade gift from kids, no matter what the creation ends up looking like.
Help your kids rustle up a personalised present by getting crafty before the big day.
We've scoured Instagram to find out what parents have been making with their kids previously to give you a bit of inspiration.
Easy to pull together with colouring crayons and coloured paper. Make the gold paper into a flap where your child can write underneath why their dad deserves the medal.
As the majority of cards and Father's Day presents seem to involve ties, the crafts do, too.
Cut out a tie shape and give your child the pens and paint to decorate it how they like.
Cut out paper stationery for your child and get them to write notes to their dad on each separate piece, then stick it all in a paper tool kit.
Whatever sweets your dad would prefer, chuck it all in a mason jar with the note "We love you to pieces" on the side.
Who said Father's Day gifts couldn't be silly things that they'll never use again? These 'Dad' glasses will be perfect for photo opportunities for the day (and will no doubt embarrass him).
Create a piece of artwork using thumb or finger painting as a tree, then slot it in a frame with a Father's Day message. Easy.
Grab any old apron, or buy a cheap one from the shops, and give him the chance to have his own personalised pinny.
The kids can write their own messages and draw pictures that best represent their dad.
Let your kids tell their dad they rock... with rocks. Use paint and permanent markers to decorate them - they could be handy paperweights one day.
Requiring only coloured paper and a pair of scissors, this extendable paper chain with one hand at either end is an easy win.
10. Lolly stick pen holder
One for their dad's office? Stick a long line of lolly sticks onto a horizontal piece of card, then roll around to make a pot. Then, they can decorate as they see fit.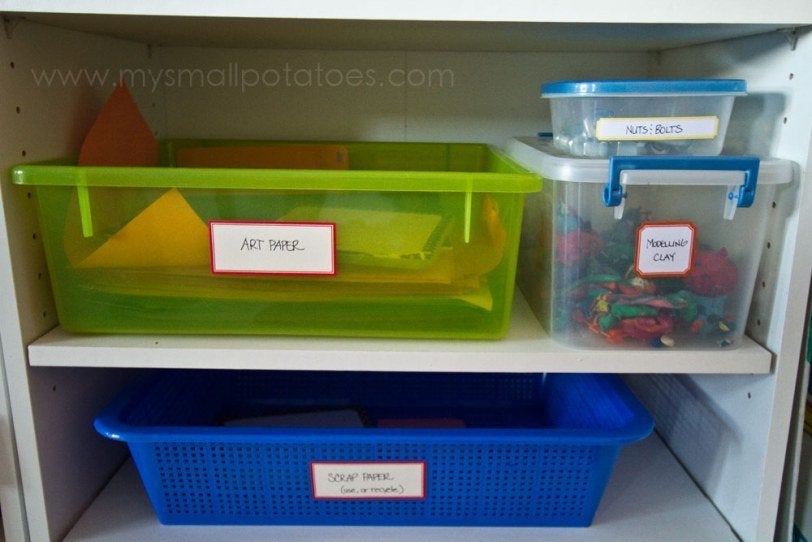 19 Hacks To Make Kids' Craft Time Less Messy