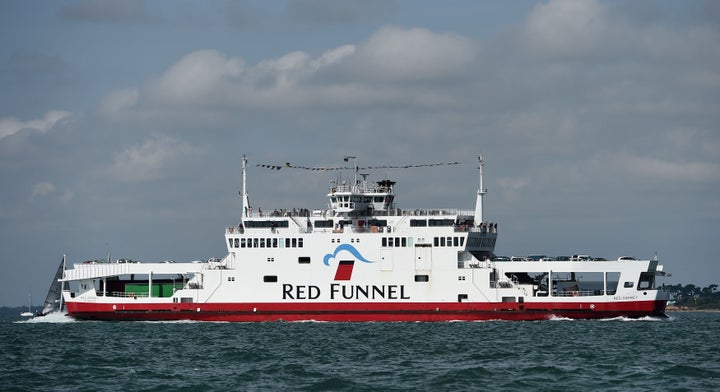 A rescue operation took place after a Red Funnel ferry ran aground and crashed into two yachts on the Isle of Wight.
The vessel, named Red Falcon, hit the boats after travelling through a thick fog at 8am on Sunday, said ferry company Red Funnel.
It was attempting to berth at Cowes Harbour, which has since reopened.
HM Coastguard received a 999 call at the same time from a member of the public reporting he had heard cries for help in the harbour.
The person is now safe and well, the Maritime and Coastguard Agency said.
None of the 56 passengers were injured aboard the "watertight" vessel, HM Coastguard said.
Nobody was missing or found in the water following a search by lifeboats from Cowes and Calshot.
The MCA said: "#HMCoastguard can confirm that nobody is in the water or missing in #CowesHarbour. We made contact with person who was heard crying for help and he is safe and well.
"He was onboard his own vessel and calling out to try and alert the master of the ferry #allsafe."
Witnesses to the incident are urged to contact the the Maritime and Coastguard Agency via the email enforcement.unit@mcga.gov.uk.
Red Funnel said in a statement: "The ferry involved in the grounding incident at East Cowes in dense fog this morning has been refloated and all passengers and vehicles have been safely discharged.
"A revised vehicle service will operate for the rest of today. More details to follow."