The coronavirus outbreak is causing misery for thousands of people already engulfed in the Grenfell cladding scandal, with residents revealing fresh fears of financial hardship on top of major concerns about their health and safety.
People living in tower blocks covered in dangerous cladding had hoped a nightmare was over after the government last month announced an extra £1bn to remove all unsafe coverings – rather than just the aluminium composite material (ACM) cladding that was blamed for the rapid spread of the 2017 Grenfell Tower fire, which ripped through the building and claimed 72 lives.
Estimates suggest 500,000 people have been living with unsafe cladding as building owners refused to take action.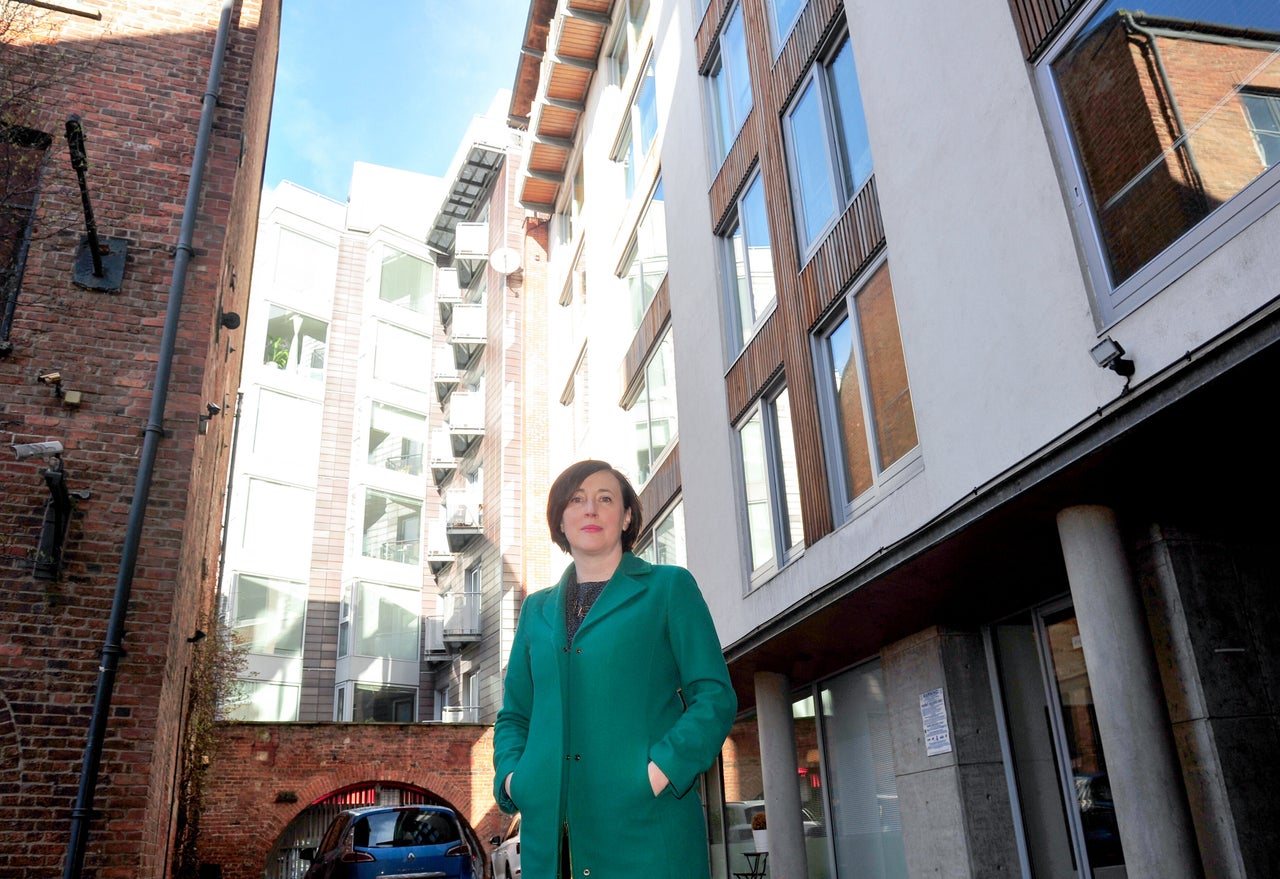 But despite a cautious welcome to chancellor Rishi Sunak's budget announcement, affected residents have since discovered the cash does not cover temporary fire safety measures that those in unsafely clad buildings have been forced to implement just to stay in their homes.
The most common measure is 24/7 fire wardens, or round-the-clock "waking watches", which can cost thousands of pounds a month.
Freedom of Information requests by HuffPost UK can reveal the full scale of the "waking watches" introduced across the UK, with at least 372 blocks of flats having one in place after a change in government guidance 18 months ago. These watches are costing some people as much as £840 a month – more than their monthly mortgage payment.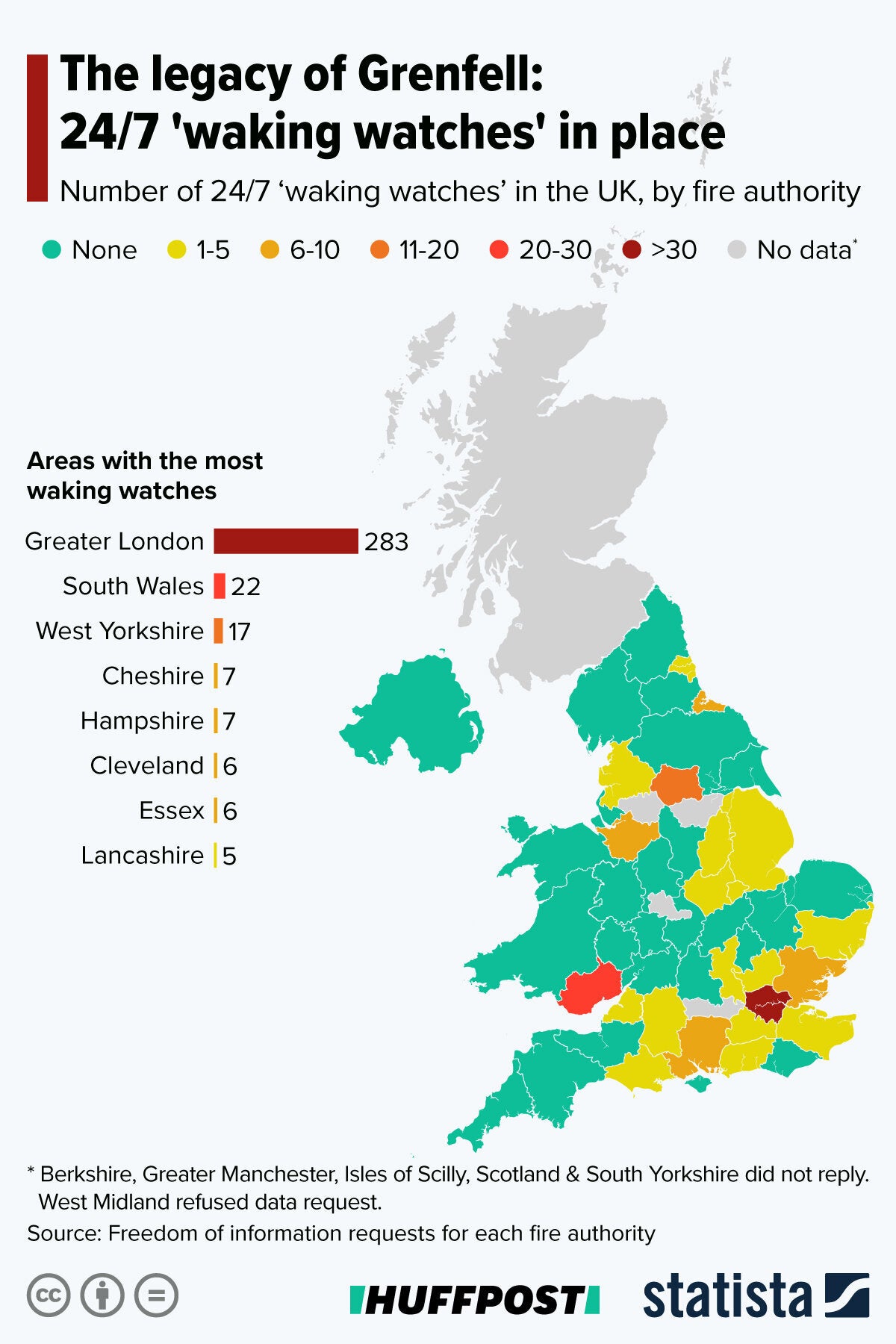 The figure is likely to be significantly higher since two the largest fire authority areas – the West Midlands and Greater Manchester – were among those that refused to respond.
Meanwhile, the National Fire Chiefs Council has issued updated guidance to brigades since the FOIs were submitted warning that maintaining fire safety is "paramount", with more people staying at home because of the coronavirus lockdown.
The cost was already causing financial and emotional misery for these homeowners before the coronavirus outbreak. Now those affected are concerned that this apparently temporary measure will be "indefinite" as UK life is put on hold and work to remove cladding is certain to be delayed.
What's more, the cost will be an even heavier financial burden as people lose their jobs as a result of the coronavirus slowdown, and home insurance companies increase premiums as a result of the lockdown.
Rachael Loftus, who lives in the seven-storey Timblebeck apartment block in Leeds that has a "waking watch", said she initially hoped the government funding would end the nightly fear that she would "burn in my bed". But she has now heard "heartbreaking stories" from others also caught in the same parlous position and says "the double whammy of Covid and cladding are pushing people to breaking point".
She told HuffPost UK: "For my building, the delays caused by Covid means that our waking watch will now probably continue indefinitely.
"We can't stop worrying about the fact that the costs caused by this are just mounting, and even if [building owners] aren't now demanding the payment straight away, we know those bills will be charged to us one way or another."
"It was unbearable before, to face mounting bills. Now it is crippling."
"Waking watches" are now common after the Ministry of Housing, Communities and Local Government (MCHLG) issued new guidance in June 2017 to ensure buildings with dangerous cladding, or other fire-related defects, were safe.
If the building's "responsible person" – usually the freeholder – fails to meet the guidance, a local fire brigade can issue prohibition notices to remove people living in a building.
But the "waking watch", typically provided by a fire safety company, can be expensive and is passed on to tenants, freeholders or renters. Residents in one block spoken to by HuffPost UK are paying £10,000-plus a month between them and have spent almost £500,000 in total.
Even before the coronavirus outbreak in the UK, neighbours spoke of how the strain caused by the "waking watches" was a more immediate burden than removing cladding.
They still say they feel trapped in their homes because the properties are impossible to sell since they are effectively worthless, which has knock-on effects for moving jobs, getting married, having children and retiring. Many of those affected have taken to social media to make public the added impact of having to deal with the consequences of coronavirus.
In Leeds, Rachael is also now concerned the "waking watch" undermines social distancing principles. "The very nature of the waking watch is for those people to go from door-to-door, realistically ensuring that germs are shared with every door handle in the place," she said.
"So it will only take one person being sick for this to spread, even while we are all doing our best to maintain isolation. I have rheumatoid arthritis, which means this is a particular concern for me."
Some of the residents are self-employed and are struggling for work, or have been furloughed because of coronavirus. More people in the building adds to the fire risk, but the lack of work also means they will struggle to pay the "waking watch" costs.
"Even with the 80% of salary and £2,500 maximum guarantee from the government, the fact that almost £1,000 is already spoken for in waking watch fees is still a huge cause for concern.
"So it was a huge blow that the interim costs were not included in the government's budget announcement. And unfortunately now, the situation is exacerbated by the fact that 'interim" looks like it has become 'indefinitely'.
"It was unbearable before, to face mounting bills with no control – now it is crippling. For the people who are working hard to fight this crisis, to be in an unsafe home and ever increasing bills just adds to the stress they are under. For the people who have lost their income, they don't know how they will ever be able to pay the bills."
The impact of the "waking watch" charge on their lives ranges from the seemingly trivial to delaying life-changing decisions. Rachael says even before the outbreak she gave up pilates and swimming classes. "They which might sound like luxuries but both of which I started following major back surgery two years ago and have been key to my recovery."
She says she thinks about her neighbours a lot: "There's a couple with a new baby, a young couple planning to get married, a guy who gave up work last year due to stress and who really needed a few months of quiet and recovery, another who took out a pay day loan to pay the £800 insurance hike that we had last year.
"The stress of these costs alone, and not knowing how long these might go on for, is what is sending us all insane."
Abi Tubis, who lives in the 12-storey St George's Building in Leeds, is also facing a "waking watch" in place for "the foreseeable future". She told HuffPost UK: "We've had our yearly service charge issued and blended into it is £1,230 for waking watches so we know they're not ending any time soon.
"In regards to costs we've got a relativity 'cheap' waking watch at £100 a month, but now being on furlough paying for things, the waking watch become even more frustrating."
London has the largest number of known "waking watches", with 283 in place. At the 10-storey Northpoint towerblock in Bromley, south London, the total waking watch bill is £450,000 and counting. Efforts to bring down costs by residents carrying out their own watch was thwarted by the insurance company insisting an outside agency perform the task, overruling the fire brigade.
Ritu Saha, a leaseholder at Northpoint, reckons it will cost between £2.5m and £3m to strip the building of cladding. They have received £50,000 from the government to carry out a full survey, but a timetable of work before the outbreak suggested the earliest the cladding could start to come off the block was September. "So we will have at least another seven months of this at £11,000 a month," she says.
"There is unfortunately no light at the end of the tunnel for us. Seeing how our building was first off the bat, imagine the plight of other buildings that have not even reached these preliminary stages yet."
John Healey, Labour's shadow housing secretary, said the government has been "off the pace at every stage since the terrible fire at Grenfell Tower" and it was "shameful" hundreds of buildings are still covered in dangerous cladding.
He continued: "While the coronavirus pandemic is affecting the lives and livelihoods of everyone, high-rise residents are still being forced to pay for every day of delay with expensive 'waking watch' and other interim fire safety measures.
"Enough is enough. Ministers must ensure dangerous cladding is replaced and protect residents from carrying the cost, by legislating to force block owners to do and pay for this vital work."
An MHCLG spokesperson said: "Residents' safety is our utmost priority and we have repeatedly made clear that building owners must ensure their residents are safe in their homes.
"Building owners should do all they can to make sure that building safety risks are fixed, and interim safety measures should only ever be short term until this work is completed.
"Cost should not be a barrier to remediation and we have provided £1.6bn to remove and replace unsafe cladding systems from high-rise residential buildings."