With teachers who wash their students' clothes and make up for missed Christmas presents – all with the utmost discretion – one primary school in Lancashire has been awarded the title of happiest primary school in Britain.
Flakefleet School in Fleetwood, Lancashire, won the accolade thanks to the amazing lengths teachers go to in supporting their pupils.
Crowned the winner at the National Happiness Awards, hosted by training organisation Laughology, the school was recognised for putting happiness at the heart of its day-to-day workings.
In its nomination, head teacher Dave McPartlin said the school is in a deprived area in Lancashire, where poverty is on the increase.
"Over the last few months staff have had to help feed our children, wash their clothes and provide presents at birthdays and Christmas when necessary," he wrote. "This is all done whilst helping everyone keep their dignity as nobody should ever be too proud to feel unable to ask for help."
Speaking to HuffPost UK about the win, McPartlin said: "We were all thrilled to be shortlisted for the nation's happiest school but to come out overall winner is the stuff dreams are made of. We're amongst a growing number of schools and businesses that recognise that a happy workforce is a more productive one. It goes without saying that happy learners will do better in school.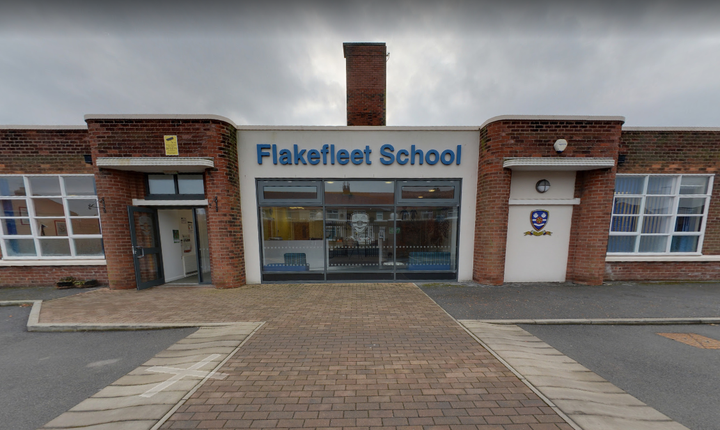 The judges recognised the many steps the school to ensure pupil and staff health and wellbeing was high. "Thanks to the dedication of staff and the sense of community they have built, in the last two years the school's reputation has grown and it is now almost full for the first time in over a decade," an awards spokesperson stated.
McPartlin told HuffPost UK the win comes on the back of some exciting events at the school, including its mock Royal Wedding with horse drawn carriages, a helicopter, a number of TV and press crews and international press coverage.
"In an attempt to encourage our children to have aspirations and believe that anything is possible, we are now embarking on our next challenge which is to secure the Christmas top spot as part of our #daretodream campaign," said McPartlin. "If Leicester City can win the Premier League, why can't we get our kids to Number 1 for the festive period. Watch this space!"
Teachers at the school also recorded a hilarious video on what teachers do when the kids go home from school, which has more than 1,000 views on YouTube.
And they even featured on Newsround after the kids reenacted Meghan and Harry's love story shortly before the wedding this year.
The National Happiness Awards were launched three years ago by learning and development consultancy Laughology. The awards honour the happiest schools, teachers, businesses and organisations in the UK. Around 200 organisations and individuals entered this year.