Florence + The Machine star Florence Welch urged the capital to "come together" during a euphoric headline set at Saturday's Hyde Park British Summertime Festival.
Speaking before an impassioned performance of 'You've Got The Love', the 29-year-old vocal powerhouse implored the crowd to "love one another and look after each other".
Welch, who was clutching a rainbow flag and had changed from her light blue gown (pictured) into a billowing red dress, said: "I have been feeling a bit heartbroken recently, but tonight I have been feeling so much love."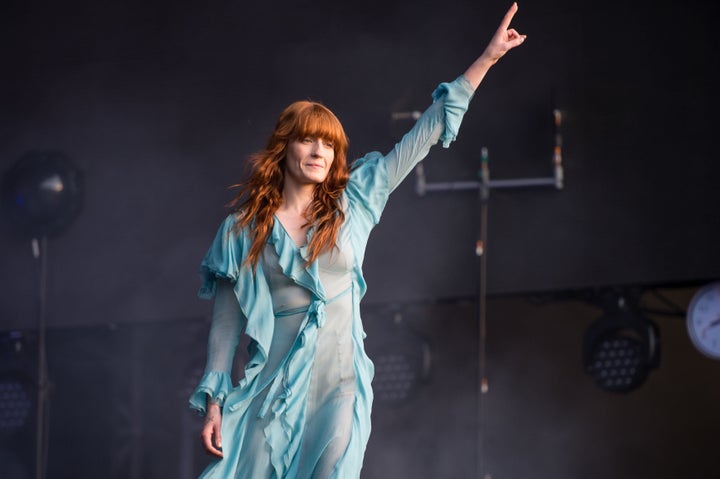 She added: "I see so much love in each and every one of you, the love you have here I see so clearly, take it out there with you.
"The world needs more love, no matter where you are from, we need to come together to love one another and look after each other."
Welch, who claimed the crowd was the biggest she'd ever performed to in London, was in her element on Saturday.
The red head spent much of her set running and leaping - barefoot, of course - across the stage, while slow-motion footage of her writhing around beamed out of the huge screens behind.
The most electrifying point of her performance was (perhaps unsurprisingly) for 'Dog Days Are Over'. Welch told the crowd to embrace those next to them and remove an item of clothing and twirl it around their head. Cue a sea of spinning T-shirts, bras, and even knickers.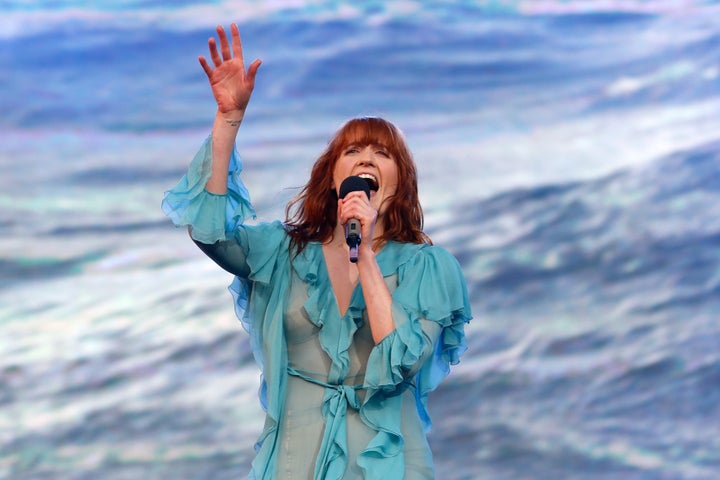 As a woman with such an iconic and powerful singing voice, her spoken voice is quite the opposite: soft, honeyed and breathy.
So when she stopped between songs to thank the crowd and talk about the power or personal relevance of each song, her sincerity and humble nature makes it little wonder she has such an adoring and enduring fan base.
The star and her band, who were urged back on stage for an encore by the crowd, ended on smash hit 'Drumming Song', from the 2009 album 'Lungs'.
Her set also included 'What Kind Of Man' and 'Shake It Out'.
Welch headlined the second day of Barclaycard Presents British Summer Time festival, following performances from Kendrick Lamar, Jamie XX, Cat Power, Blood Orange and The Odyssey.
True to British "summer time", the weather brought brilliant sunshine alongside heavy downpours. Thankfully the skies had cleared for Welch's set, but revellers were well and truly soaked during Jamie XX's performance.
And for those after Florence + The Machine's full set list...