A Tory prime minister facing questions over whether he still believes in free market capitalism one month into office is truly a rare thing.
But Boris Johnson's decision to rescue airline Flybe from the brink of collapse has prompted just that, as well as causing fury in the industry and raising eyebrows across Westminster.
"It shouldn't come as a shock to you," a No.10 source said, as reporters questioned whether Johnson was living up to his billing as a "Brexity Hezza" - a reference to interventionist ex-cabinet minister Lord Heseltine.
And Tory insiders across the board have told HuffPost UK that the decision to bail out an ailing company in the name of protecting regional connectivity very much sets down a marker for how the Johnson government, with Dominic Cummings pulling the strings, will operate.
Downing Street pointed to Johnson's mission to "level up" the UK by boosting the regions through infrastructure investment, having won an 80-seat majority by taking seats traditionally starved for investment.
The move follows the trend set by one of the party northern "blue wall" trailblazers, Tees Valley mayor Ben Houchen, who saved the local airport by nationalising it, in an ideologically surprising move for a Tory leader.
But it is one that is paying dividends for Houchen's constituents, many of whom are first time Tory voters.
The thinking behind Johnson's decision on Flybe was similar – to save regional routes between places like Belfast, Newcastle, Newquay, Aberdeen, Exeter, Cardiff and Birmingham, used by eight million people a year that would have disappeared had the airline gone bust.
"The PM is concerned about infrastructure and regional connectivity. He has set that out many times and I think that is the very clear reason why [the government helped Flybe]," the No.10 source said.
And Houchen himself said: "Once these critical air links are gone, be it through a regional airport closing or the loss of airlines that serve the regions, they rarely ever come back. For our regions to prosper we need strong air links."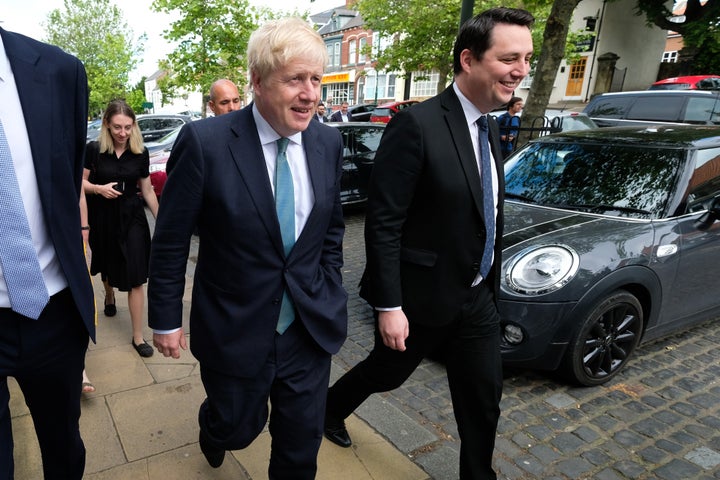 One Tory MP, seen as a rising star in the party, said: "It shows three things – job losses in the regions is something we will not tolerate; the government is not economically liberal – we will intervene on the side of people regardless of longer term, wider impacts of that; and the treasury is not going to be an obstacle to doing this."
Moreover, there is little resistance within a party seen as the guardian of the free market.
"No one is really thinking yet, all are in post-election euphoria," the MP said, adding: "The economically liberal right is smaller than you think."
They conceded it raises questions in the long run about "what happens to a low tax, economically liberal agenda".
But now it appears that Johnson, along with a figure like Cummings who has strongly criticised the Tory party, is not going to be wedded to the ideologies of the past.
"Across government the main focus has been on delivering the people's priorities, rather than being driven by ideological whims," one Whitehall source said.
"Previous Tory governments might have made some philosophical determination that this is just the market working effectively, the state shouldn't subsidise failure and so on.
"But this government just works out what people care about and does it."
Back during the election, a Tory insider from the same Vote Leave clan as Cummings pointed toward the direction of travel, insisting the PM's chief of staff "is not obsessed with free trade".
And this could shape what the government prioritises in its Brexit trade deal talks with the EU over the coming year.
"Dom's view is reshape the economy," they said, "and the advantage of free trade is less about getting cheap sweatshirts from China, and more about being able to use state aid and government policies, increasing research spending, with the pressure of imports driving up standards.
"You restart as a tiger economy with a degree of protectionism at first and then, when you are starting to thrive, open up."
The classic Labour-Tory divide is now "old", they said.
"I think there will be a post-financial crisis consensus when you look back in 20 years.
"And it will be a mix of resetting industries, tighter on immigration, public funding for specific areas – NHS, education and police and so on – and I think that will be the consensus.
"I think the Tories are adjusting to it and Labour are not yet."
The change in approach has, however, caused fury in the airline industry, and hints at potential trouble ahead.
British Airways owner International Airlines Group (IAG) has filed a complaint with the EU, arguing the rescue deal for Flybe breaches state aid rules and gives the struggling airline an unfair advantage.
Downing Street has since insisted there has been "no state aid to Flybe" and any support that is given to the firm would be on "strictly commercial terms".
But IAG chief Willie Walsh branded it a "blatant misuse of public cash".
Labour meanwhile branded it an "ad hoc corporate welfare which once again benefits Richard Branson [whose Virgin Atlantic has a 30% share of Flybe's parent firm Connect Airways]".