High street store Forever 21 has pulled a range of boys' T-shirts from stores after they were called out for being 'sexist'.
The slogan tees, marketed to children aged five to 14, bare the slogans 'Sorry ladies I only date models', 'Chicks are all over me', and 'Ladies man'.
After psychologist and parenting author Christia Spears Brown told Yahoo! Style the clothing was "completely inappropriate", the shop removed the range from stores and stopped selling it online.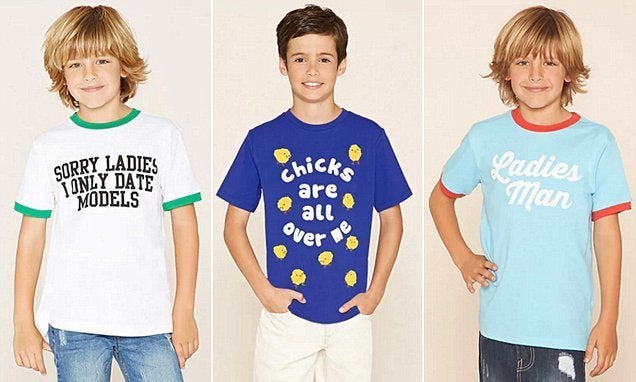 Brown said the messages on the T-shirts were particularly damaging as they sexualise children at a young age and reinforce the "harmful stereotype about boys that says their value and worth is dependent on how many girls or women they can 'conquer'".
Along with pulling the clothes, Forever 21 also released a statement, "sincerely" apologising to those who were "offended by the products".
This isn't the first time the brand has come under fire for controversial T-shirts. Earlier this year it were accused of "promoting rape culture" for selling a men's tee with the slogan 'Don't say maybe if you want to say no'.
Related