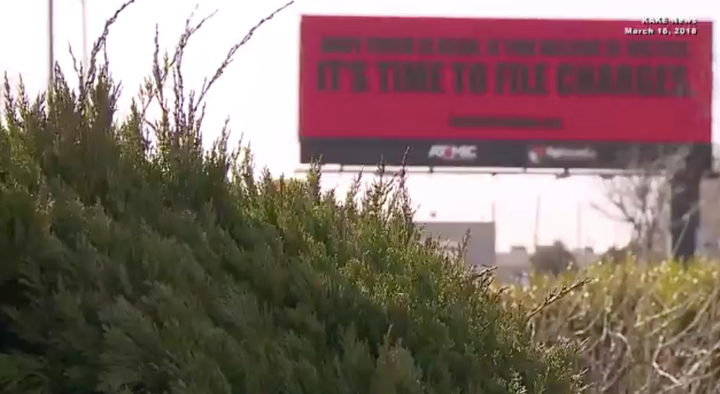 Four billboards have appeared in Wichita, Kansas; all of them bearing the same somber message: "Andy Finch is dead. If you believe in justice, it's time to file charges."
In December, a Wichita police officer fatally shot Andy Finch after a fake emergency call directed law enforcement to the 28-year-old victim's home. A man in California has since been charged with involuntary manslaughter for the so-called "swatting" hoax call, but the victim's family and community activists have repeatedly called for the officer who killed Finch — who was unarmed at the time of the shooting — to come under greater scrutiny. The officer has not been charged with a crime.
On Friday, local news outlets reported the appearance of the billboards around town.
The massive ads seem to be a nod to the film "Three Billboards Outside Ebbing, Missouri," which revolves around a distraught mother's crusade for justice following the murder of her daughter.
Like the billboards in the film, the ones in Wichita featured bold black letters on a plain red background.
As the Wichita Eagle noted, it remains unclear who's responsible for the ads about Finch. A website listed on the billboards — JusticeforAndy.org — describes itself as being run by "members of the community."
Finch's mother said last week that she was grateful for the gesture.
"Complete strangers are willing to do stuff on behalf of my son, and to a grieving mother who lost that son, I cannot describe what that means to me," Lisa Finch told KWCH-12. "It makes it just a little easier to deal with to know that so many people care about what happened to my son."
Finch's family, as well as community activists, have been calling for the Wichita Police Department release the officer's name publicly and to file charges. "I want it to be made public. I don't know why he gets to hide," Lisa Finch said last month after her family filed a lawsuit against the city of Wichita.
The suit urged the city to identify the officer and to reform a police department that has, according to the filing, exhibited a pattern of "unjustified use of excessive and lethal force."
In December, less than a day after Finch's death, a 25-year-old man named Tyler Barriss was arrested in Los Angeles in connection with the killing.
Barriss has been accused of making a prank phone call to Wichita police, in which he falsely claimed to have shot his own father. He also allegedly said he was holding two other people hostage inside a home in the city and gave a local address, which turned out to be the home of Finch and his family.
When police cars pulled up, Finch stepped outside to see what was going on and was shot when he came to the door. Police have said Finch did not obey a command to keep his hands raised in the air, reported KWCH-12.
According to the Los Angeles Times, an online argument between two "Call of Duty" gamers triggered the hoax call to police. Neither Barriss nor Finch was involved in the disagreement, but Barriss was reportedly contacted by one of the gamers because he's known in the gaming community for swatting — a dangerous online prank that involves filing false emergency calls to police that could trigger a SWAT team or similar law enforcement response.
The gamer allegedly asked Barriss to swat the other player, who is said to have provided Finch's address as his own. The Wichita Eagle reported that player may have previously lived at Finch's address.
Finch's death has been described as the first fatal swatting incident in the U.S.