"Fox & Friends," a cable news show known for its friendly coverage of President Donald Trump's administration, sent interview questions in advance to Scott Pruitt's staffers on multiple occasions before the then-Environmental Protection Agency head appeared on the show.
Pruitt's team also approved topics of discussion and reviewed at least one script sent by "Fox & Friends" producers ahead of Pruitt's on-air interviews, according to emails first reported by The Daily Beast and obtained by HuffPost.
As noted by The Daily Beast, cable news producers often discuss possible interview topics with subjects in advance, but allowing public officials to dictate the scope of the discussion is widely frowned upon in journalism and hinders the media's role of holding officials accountable.
"This is not standard practice whatsoever and the matter is being addressed internally with those involved," a Fox News spokesperson told HuffPost in a statement.
The Fox News spokesperson did not respond to a follow-up request for comment about whether the show's producers had worked with any other public officials in such a manner.
The Associated Press reported later Tuesday that Fox News said it was disciplining employees involved in the email controversy. Fox News would not say who was being disciplined or what that discipline involved, according to the AP.
The email exchanges, revealed in a Freedom of Information Act request submitted by the Sierra Club, included discussions around multiple "Fox & Friends" appearances in 2017.
Elena Saxonhouse, an attorney for the Sierra Club, told HuffPost it was disappointing but not totally surprising that Fox News had let Pruitt "off the hook."
"The problem is that Pruitt had a lot to answer for and the EPA still does have a lot to answer for in terms of how they're letting the public down and putting polluter profits over public health," Saxonhouse said.
"There's so much that journalists should be pressing them on," she added. Fox News "missed an opportunity to provide really important information to the public about what's actually going on."
On May 16, 2017, one of Pruitt's staffers emailed "Fox & Friends" producers requesting Pruitt appear on the show the next day to discuss "the real reform the Trump Administration is taking to help communities that were poorly served by the last administration."
When the "Fox & Friends" producers agreed, Pruitt's staffer demanded they only discuss the topic she had emailed about, which included efforts to clean up a superfund site in East Chicago.
"We really need to stick with this as the topic," she wrote. "Can you confirm this will be the topic of discussion?"

A "Fox & Friends" producer soon followed up with a request for "three priorities for the EPA" that Pruitt would like to discuss. She later sent Pruitt's team the script they planned to introduce him on the show for approval.
"Yes ― perfect," Pruitt's staffer responded.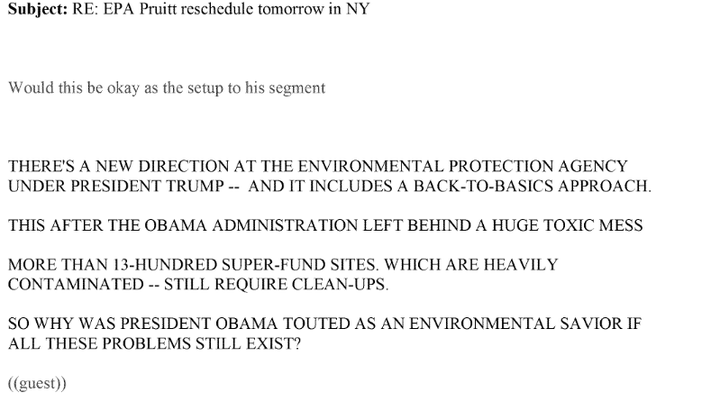 In September 2017, a "Fox & Friends" producer told Pruitt's team they planned to ask him to respond to "critics who blame [sic] the role of climate change is strengthening extreme weather events." Pruitt's skepticism over anthropogenic global warming has been scrutinized by environmental activists and scientists.
But the network's softball questions for Pruitt appeared to come to a screeching halt in April when Fox News' Ed Henry grilled him about the wave of ethics scandals plaguing his tenure at the EPA. Three months later, Trump announced Pruitt's resignation.
This article has been updated with comments from Saxonhouse and with the AP's report about Fox disciplining employees.