With the recent rise in cases of Japanese and Australian flu in the UK, parents might be thinking more about getting their child protected against the illness, if they haven't already had their NHS vaccination.
Back in December, health officials warned families that children's natural tendency to spread the virus more quickly than adults - after contracting it at nursery or school - could be endangering elderly and pregnant relatives.
Professor Keith Willett, medical director for NHS England, said: "Flu can be spread more easily by children, especially to vulnerable relatives such as older grandparents, those with heart or lung conditions and pregnant family."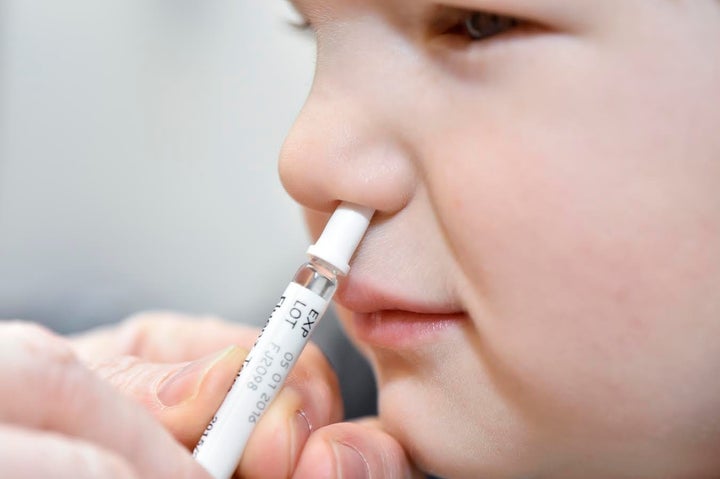 Despite widespread awareness campaigns, many children in England are still not being immunised against flu, despite being eligible for the free jab.
At the start of November Public Health England figures showed only 14% of children aged two to three years old had received their vaccination.
According to NHS England, at the end of November, fewer than one in five school age children (18%) had had the nasal spray immunisation.
Doctor and TV presenter Ranj Singh believes part of the reason many parents do not take their children for the free vaccination is because parents are still hesitant about vaccines, he told HuffPost UK: "Parents should feel confident about the vaccines currently in use."
Dr Singh believes that while the lack of uptake can be partially attributed to our busy lives and the additional organisation or admin involved, there is also a societal hesitance about vaccinations..
″We see this rolling out every year, that parents are a little hesitant about it.
"Naturally everyone who has some medical intervention is worried about potential side effects."
"And with the connotations around other types of vaccines that have been reported in the media - a lot of which was not accurate - hesitance does still exist. The vaccines have been used around the world for a long time, with lots of experience and success.
"Vaccinating eligible children is the best tool we have to protect our kids and families from flu."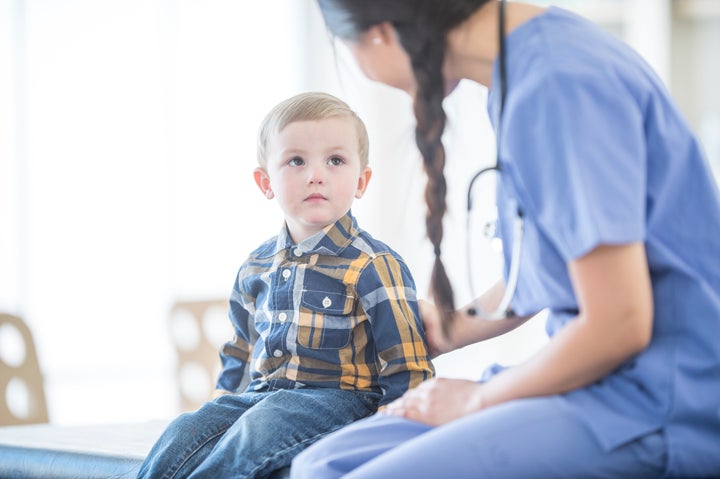 So how much do you know about the flu vaccine?
Are All Children Eligible For A Free Flu Vaccine?
In the autumn/winter period of 2017 to 2018, the flu vaccine will be available for free on the NHS for children aged two and three on August 31 2017 (that is, children born between 1 September 2013 and 31 August 2015).
As well as children in reception class and school years one, two, three and four.
It will also be available for children aged two to 17-years-old who have long-term health conditions.
In some parts of the UK (those following the pilot scheme), all primary school-aged children will be offered the vaccine.
Over the next few years the programme will gradually be extended to include older children.
How Is The Flu Vaccine Given To Children?
Many parents might be apprehensive about taking their child to have a needle stuck in their arm, but there's no need to fret - the flu vaccine is given as a single spray squirted up each nostril. Not only is it needle-free but it is painless, and quick.
The NHS says it "works even better than the injected flu vaccine", and will still work even if your child develops a runny nose, sneezes or blows their nose.
Why Is The Flu Vaccine Important?
Chief medical officer for England, Professor Dame Sally Davies, said: "Any child can catch flu, thousands do every year and some end up in hospital as a result. Parents should not be complacent.
"Children can be super spreaders so getting them vaccinated not only protects them but also those around them."
To get your child a vaccine or find out if they are eligible, contact your GP, pharmacist or midwife for more information.