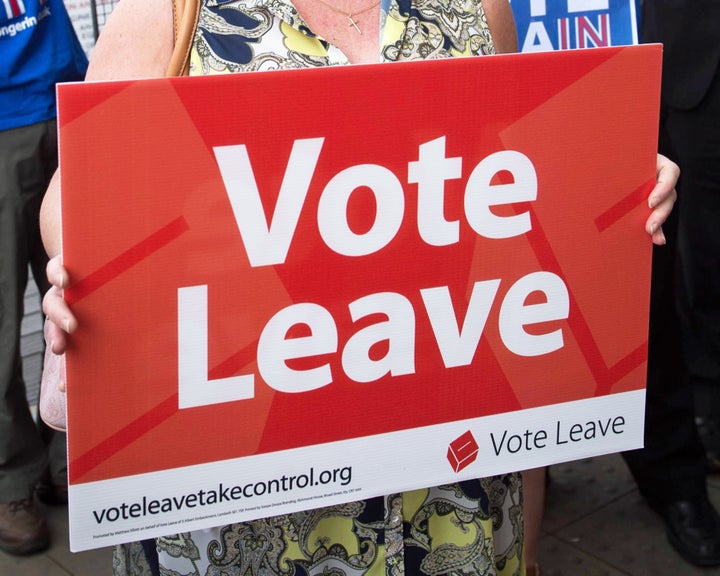 The Electoral Commission has fined Vote Leave, the official pro-Brexit campaign, £61,000 for breaking electoral law during the 2016 EU referendum. This could be a game-changer.
Its long-awaited report, published on Tuesday, states that there is substantial evidence of joint working between Vote Leave and BeLeave, another pro-Brexit campaign group founded by Darren Grimes.
The UK's elections watchdog found that Vote Leave funnelled around £675,000 through BeLeave, thus allowing it to exceed its legal referendum spending limit of £7million by almost £500,000. In addition to breaking electoral law on overspending and joint campaigning, Vote Leave was also found to have returned an incomplete and inaccurate spending report.
Bob Posner of the Electoral Commission said the findings show "serious breaches of the laws put in place by Parliament to ensure fairness and transparency at elections and referendums."
But despite the gravity of such breaches, the Electoral Commission is toothless in the face of holding campaigners to account, and effectively applying sanctions and deterrents.
The EC's report describes, for example, how Vote Leave repeatedly refused the Commission's requests for interviews with its representatives, and how it failed to comply with an investigation notice in a timely manner. Earlier this month, Vote Leave demonstrated disregard for the Electoral Commission's investigation when it leaked information from the watchdog's draft report.
And the Commission's maximum fine of £20,000 per offence appears to have a derisory impact on campaigners – it is now the 'cost of doing business'. Stephen Kinnock MP called the fines 'laughable'.
There is growing pressure for more powers to be given to our elections watchdog, and to update regulations on online advertising and campaign funding, not only from institutional actors such as the Electoral Commission and the Information Commissioner, but also from campaigners and politicians.
In a first attempt to tackle the digital wild west and pave a way forward for a comprehensive overhaul of campaign and finance regulation, the Electoral Reform Society (ERS) hosted a major event in Parliament on Tuesday.
Cross-party figures, including Stephen Kinnock MP, former BeLeave treasurer Shahmir Sanni, and FairVote UK director Kyle Taylor, met to discuss ways to tackle the online wild west.
Contributors recognised that our democracy was under attack on multiple fronts. Speaking at the event, Stephen Kinnock MP noted: "The Electoral Commission's announcements should be seen as a fork in the road – a realisation that there is something wrong in the heart of democratic processes in our system. […] If there is no action, abuse will continue and trust will decline – more dark money and dark data will flood the system and buy influence."
Dark money and dark data' are coming together to undermine principles that our democracy is founded upon. When these principles cannot be upheld, neither can the results. The principle of a level playing field has all but disappeared.
There was also a consensus that urgent action and a review of campaign regulation was needed to safeguard and restore trust in our democratic processes. Campaigners are in particular calling for change to bolster the Electoral Commission's investigative and sanctioning powers, and to update the regulations on online advertising and campaign funding – with suggestions for tougher fines for rule-breaking, live reporting of donations, and 'imprints' for online campaign ads.
As Amber Rudd MP put it during the discussion: "The rules were designed for an analogue age – and should be brought into the 21st Century."
These issues go to the core of our democracy. Kyle Taylor (FairVote UK) summed up the mood when he said: "This is much bigger than Brexit: breaking election law is undermining the very fabric of how we believe our society should make rules. We are sleepwalking into a future I don't want to be a part of."
We cannot kick the can down the road or risk 'death by a thousand consultations'. BeLeave whistleblower Shahmir Sanni noted: "We are already at the point where democracy and our institutions are being doubted."
There are clear solutions to the threats our democracy faces – let's get to work.