The paper conducted an investigation on the M20 in the wake of the jailing of Tomasz Kroker, 30, who crashed into stationary cars whilst changing music on his device.
Tracey Houghton, 45, her sons Josh Houghton, 11, Ethan Houghton,13, and stepdaughter Aimee Goldsmith, 11, died in the incident in August,
Wednesday's front page of the Daily Mail shows a collage of nine "foreign" truck drivers photographed using their phones at the wheel.
According to the paper it spotted 17 in total all travelling at 50mph. All are described as "foreign-registered lorries".
The Daily Mail has campaigned for a toughening of the laws and declared victory in September when Theresa May vowed to double the three-point punishment currently handed out to those caught.
Eyes glued to their phones, these truckers are gambling with people's lives. In just 90 minutes, no fewer than 17 were spotted illegally using mobiles on a busy motorway.

One even took both his hands off the wheel to fiddle with his phone. The shocking pictures of foreign-registered lorries were taken yesterday – just 24 hours after a Polish trucker was jailed for killing a family while distracted by his mobile.

Some brazenly held their phones up to their ears or in front of their faces. Others tried to hide them on their laps, meaning they had to look down to see the screen.
James O'Brien also spoke on the subject during his LBC show.
The paper also focuses on the issue in an editorial headlined: Make the punishment fit this lethal crime, writing: "How many more lives must be lost before police act - and politicians make the punishment fit this lethal crime."
The Sun also ran a feature on truckers but did not single any out as foreign.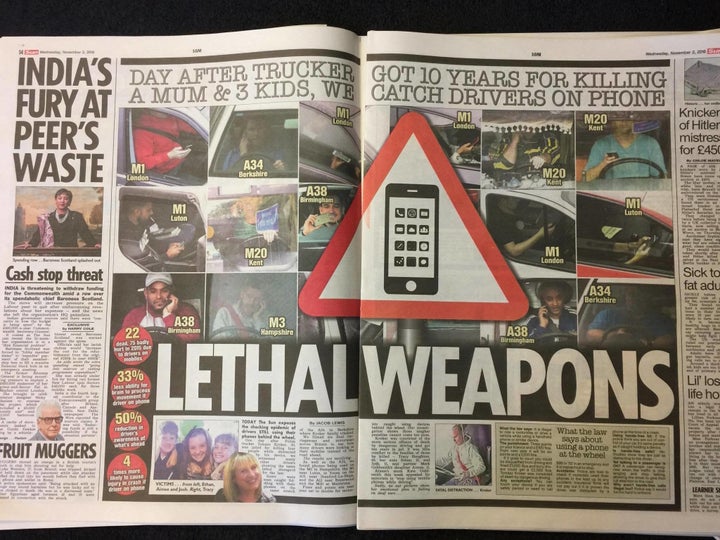 Peter Williams, road safety spokesman for the RAC, told Radio 4's Today programme how the number of fixed penalty notices issued for mobile phone use whilst driving has dropped drastically in recent years due to police cuts.
He said: "Last week we revealed the number of fixed penalty notices issued for mobile phone use has dropped from 123,000 back in 2011 to just under 17,000 in 2015.
"It is incredible and very, very worrying and is largely down to the fact we have seen a 27% reduction in road police officers.
"It takes the physical presence of a police officer to actually catch and observe somebody using a mobile phone and carry that through to prosecution."
When asked if foreign drivers were more likely to drive whilst using mobile phones, Williams said it "could" be an issue.
He added: "When you look at businesses they do have a duty of care and most UK companies do have a very firm policy their drivers are required to sign up to.
"This driver [Kroker] had signed one an hour before [the crash]."
Kroker, 30, from Trajan Walk, Andover, Hampshire, pleaded guilty to four counts of causing death by dangerous driving and one count of causing serious injury by dangerous driving at Reading Crown Court on October 10.
He was jailed for 10 years.
The pair were condemned by the tabloid press for their comments about refugees, with The Sun even suggesting Lineker be sacked from the BBC for "peddling migrant lies".
Allen wrote in the article: "The Sun sent a message this week: if another public figure was thinking about becoming more involved in the migrant crisis they might take a look at what happened to me and Gary and think it's not worth it."
Lineker tweeted: "It is worth it."