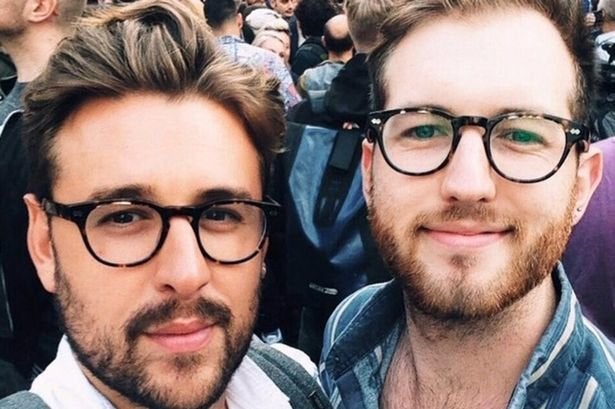 Thomas Rees and Joshua Bradwell were allegedly told by a guard at a Hackney branch of the supermarket that a customer had complained about them "touching inappropriately".
They were then escorted off the premises.
Rees, 32, told the BBC: "It's really knocked me for six and I've spent the last day or so analysing how I'm perceived.
"We weren't celebrating good news, we weren't all over each other, we weren't in the throes of passion - it was essentially just holding my boyfriend's hand as I do every day. I'm very much in love and that's how I express my love."
Rees said the supermarket offered them a £10 voucher as an apology.
A Sainsbury's spokesman said: "We sincerely apologise to Thomas and Josh.
"We are an inclusive retailer and employer and do not tolerate discrimination in our stores.
"We will take appropriate action once we've concluded our investigation with our security contractor."
There was an outpouring of support for the couple on social media.
Rees told Channel 4 News: "There was so much wrong in that situation, particularly for it to be happening in 2016, that I was unable to articulate to him how angry I was."
Though there's always one...