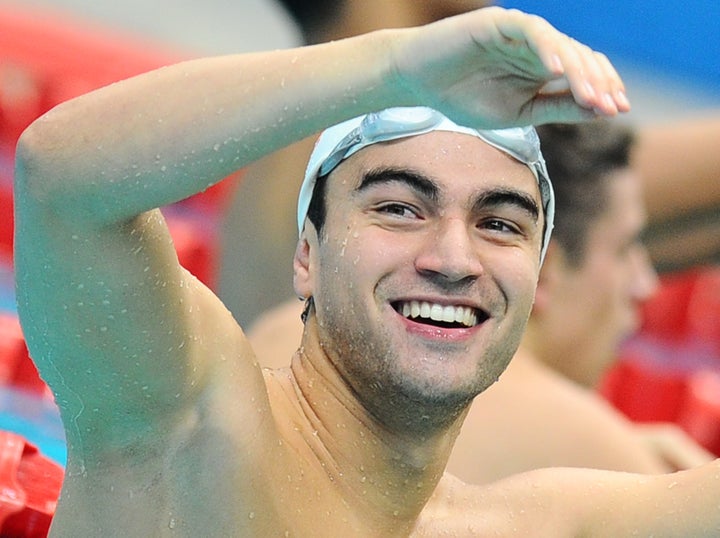 A gay Olympian has accused a news website of "endangering people's lives" after it published a piece exposing athletes using hook-up app Grindr.
Amini Fonua said he was moved to tears by the Daily Beast article that was pulled when editors admitted it may have compromised the identities of gay athletes at Rio who had not yet come out.
Fonua, a 26-year-old Tongan who competed in the men's 100m breaststroke, responded to the article saying straight people would "never know the pain of revealing your truth".
"It is still illegal to be gay in Tonga, and while I'm strong enough to be me in front of the world, not everybody else is. Respect that," he wrote in a fierce tirade of posts on Twitter.
In another tweet, Fonua declared "shame" on the journalist behind the piece and accused him of thinking "it'd be funny to endanger people's lives in the village".
Anal sex is still illegal in the South Pacific island of Tonga, where the maximum penalty for sodomy is 10 years' imprisonment.
The acceptance of homosexuality varies across Tonga's more than 170 islands.
Fellow gay athlete and Winter Olympics silver medalist Gus Kenworthy also accused the Daily Beast of having "outed a bunch of athletes" and said its article amounted to "entrapment".
After the backlash, editors of the Daily Best published a note announcing they were taking the "unprecedented but necessary step" of removing the controversial article.
Despite amending it several times to redact any identifying characteristics of the athletes they had spoken to on the gay hook-up app, the website's editors admitted they had failed to uphold its proud values, including being a supportive voice for LGBT people across the world.
The statement from editors read:
"As shared in our editor's note earlier today, we initially thought swift removal of any identifying characteristics and better clarification of our intent was the adequate way to address this.

Our initial reaction was that the entire removal of the piece was not necessary. We were wrong. We're sorry. And we apologize to the athletes who may have been inadvertently compromised by our story.

Today we did not uphold a deep set of The Daily Beast's values. These values—which include standing up to bullies and bigots, and specifically being a proudly, steadfastly supportive voice for LGBT people all over the world—are core to our commitment to journalism and to our commitment to serving our readers.

As a newsroom, we succeed together and we fail together, and this was a failure on The Daily Beast as a whole, not a single individual. The article was not intended to do harm or degrade members of the LGBT community, but intent doesn't matter, impact does.

Our hope is that removing an article that is in conflict with both our values and what we aspire to as journalists will demonstrate how seriously we take our error. We were wrong. We will do better."
The statement changed multiple times after its original publication, first with the addition of "we're sorry", then including an extension of apology to the athletes affected.
Fonua tweeted after it was published that he and the thousands of others who criticised the piece had been "successful in defeating ignorance with truth and honesty".
The apology was appreciated by others, but some still questioned what the website could do to rectify any harm it had caused.
It comes after complaints of treatment of queer athletes participating at the Rio games.
The issue of masculinity came to the fore on Thursday when an LGBT charity accused the MailOnline of perpetuating instead of celebrating" gender stereotypes for a headline atop coverage of a historic win for Team GB divers.
The MailOnline told Brits Jack Laugher and Chris Mears to "steady on" as they celebrated their synchronised diving win in an emotional embrace.
READ MORE: