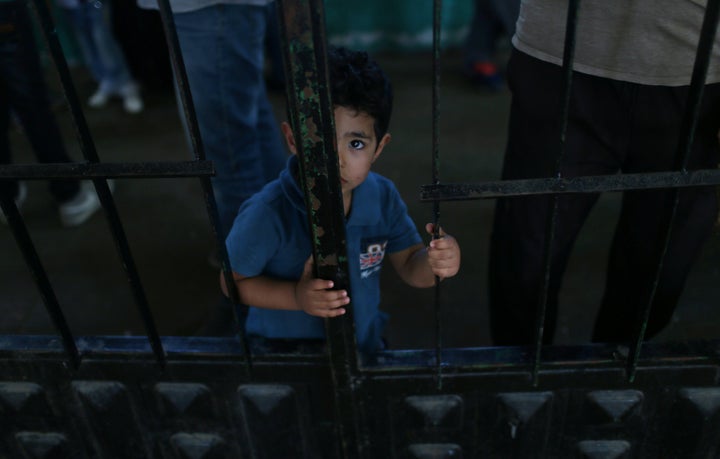 This week has seen the culmination of six weeks of protests in Gaza, which have proven devastating for children and their families. Shockingly, more than 250 Palestinian children have been shot with live ammunition, including a child as young as eight years old. The UN has reported that hundreds more have been injured during the protests, many sustaining appalling, life-changing disabilities.
Palestinian children and their families are finding it increasingly difficult to cope with the challenging living conditions in Gaza. Public services, such as hospitals and schools, are progressively deteriorating as a consequence of the ten-year blockade and the legacy of three wars.
Gaza is a particularly harrowing expression of a wider threat facing children living in conflict. We are witnessing the rapid urbanisation of war, the growing use of explosive weapons in populated areas and more protracted and complex armed conflicts. The scale of the problem is extensive and growing. Latest research by Save the Children has shown that the number of children living in areas affected by high-intensity conflict has increased by 75% since 1990. More children than ever before – at least 357million globally – are now living in such areas.
It is good that the Foreign Secretary and Prime Minister have supported independent investigations into the events in Gaza. But we can, and must, do much more to protect children globally at a time when international legal frameworks are crumbling, and a sense of impunity is on the rise. Stepping up to this challenge is more important than ever, to prevent the creation of a lost generation of children across the globe. It is also essential to stop the further degradation of the international rules-based system that underpins our shared global security and stability.
Last week, RUSI and Save the Children published a report that examines how a combination of British leadership in humanitarian response, diplomatic strength and military capability can drive responsible practice and accountability measures to protect civilians in conflict. The report argues that a Global Britain is best placed to champion this agenda, founded on our values and expertise.
We have a history of taking a lead on civilian protection issues. British leadership on peacekeeping, preventing sexual violence in conflict and driving the campaign to eradicate landmines has demonstrated that positive changes in policy and practice can reduce the tragic impact of conflict on civilians.
By using our international influence and alliances, we can help prevent children and their families being killed and injured in conflict. Our trained forces can improve the capability of other nations and address the new challenges around urbanised conflict. Our respected diplomatic networks enable us to champion accountability and ensure that perpetrators answer for their actions. And when the fighting is over, our world-class Department for International Development can help rebuild shattered lives through emergency relief and the effective development of child mental health services.
Despite the scale of the challenge, there is much that we as a nation can be doing to ease the plight of children living in the hell that is Gaza, and dozens of other Gazas around the globe.
David Jones is the Conservative MP for Clwyd West