A barber who gives out free haircuts to rough sleepers has spoken of his plans to extend the kind gesture to refugees in Dunkirk.
Ged King's day job consists of cutting hair at Skullfades Barber Shop, but he also spends a staggering amount of time helping people who have ended up on the streets, by offering them free trims, clothing and food.
The barber recently marked 1,200 free haircuts for the homeless, something he's incredibly proud of.
"It's so important to give back wherever and whenever you can," the 32-year-old from Sale, Cheshire, tells HuffPost UK. "Everyone blames the government or blames the economy - there's always blame - when actually we can all do something to improve our community.
"However big or small, we can all take the bull by the horns."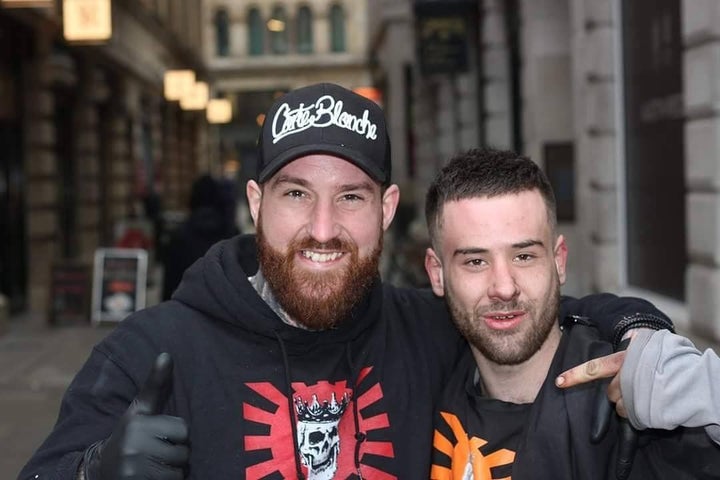 Ged started offering free haircuts to the homeless in 2015. A year later he transformed his selfless street venture into a regular service, setting up The Skullfades Foundation. "Once I started cutting on the street I really wanted to do more," he explains. "I soon realised others wanted to help, so I channelled everybody's efforts and created The Skullfades Foundation."
Ged invites homeless people into his barbershop or goes to them and offers to cut their hair, free of charge, on the streets. His service is so much more than a haircut though. "On a typical street cut we offer food, warm clothes, sleeping bags, hygiene kits, addiction support and, of course, haircuts," he explains.
"Inside Skullfades Barber Shop we have members of the homeless community access our services for free and if you are unemployed and have a job interview we will tidy you up for free. We have a full cellar under the shop, it's full of donations of clothes, food and sleeping bags which the guys can access on a daily basis."
Ged's top-notch haircuts and his upbeat personality bring joy to those living on the streets of Manchester. James (pictured above) is one of the hundreds of people who has benefited from a free trim. In a video shared on the Skullfades Foundation Facebook page, James asked Ged: "What would we do without you? If everyone was like you, the world would be a better place."
Most recently, Ged took time out of his day to cut hair at a local hostel in Manchester called Victoria House, which provides safe refuge for rough sleepers.
When asked about the visit, Phil Jackson, service manager at Victoria House, revealed to HuffPost UK: "Ged was absolutely brilliant and he sat with residents for ages. He did around six people's hair in total and you could see that each one seemed to have their confidence boosted by having the opportunity to have their hair cut professionally."
Stuart Hutchings is a builder based in south Manchester who has volunteered with the Skullfades Foundation on a couple of occasions, helping to increase the number of barber chairs in Ged's shop and organising catering for a big winter event.
The 39-year-old says he's in awe of Ged, who he describes as "probably the most generous, thoughtful, kind and considerate person".
"A lot of people donate to, or do the odd thing for, charity because it makes them feel better about themselves," Stuart explains. "But Ged is truly a selfless person. He doesn't do it for kudos or props, he does it because he genuinely wants to change the world. There are very few people like him."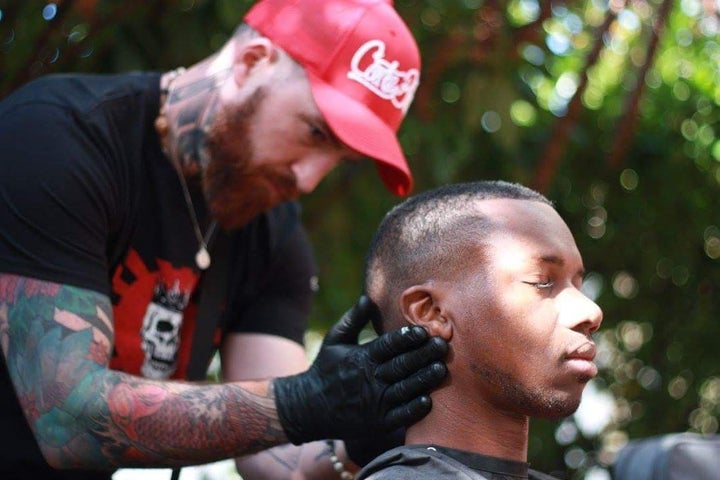 It's not just the people of Manchester who Ged has helped. The barber and his team of volunteers have also provided free haircuts to rough sleepers in the Lake District, London, Dover and Paris. Next, they plan to visit Dunkirk to bring some joy to the hundreds of people - young and old - living in refugee camps.
"We're going to Dunkirk in May," Ged reveals. "We're taking three van loads of kid's clothes, toys and adult clothing. We will distribute these items across three refugee camps - one of which is a children's camp. We'll also provide barbering and hairdressing services at each camp."
Ged is currently collecting donations for the trip. You can donate on the website (skullfades.co.uk) or alternatively you can send or take donations of food, clothes, hygiene kits, thermals and sleeping bags to his barbershop.
Discussing what it's like to volunteer with Ged, Stuart reveals: "People gravitate towards him. He's such a larger than life character, like a rockstar. But at the same time he's so down-to-earth and connects with people on a much deeper level than is ordinarily possible.
"He genuinely cares. You can't help but get involved because he's so inspiring."
Everyone hates January. The post-Christmas comedown hits us hard, especially with 2017 being such a tough year. Kindness 31 is our antidote to that. Every day we'll share a good news story about someone (or a group of people) and their act of kindness or how they helped others. If you want to get involved, email ukblogteam@huffpost.com. Alternatively if you'd like to nominate someone to be featured, fill in this form.