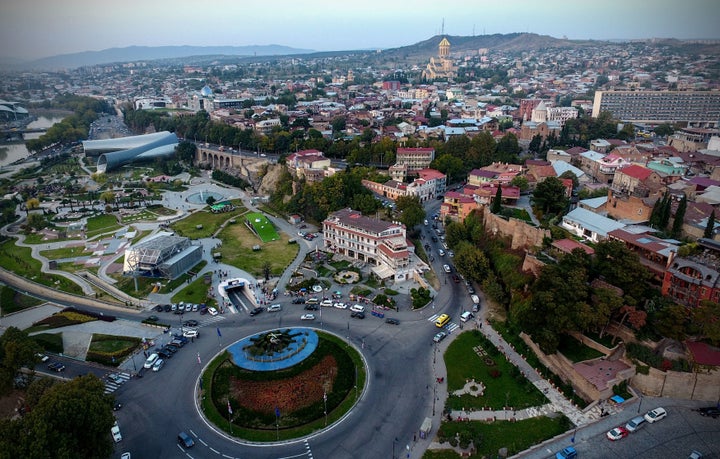 This coming Saturday, 100 years ago, Georgia declared itself an independent democratic state. Its experiment in self-rule and radical social reform lasted barely three years before the Red Army, on Stalin's orders, invaded. When Georgia finally regained its independence in the early 1990s, it embraced the flag, anthem and constitution of that earlier time.
But the democratic, liberal legacy of that first inspiring Georgian republic is today being tested in the streets of the capital, Tbilisi.
Last week, the LGBT community in Georgia attempted once again to celebrate the International Day Against Homophobia, Biphobia and Transphobia (IDAHOBIT) on 17 May by holding public events. A rally was planned at the government buildings in Tbilisi. The police and government assured the LGBT leaders that they would be protected.
Violence against protestors was not a theoretical possibility, but a historic fact. Five years earlier, Orthodox Church protesters barged into a LGBT rally, beating up many.
Although the Church authorities do not openly call for violence these days, they do denounce LGBT rights, which fuels and legitimates prejudice; playing in to the hands of far right extremists. To counter IDAHOBIT, they declared May 17 to be the "Day of Sanctity and Integrity of the Family". Instead of beating up LGBT demonstrators, church leaders this year held a liturgical procession in Tbilisi and conducted hundreds of traditional male-female weddings.
As the time approached for LGBT demonstrators to meet up last week, it was clear that violently homophobic and racist groups, including neo-Nazis giving the Hitler salute, were strutting through the streets of Tbilisi and making threats.
Very reluctantly, the LGBT demonstration was called off at the last minute, with leaders announcing that they did not trust the police or government to protect them.
A few dozen LGBT people did eventually gather; though afterwards they needed to be whisked away in police buses to ensure their safety. Their posters proclaimed "No to Homophobia" and "No Fascism". In the end it was the fascists who owned the streets.
We are only days away from the official commemorations on May 26 of the declaration of Georgian independence back in 1918.
In those days, the leaders of Georgia were Social Democrats. They opposed the Bolshevik seizure of power in Russia and aimed to create a modern, democratic state. While the Bolsheviks were proclaiming a global class war and resorting to increased repression, the Georgian Social Democrats were promoting a just and free society.
In their three short years in power, they enacted an exemplary programme of agrarian reform, giving land to the peasants and ensuring that there was none of the bloody civil war in the countryside that plagued Soviet Russia. They held free and fair elections with a multi-party system, and began drafting what was then seen by many as the most progressive constitution in the world. Women were given the right to vote even before they won those rights in the US or Britain. Georgia aspired to be a society based on social justice, equality, human rights and tolerance.
This experiment in social democracy was widely seen at the time as an alternative to Bolshevism. A delegation consisting of Europe's leading social democrats, among them future Labour prime minister Ramsay MacDonald, visited Georgia in 1920. Ethel Snowden, a leading figure in Labour at the time, said of Georgia: "They have set up what is the most perfect socialism in Europe."
But the Georgian experiment was largely forgotten during the years of Soviet rule. Even today, most Georgians, let alone people anywhere else, know very little about that period.
Today Georgia aspires to be seen as a modern, democratic European country which is tolerant and inclusive, and which respects human rights. Georgia's ongoing campaign to become a full member country of both the European Union and NATO is based on that aspiration.
And it is generally true that Georgia has made huge strides in the right direction, especially since the "Rose Revolution" of November 2003 that brought an end to the violence and corruption of the early post-Soviet years.
The proof of the success of the transition from repressive communism, led in large part by Mikheil Saakashvili, came a decade later, when his party was defeated in free elections and he was ousted from power – the first orderly, peaceful transition in Georgian history.
Georgia has come a long way since it was part of the Soviet Union. Now free to continue where the Social Democrats had left off in 1921, Georgia needs to choose which direction it wants to go as a country.
This Saturday, as it celebrates the achievements of the first Georgian republic, which was a progressive, modern, secular and liberal society, it needs to decide whether the streets of its capital belong to those demanding full rights for the LGBT community or Hitler-saluting fascists and church leaders whose homophobia gives the far right comfort and succour.
It is time for Georgia to choose.
Peter Tatchell is Director of the Peter Tatchell Foundation
Eric Lee is author of The Experiment: Georgia's Forgotten Revolution 1918-1921
Related