The wife of the man suspected in the Long Island serial killings of at least three women filed for divorce on Wednesday, her attorney Robert Macedonio confirmed to HuffPost.
The filing on behalf of Asa Ellerup was listed as "uncontested," according to court records, and it comes less than a week since Rex Heuermann was charged with killing three of the infamous "Gilgo Four," women who died in the summers of 2009 and 2010 and whose bodies were found within days of each other in December 2010 on a desolate stretch of beach on New York's Long Island.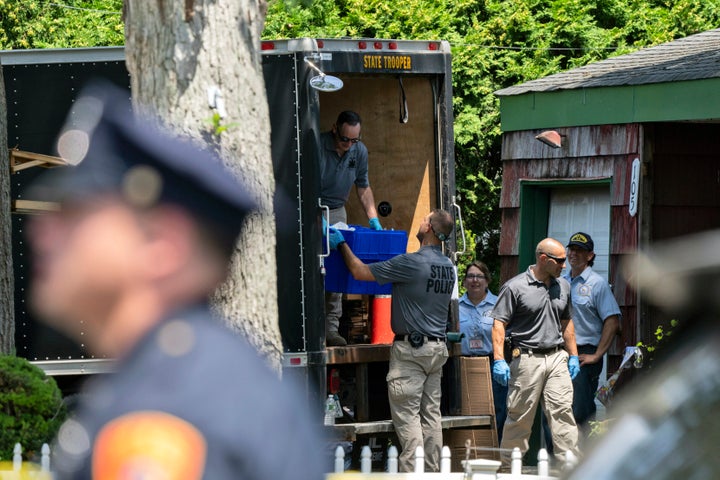 Heuermann was charged with three counts of first-degree murder and three counts of second-degree murder in the deaths of Megan Waterman, 22, Amber Lynn Costello, 27, and Melissa Barthelemy, 24. Authorities said he remains a suspect in the killing of a fourth woman, Maureen Brainard Barnes, 25. The women were all sex workers, and, according to prosecutors, Heuermann had continued to contact women for sex, leading authorities to fear he would kill again.
Police have been searching Ellerup and Heuermanns' home in Massapequa Park, New York, for days with no sign of her or their children. Ellerup has not been implicated in the crimes, but she nevertheless played a central role in the investigation. According to Heuermann's bail application, her DNA matched strands of hair found on the remains of Waterman and Costello.
Based on her cellphone records, investigators said Ellerup was out of the country or the state when Barthelemy, Waterman and Costello disappeared. Her phone records were not available for 2007, when Brainard-Barnes — the only woman Heuermann hasn't been charged with killing — went missing.
On Tuesday, The New York Times published an article in which neighbors questioned what Ellerup did or didn't know about her husband's activities. Suffolk County Police Commissioner Rodney Harrison told CBS New York that Heuermann's wife and two children had been shocked to learn about the allegations, adding that he didn't believe they suspected a "double life."
Macedonio declined to elaborate on the divorce filing but told HuffPost, "I can't think anybody, anybody's life, that this is completely called off out of the blue."