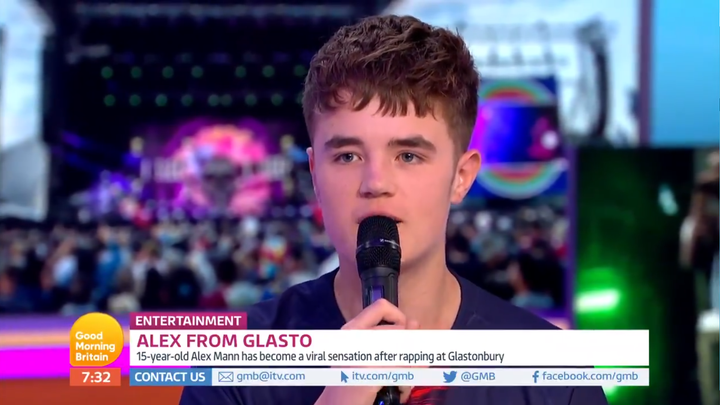 Superfan Alex was plucked from the crowd to rap to AJ Tracey's verse in his popular track, Thiago Silva.
The 15-year-old has since gained instant notoriety, so much so that he was invited on to Good Morning Britain on Wednesday, and encouraged to repeat his performance by presenters Piers Morgan and Susanna Reid.
As they cheerily bopped along, Alex rhymed: "Santan from the v-v x AJ/Man mystic with the pen like J.K/True say, I ain't really a drinker/ But I got love for brandy like Ray J/ Champagne popper, .44 chopper/ In the black Nike bomber, heartbeat stopper/Half-heart MC dropper/45 wapper, leave you in states like Kaká."
His performance sparked applause, with Morgan telling Alex he was "slaying it" and that more young people should seize opportunities, just like him.
But what appeared to be lost on everyone in the ITV studio was that the teenager had made repeated references to guns – ".44 Magnum" and ".45 caliber pistol" – and murder – "heartbeat stopper"– on national, breakfast television.
It seems hard to imagine the same scenario happening with a black fan – perhaps violent language is only acceptable when it's coming from a white teenager.
In fact, grime music in general, a predominantly black genre, has often been blamed for fuelling violence, something some on the scene say is unfair. The fact that many artists champion the art form as a means for Britain's disenfranchised youth to escape from poverty doesn't seem to matter.
So shouldn't Alex have been asked about his views on knife crime or whether or not the genre encourages violence? After all, the programme has previously made a point of asking black rappers to chime in on violent crime.
Last May, Lethal Bizzle spoke of the need to find an effective solution to the problem of violence, rather than blaming grime music.
Reid pointed out that some grime songs have "quite explicit language about knives, guns and other gang members", while fellow presenter Kate Garraway suggested that some grime songs act as an endorsement of violence.
Alex isn't a professional rapper, and, of course, his age has to be considered, but shouldn't a programme that so often calls into question the impact of grime or drill music on violence in the streets have at least put the question on the table?
Earlier this month, Reid asked grime MC Skepta about the "battles that young people are facing" and his concerns surrounding violent crime, adding that, as a mother, she felt threatened about the issue. The rapper had originally been invited on to talk about his new album.
"You're a Londoner. We've seen an extraordinary level of violent crime on the streets of London... Grime music [is] often accused of being part of the problem: you want to be part of the solution," she said.
It's hard not to feel there's a double standard here – black artists are interrogated, while a white superfan is a "hero".
Alex seems like a sweet chap, but his white privilege means that he's absolved of responsibility for reciting violent lyrics – where black people are not.
Too often, the black community is burdened with having to account for the ills of society, such as violence and discrimination. And since when did rapping about weapons become acceptable on television, anyway?
Popular in the Community