A critically-endangered gorilla has been shot dead by zoo officials in the US after a four-year-old boy entered the animal's enclosure on Saturday.
The child climbed through a public barrier at Gorilla World in Cincinnati Zoo and fell into the exhibit's moat.
Zoo officials said they shot the 400lb animal when the situation became "life-threatening" after Harambe, the 17-year-old gorilla, picked the child up and stayed with him for about 10 minutes.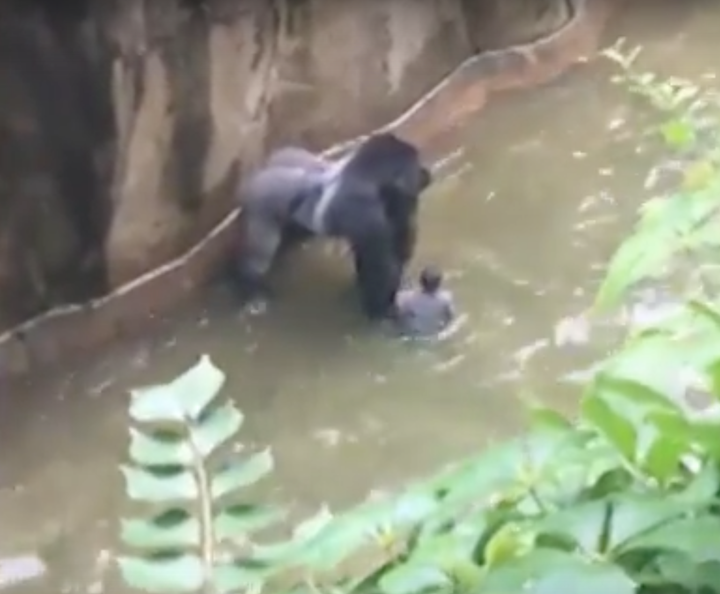 The zoo's director Thane Maynard said in a statement: "The zoo security team's quick response saved the child's life.
"We are all devastated that this tragic accident resulted in the death of a critically-endangered gorilla."
He added: "This is a huge loss for the zoo family and the gorilla population worldwide."
Authorities said the child, who has not been identified, fell 10 to 12 feet.
He was taken to Cincinnati Children's Hospital Medical Centre, where he is expected to recover. Hospital officials said they could not release any information on him.
Two female gorillas were also in the enclosure when the boy fell in but zoo officials said only the male remained with the child.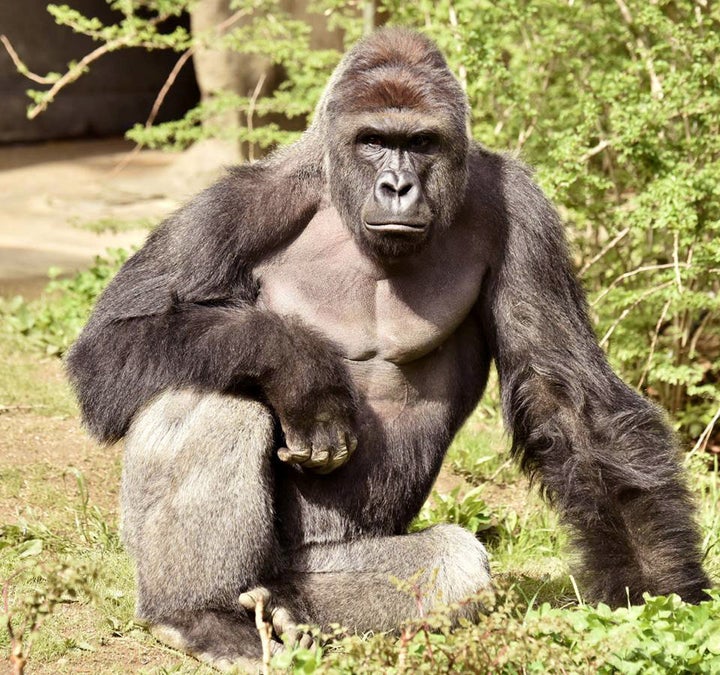 In footage recorded at the scene, the gorilla can be seen standing over the child in a corner of the enclosure for a few moments.
As he makes his way through the water with the boy, he stops and pulls the child onto his feet.
At one point a woman can be heard yelling: "Mummy's right here."
She later calls out to the boy, saying: "Mummy loves you."
Maynard said the gorilla did not appear to be attacking the child, but he said the animal was "extremely strong" and in an agitated situation.
He said tranquilising the gorilla would not have knocked him out immediately, leaving the boy in danger.
Officials said that the zoo will be open tomorrow, but Gorilla World will be closed until further notice.
On Friday, Cincinnati Zoo posted a picture of Harambe on its Facebook page, announcing that it was the gorilla's 17th birthday.
Harambe was bred in captivity and was moved to Cincinnati in 2015 from the Gladys Porter Zoo in Brownsville, Texas.
This latest incident is also likely to spark concerns about keeping wild animals in captivity following the deaths of two lions last weekend in Chile.
Staff shot the lions after a man stripped naked and jumped into their enclosure in what was believed to have been a suicide attempt.
The 20-year-old man, who reportedly suffers from mental health problems, reportedly climbed onto the rooftop of the lion enclosure at Santiago National Zoo before forcing his way into the pen and taunting the animals.
Staff shot and killed two of the lions with live ammunition and the man was shot with a tranquiliser dart.
Popular in the Community