A postcode checker on the government website for people to determine which lockdown tier they are in has crashed.
It initially showed that areas including Manchester would be in the toughest tier 3, with London and Liverpool in tier 2 – but people checking later were faced with the message: "Sorry, we're experiencing technical difficulties."
The full list outlining which parts of England will be in which tier when the national lockdown ends was due to go live at 11.30 but did not materialise until several minutes later.
Commons Leader Sir Lindsay Hoyle said it was "not acceptable" that news of the postcode checker was revealed in the media before Parliament.
Labour's shadow Commons leader Valerie Vaz said: "At 11.14am it was announced that you could find out which tier you were in via a journalist rather a statement to the House," adding: "I think this is an absolutely appalling way to treat parliament."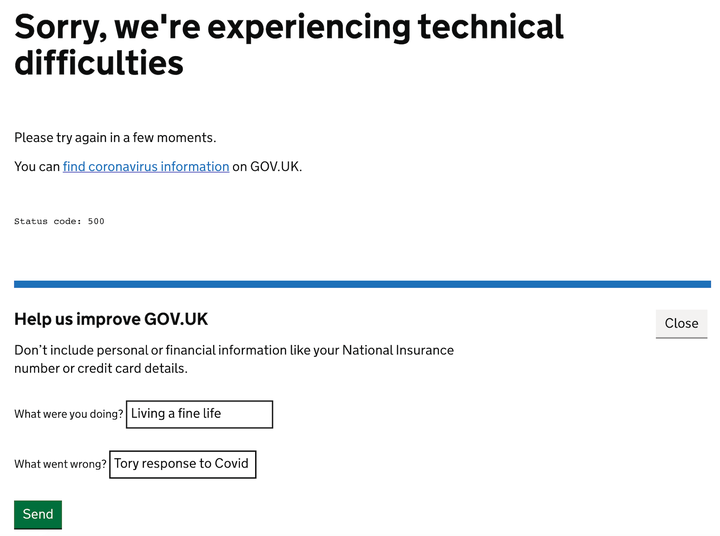 Sir Lindsay replied: "This House should be informed first. We keep telling the government that is the way that good government should treat and respect this chamber. It is not acceptable to put it online.
"The only good thing about the government [website] is it's crashed so it's not helpful, so might be that we do get the statement first."
He added: "This House should hear it first."
It is not the first time the government has experienced technical difficulties, particularly during the coronavirus pandemic.
A daily allowance of 5,000 home test kits – to be posted out to people – was to be made available as part of the push, but the gov.uk/coronavirus site ran out within two minutes.
And in July a government scheme offering £50 bike repairs in England crashed shortly after it was launched.