Warning: Graphic content.
Police are investigating claims a fox was illegally killed during a Boxing Day hunt on Tuesday.
Suffolk Police are appealing for witnesses after they were called at about 2pm to reports of an incident between Great Thurlow Hunt and hunt saboteurs in Trundley Wood, off Bury Road.
North Wales Police and Cheshire Police have also launched investigations into allegations of illegal Boxing Day hunts.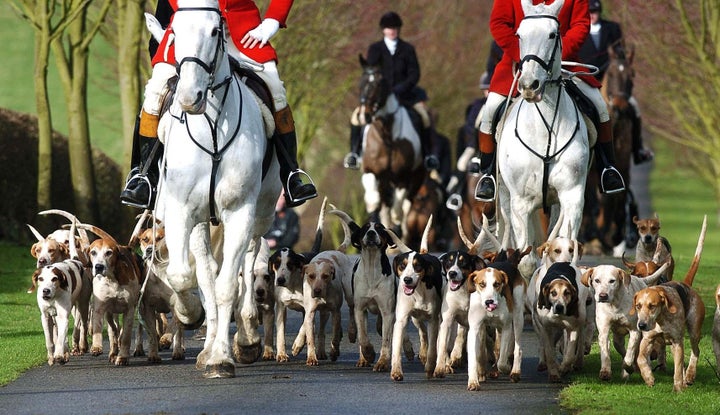 According to the Countryside Alliance, 250 hunts were out on Boxing Day.
Polling carried out by Ipsos MORI and commissioned by the League Against Cruel Sports showed that opposition to fox hunting is at an all-time high, with 85% of the public in support of keeping the ban.
On Tuesday an investigation was launched into an alleged hunting offence under the Hunting Act and an allegation of common assault.
The Hunt Saboteurs Association monitor hunts across the country, who they accuse of using trail hunting as a pretext for killing foxes.
Trail hunting is legal under the Hunting Act and involves laying the artificial scent of an animal.
A graphic photograph was posted on social media by the Hunt Saboteurs Association showing a disemboweled fox, which anti-hunting protesters claim was illegally killed at the hunt.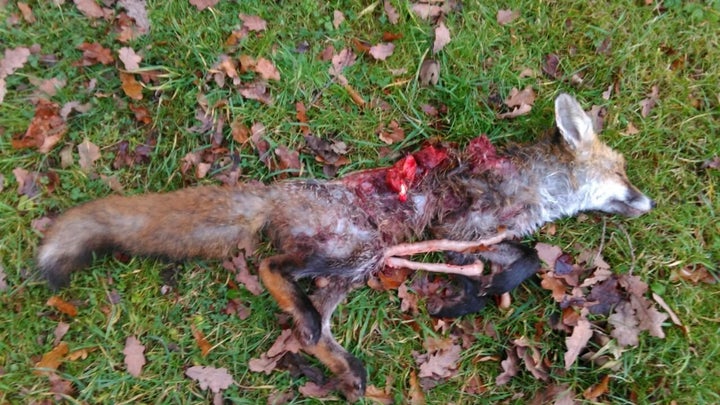 Inspector Jo Garrard, of Suffolk Police, said: "We take these reports seriously and are conducting an investigation into the circumstances around this incident.
"The investigation is progressing and the alleged offences are being investigated by officers in the Suffolk Rural Crime Unit.
"Officers are in the process of collating evidence and identifying, contacting and taking statements from individuals at the scene.
"There were a large number of people in attendance and we would like to appeal to any individuals who may have left the scene, but have not yet come forward, to contact us.
"We are keen to identify and gather all available evidence which may assist the investigation."
Lee Moon, spokesperson for the Hunt Saboteurs Association, said: "If this is what hunts are happy to do when the eyes of the world are on them imagine how they behave the rest of the year.
"Most hunts act as if the hunting Act doesn't exist and they flout the ban with impunity. Trail hunting is a myth created by the Countryside Alliance to allow fox hunting to continue unchecked.
"Hunted animals will never be safe while packs of trained dogs are allowed to rampage across the countryside.
"The only way the Hunting Act can be enforced is if the hunts are forced to disband."
A Thurlow Hunt spokesperson said that the fox's death was "caused almost entirely by the actions of animal rights protesters while we were trail-hunting within the law".
The hunt spokesperson continued: "Two members of hunt staff were stopping hounds from following a fox that had jumped up in front of them while they were legally trail hunting.
"The saboteurs turned the fox straight back into the hounds which unfortunately then killed it. The police have been informed."
Two other police forces are investigating allegations of illegal Boxing Day hunts.
North Wales Police said an investigation was launched after a dead fox was found near the A55 in Anglesey following reports of dogs on the loose.
North Wales Police were called to reports of six "hunting" dogs running loose near the slip road in Gaerwen at about 1.55pm on Boxing Day.
When officers were dispatched to recover the dogs, a dead fox was found in the immediate area.
An investigation is under way to identify the owners of the dogs and the circumstances in which the fox died.
Chief Inspector Mark Armstrong said: "An investigation is now under way to ascertain if any criminality or other offences were committed and I'm appealing to anyone who was in the area who witnessed events to contact North Wales Police, particularly if they have mobile phone or dash cam footage."
Officers in Cheshire said they were made aware of footage and reports of an illegal hunt in Allostock, near Knutsford.
Tim Bonner, chief executive of the Countryside Alliance, urged Tory ministers in a blog published on HuffPost UK not to "take the support of voters in the countryside for granted".
Polly Portwin, from the Countryside Alliance, added: "Around a quarter of a million people were out supporting hunts on Boxing Day with incredible scenes of vast crowds present all around the country.
"As expected, and despite attempts by the protesters to stage large demonstrations by rallying people on social media, only a handful of animal rights activists have actually shown up with their numbers hugely outweighed by those supporting hunts."