Children are inspired by Greta Thunberg, Matilda and Malala Yousafzai to be brave in their every day life, a new poll has revealed.
The study of 1,500 British kids, aged seven to 16 years old, looked at how children define modern-day bravery, revealing 'standing up for what I believe in' (51%), 'always being myself' (36%) and 'standing up to bullies' (35%) being the top defining characteristics.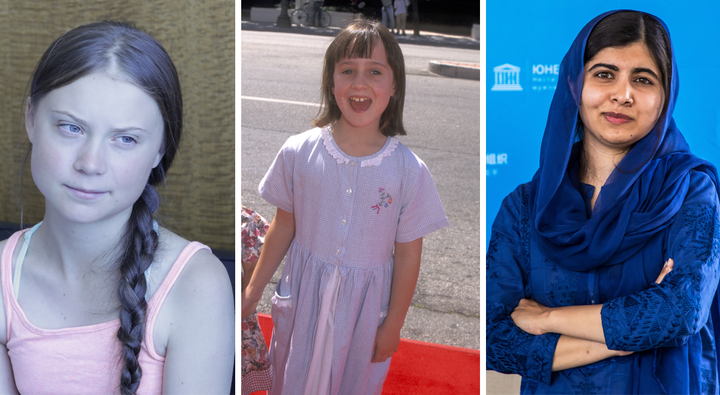 Children would rather be brave than popular, rich or even clever, the poll also revealed.
Additional modern-day icons of bravery who ended up in the top 20 list include Spiderman, Meghan Markle, England Women's football captain Steph Houghton, Simba from The Lion King, and Emma Watson.
Young people believed bravery was imperative in the face of the challenges of the world in 2019 – with 88% of children saying that being brave and speaking your mind could help tackle issues like climate change.
The poll was commissioned by the Roald Dahl Story Company to celebrate Roald Dahl Day on 13 September and to announced the release of Matilda's How To Be Brave, a new interactive book that aims to inspire children to 'be more Matilda'.
"It's great to see that kids today place such a high value on bravery and standing up for what they believe in," said Bernie Hall, brand director at The Roald Dahl Story Company. "Matilda's character and story serve us a powerful reminder that even the smallest people have the power to make a BIG change in the world around them."
Children's top 10 modern-day bravery icons

Greta Thunberg - 16-year-old environmental campaigner and activist

Matilda - A young girl who stands up to her bullying headteacher, Miss Trunchbull

Malala Yousafzai - Human rights campaigner and youngest ever Nobel Prize winner

Ariana Grande – Singer who performed a benefit concert in Manchester less than a month after the tragic terror attack during her stadium gig

Harry Potter - An orphaned wizard who stands up for what he believes in and always speaks the truth

Andy Murray - Tennis player who returned to play this year after a career-threatening injury

Katniss Everdeen (The Hunger Games) - Volunteers herself in place of her younger sister as tribute for the Hunger Games

Barack Obama - The first black President of the United States, a Nobel Peace Prize winner for his humanitarian efforts and supporter of numerous charities

Dustin (Stranger Things) - Dustin stands strong when bullied at school and when the supernatural turns his life upside down, he protects his friends

Stormzy - Rapper who uses his music to speak out about topics including racial discrimination and the Grenfell fire tragedy.