A student was left shocked after a guy she met in a nightclub bought her a drink and, two weeks later, asked for the money back.
Abby Fenton met the chap, named Liam, in Viper Rooms club, Sheffield.
They chatted for a bit, Liam bought Abby a vodka and coke, and then they exchanged numbers and parted ways.
Abby thought it was probably the last she'd hear from Liam, which is why she was utterly shocked when, a fortnight later, she received a text from him asking for the £6.50 back.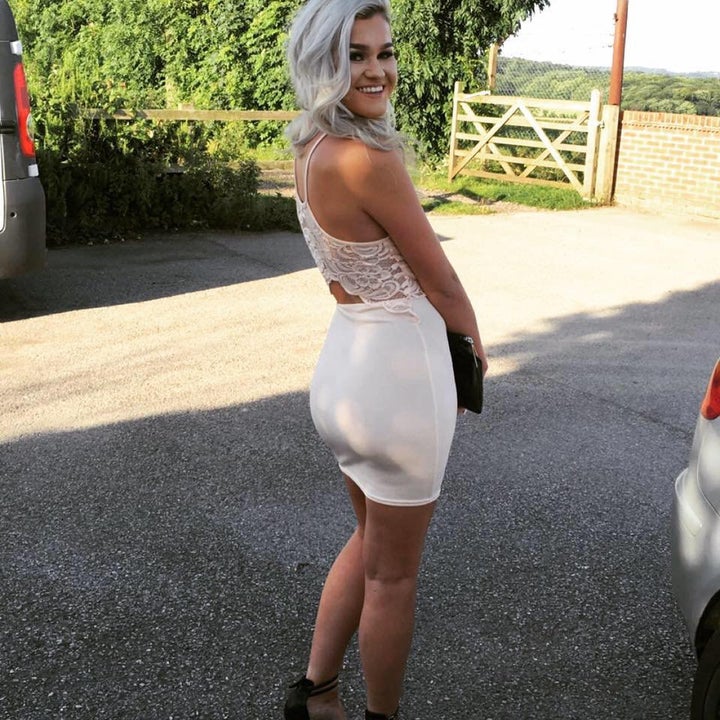 Fenton, 18, was out in Sheffield celebrating her last few nights at home before starting university when a tall male approached her.
She said that the stranger offered to buy her a drink in Viper Rooms, Sheffield, before walking off.
Two weeks later, she received a text from an unknown number which read: "Hi hope u (sic) don't mind love but can you transfer me back £6.50."
After replying, asking who it was, she received the text: "Liam from the viper rooms a few weeks ago."
It continued: "I bought yer (sic) a drink? Can I have money back for it. Will give u sort code and account no. Thank."
Shocked at the stranger's rudeness, she eventually agreed to transfer the money and hasn't heard from him since, but her photo of the exchange has gone viral on Twitter.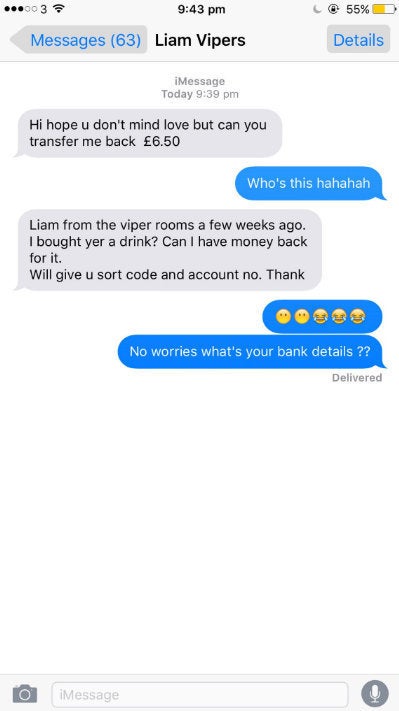 Fenton, from Barnsley, said: "I was at the bar about to get myself a drink myself when he came over to me and said: 'I'll get that for you, you're gorgeous' and all that.
"I just said I wanted something with vodka in and then we must have swapped numbers before I walked off.
"At first I didn't realise he got my number as he didn't text me that night or the next day."
She added that she "paid him back straight away".
"I wasn't going to at first as I thought it was so cheeky, but then I thought he might have needed it," she explained.
"He wasn't my type really but I just thought that when you're out, people buy you drinks!
"It's not usually that expensive either as when I get a vodka coke from Viper Rooms it costs about £3, or £3.50.
"I probably paid for both our drinks so it's a nice dent out of my student loan before I start uni!"
After paying Liam back, Abby shared the text online which has been retweeted more than 10,000 times on Twitter.
Dale Chandler, events manager for Viper Rooms, said: "I just saw it on someone's feed and we thought it was hilarious so we shared it.
"I think this shows our culture nowadays.
"We always see ask people ask for money back from buying drinks on the night if it doesn't go their way, but never this.
"I'm just baffled that this time the guy wasn't drunk and he texted two weeks later for it, it's very funny."
On a premium Saturday night in Viper Rooms, Dale said that a double vodka and coke can cost around £6.
Abby said: "Me and my friends always get bought one or two drinks on a night out but I've never had this in my life.
"I'll be more cautious who I take free drinks from in the future!"