For many students, voting for their union's NUS delegate is something they would never even think of doing.
But Durham student Tom Harwood has attempted to overcome this apathy... by creating one of the most gloriously bizarre campaign videos ever.
In the 90 second film, which is peppered with memes, the wannabe uni representative pledges to defeat ISIS using NUS boycotts and to build a giant statue of NUS president Malia Bouattia.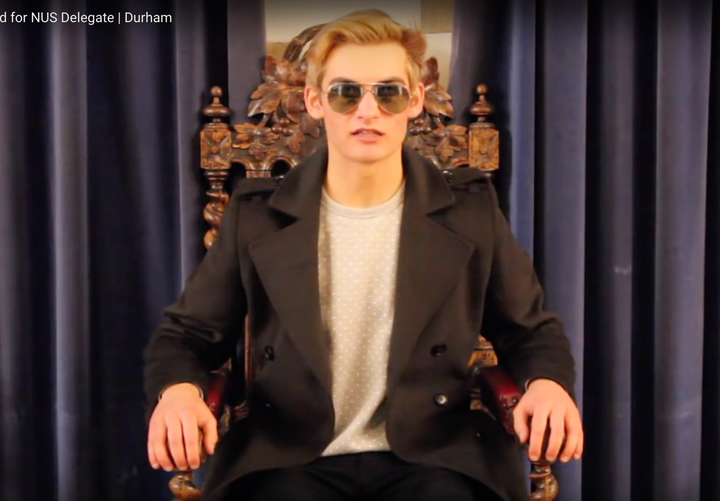 The second year politics student also promises to bring down the Tory government using "violent revolution" and to make "sweeping agrarian reform" a national priority.
"A vote for me is a vote for subversion," Harwood says as he prods a gate next to a wet paint sign.
A "subliminal" message then pops up on the screen, stating: "Harambe would have voted for Tom Harwood."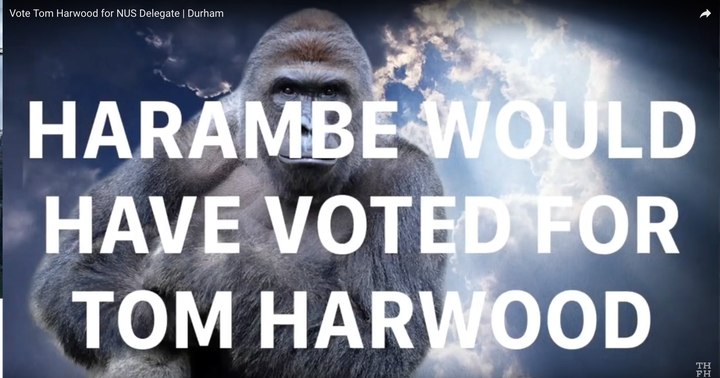 But what does the unusual candidate actually expect to achieve with his outlandish campaign?
Well, according to Harwood, he is purposely running a "ridiculous campaign" as the NUS is "a ridiculous organisation".
"If you vote for me, I'll vote against all irrelevant, aggrandising, self-defeating NUS policies that only serve to discredit students as a whole," the 20-year old says as he stares down the camera.
NUS delegates are chosen by students to represent their union at the annual NUS conference.
At this often controversy-fuelled conference, delegates vote on campaigns and proposals.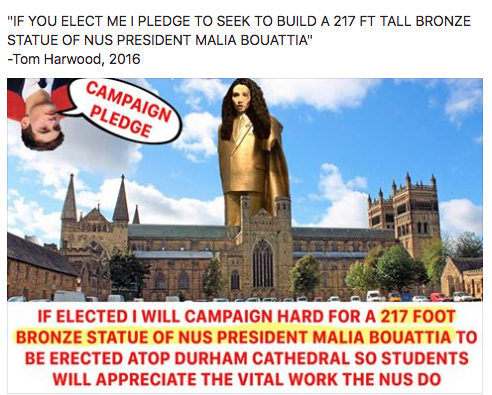 "I want the NUS to take a step back and ask itself if it is representing all students," Harwood told The Huffington Post UK.
"I released another video last week highlighting just how out of touch the NUS leadership is.
"It seems as though they all come from a very narrow, very unrepresentative section of the ideological spectrum," he added.
Despite his farcical approach, the Durham student's campaign has received substantial support.
"Iconic," one student wrote on Harwood's Facebook page, while another pledged to date him if he wins the vote.
Durham University students can vote from today on whether they want Harwood to represent them.