LATEST: A spokesman for Extinction Rebellion said the group has no further plans to disrupt Heathrow Airport.
Young climate change activists staged a protest at London's Heathrow Airport on Good Friday, but stopped short of directly disrupting road traffic.
At least four under 18s held a banner which read "are we the last generation?" on a pavement near the airport's main road entrance alongside a large police presence.
Extinction Rebellion said seven members of its youth wing attempted to "swarm" the road, a movement which would close it to traffic, before stepping onto the pavement.
The four young activists, one of whom said they were 15-years-old, remained by the side of the road and said they were prepared to be arrested. Around 30 police officers remained at the scene.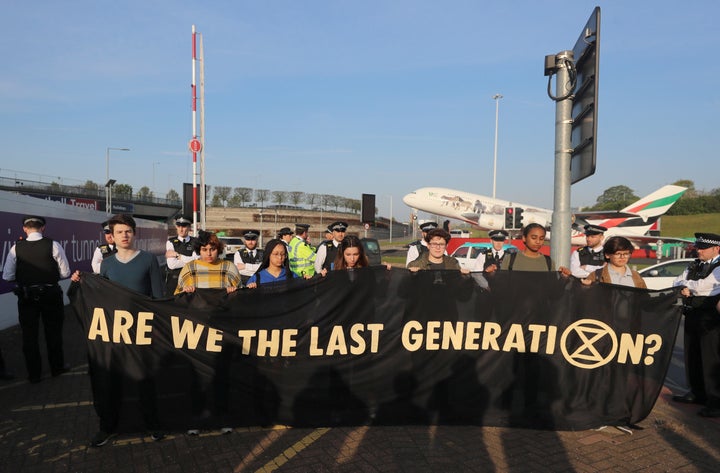 "We don't want to disrupt people," one of those holding the banner told journalists.
"I feel like my voice isn't heard enough because I'm too young," another activist said.
"This is our decision, we are not being told what to do," another said.
Some of the activists were pictured in tears as they realised swift action from the police had prevented any disruption to traffic.
In a live stream broadcast on Extinction Rebellion's Facebook page a person was heard telling the under 18s that they could leave the demonstration if they wished.
It came after Sadiq Khan urged Scotland Yard to use all necessary measures to ensure Heathrow was not disrupted and Home Secretary Sajid Javid told police to use the "full force of the law".
The group said any disruption on Heathrow was the result of a "disproportionate" police response.
Extinction Rebellion is demanding governments urgently address climate change.