Aid workers helping in Syria have warned that access to medical and life-saving assistance, including food, remains "atrociously insignificant" in the country despite a surge in donations over the past few weeks.
Carrying out humanitarian work in Syria is still a life-threatening occupation, as charity workers and medics face the threat of bombs and snipers.
Horrific scenes from the rebel-held part of Aleppo, which fell to pro-government forces earlier this month, have prompted hundreds of thousands of pounds in donations to charities.
But the Red Cross told The Huffington Post UK that the main challenge they have faced in Syria has been the lack of access to areas that need it most, insufficient relief supplies and an intensely volatile situation on the ground.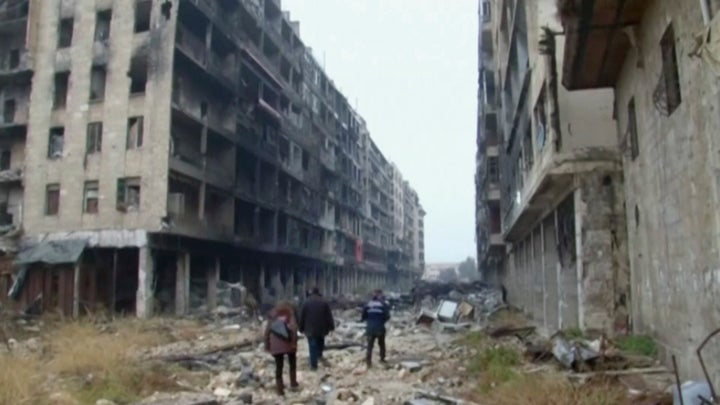 Spokesperson Dalila Mahdawi told HuffPost UK: "Many hospitals are facing critical supply shortages, and there are ever-diminishing numbers of health workers, as medics have fled or been killed.
"From the beginning of the conflict medical staff and medical facilities have been targeted."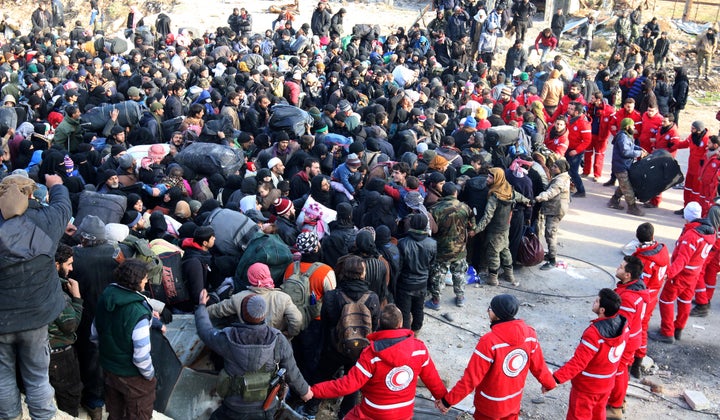 Mahdawi said that they were also unable to reach some areas due to lack of authorisation, and so they did not know the fate of some of those involved in their work.
"Since the siege began in July 2016, functioning hospitals in east Aleppo have been damaged in at least 35 separate attacks. Some hospital have been hit multiple times and been forced to close as a result.
"More recently, multiple hospitals in east Aleppo city were hit by airstrikes from 16 November onwards. Amongst those hit and taken out of service was a children's hospital, two key hospitals specialising in surgery and the largest general hospital."
MSF said that hospital staff managed to move children, including premature babies, from cots and incubators to the basement of the building to shelter from the bombing.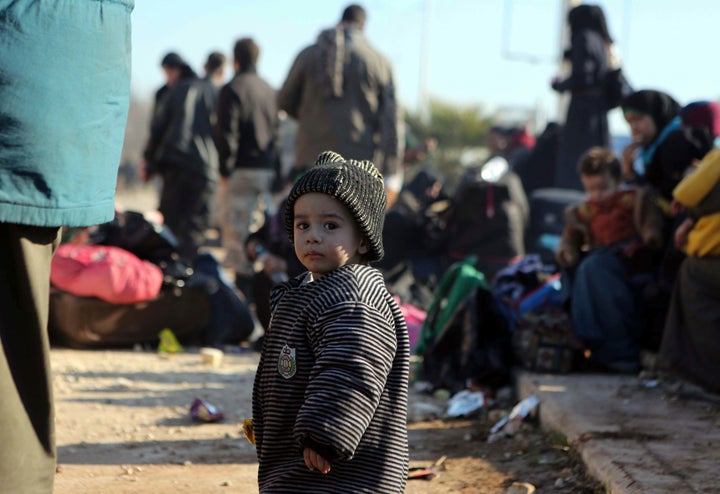 The Red Cross also said that aid workers were facing serious risks every day - and many had already paid the ultimate price for trying to help.
"Over 50 Syrian Arab Red Crescent (SARC) volunteers have been killed [since the beginning of the conflict] and many more injured, kidnapped or detained while carrying out their humanitarian duties. Staff and volunteers of the Palestine Red Crescent branch in Syria have also lost their lives in the line of duty," spokesperson Freya Carr said.
"The situation is unpredictable and extremely volatile and the risks involving SARC volunteers are of grave concern as is the magnitude of the disaster and the needs, which by far exceeds available assistance.
"The needs are many, and vary from area to area accordingly. People often have overlapping needs. Despite the length of the crisis, still even six years on, food support is an essential part of the aid response in Syria,"Carr added.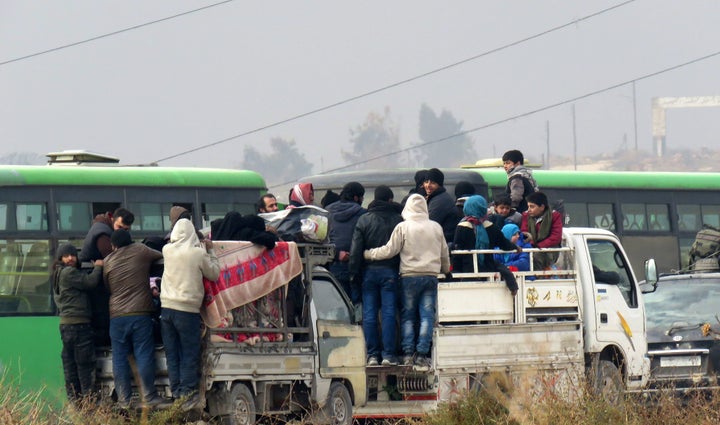 With around 13.5 million people in Syria in need, the Red Cross added that there is simply not enough aid to reach everyone who needs it and that they are in need of more funding and more access.
"SARC is able to reach on average 4.5 million people – around one third of those in need – with aid every month. Given the challenges this is a huge number.
"But we need more funding, and more access," spokespersonCarr said.
But despite the difficult situations faced by those providing aid, and the fact hat many civilians continue to wait to be evacuated from Aleppo, the public has dug deep to donate to organisations that are trying to help.
Over the past few days, a number of charities have told HuffPost UK they have received a huge spike in donations.
Here are some of the things that charities could now buy with the funds they've received...
The Red Cross said it has received £619,596 since the beginning of December - and at this rate, they look set to raise almost six times their usual monthly figure thanks to the public's generosity.
The amount they've received in December alone could allow them to purchase:
Food parcels to feed 23,712 families of five for a whole month.

Or they could help keep 159,279 internally displaced people warm with thermal blankets.

They could fund emergency kits (containing sanitary towels, underwear, torch, headscarf, bag, body soap, gown (abaya), socks and a whistle) to 20,557 women.

They could give 67,274 tarpaulin shelters to those without homes.

Or they could purchase 495,676 sleeping mats for those who do not even have a place to sleep.
All money donated to the British Red Cross Appeal will be channelled directly to beneficiaries through National Red Cross and Red Crescent Societies who are on the ground and can assess the situation, to ensure the right kind of aid reaches the people who need it most.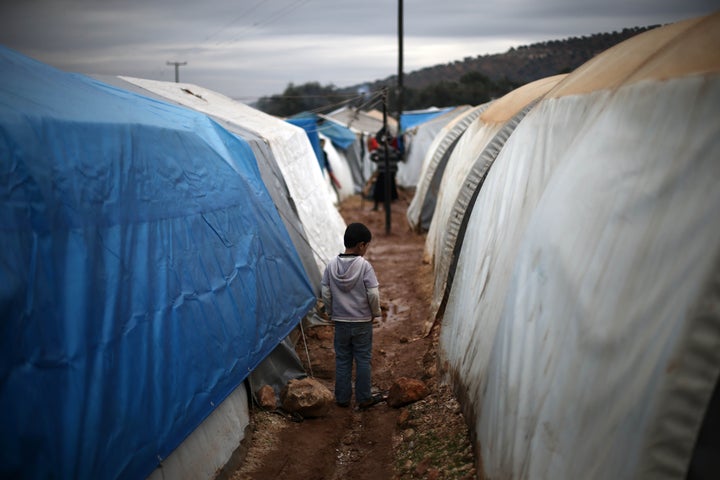 MSF has received a significant influx since the beginning of December and seen donations spike over the past week.
This has already allowed them to provide:
45 tonnes of medical supplies to those who have been injured or are suffering from illness.

700 NFI (non-food item) kits, which includes items such as soap and hygiene kits, blankets, clothing and cooking utensils.

They have also been able to support six health facilities in north Syria directly operated by MSF, as well as 150 health facilities across Syria, in areas where they cannot be directly present.
The charity provides technical advice, medical supplies, salaries and fuel, as well as helping rebuild damaged buildings.
MSF also gives ad hoc support such as medical donations to around 80 other medical facilities in emergency situations, for example if they receive massive influxes of casualties.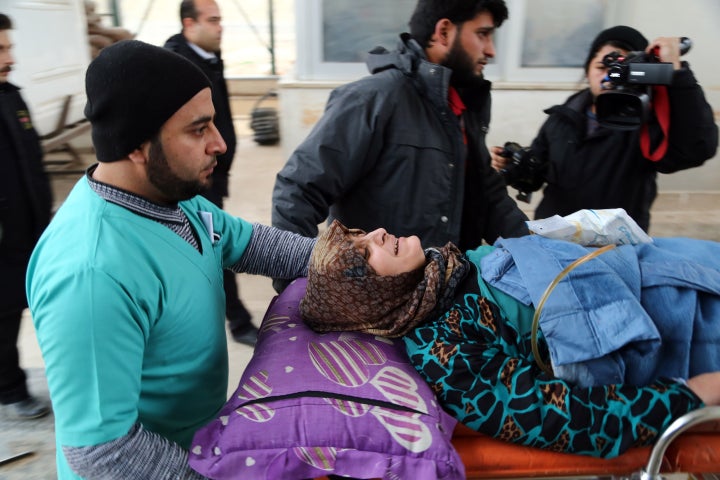 In one week alone, The Mercy Corps received approximately $560,000 (£453,832) in donations.
The humanitarian group has been stationed in northern Syria to meet newly displaced people with food, blankets and other essential assistance.
The money they have received could provide:
Bread for 50,909 families of six for a whole month.

Blankets for 23,333 families of six to keep them warm in the winter months.
The organisation is already reached around 470,000 people each month with relief.
Popular in the Community