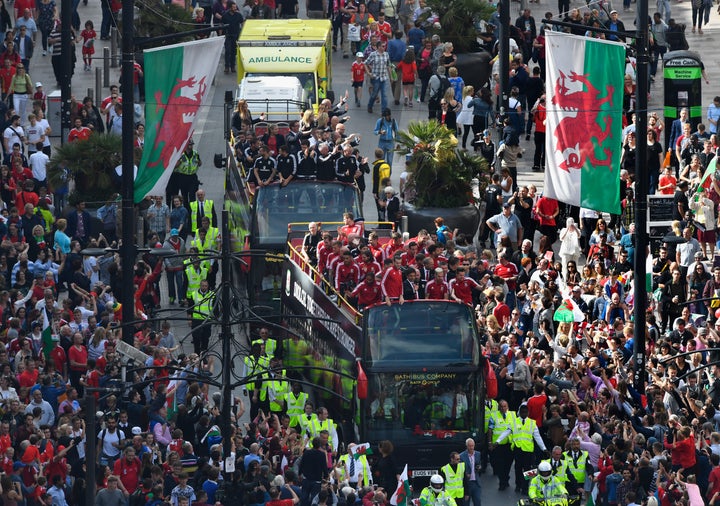 The Wales football team has been greeted with a heroes' welcome after arriving in Cardiff on Friday after a history making performance at Euro 2016.
The team travelled by open top bus from Cardiff Castle to Cardiff City Stadium where the Manic Street Preachers were expected to play in front of 33,000 people in a show beginning at 6.30pm.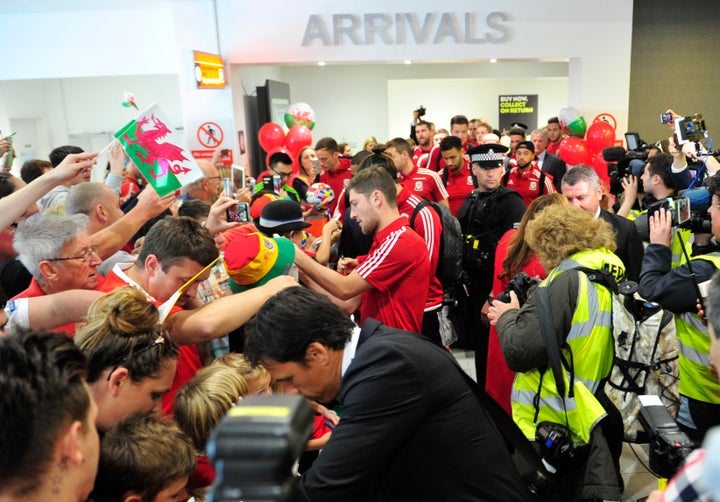 Fans today posted pictures of streets flooded with crowds of people dressed in the Dragons red team colours. One wrote: "Unbelievable how only football can change how a country feels. Be proud today."
Speaking to BBC Radio Wales at the airport, Wales manager Chris Coleman said: "This is what it's all about, this is why the players work so hard to represent their country.
"They knew there was a nation waiting for them.
"I'm so proud, they didn't want to let their country down and they certainly didn't."
Wales goal scorer Hal Robson-Kanu told the broadcaster that it had been a long tournament "but we're glad to be home".
Fellow Wales goal scorer, Sam Vokes, said: "It's amazing the amount of people that have come out to welcome us.
"You're almost in a bubble when you're out in France, so to come back and see these scenes is amazing."
Several local school gave pupils the afternoon off to attend welcome home celebrations.
FAW chief executive Jonathan Ford was quoted by the BBC as saying: "The nation really wants to show the boys how impressed they are and how proud they are and I'm sure they will be out in their thousands today."
He said the stadium event "sold out pretty quickly" but added "one or two tickets" would be released for a lucky few.