Hillary Clinton has told Donald Trump she hopes he is a "successful" president - but issued a clear warning to the Republican that she expects him to respect the rule of law and the equal rights of Americans.
In an emotional speech to campaign staff in New York on Wednesday morning, Clinton acknowledged her defeat was "painful" but urged Democrats to never stop "fighting" for what they believed in.
And in a separate speech today, President Obama urged Clinton's supporters not to get "cynical" following the result.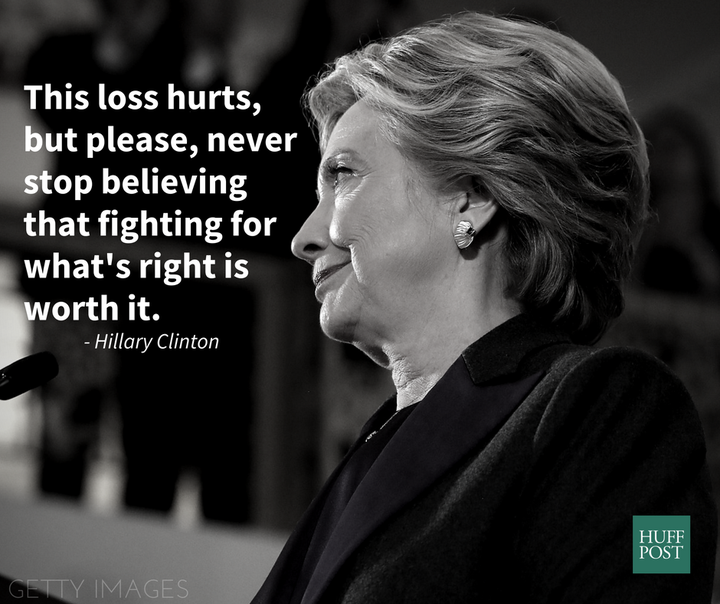 Clinton had been widely believed to be on course to become the United States' first ever female president. Instead, she lost to a Republican man who openly bragged about using his celebrity status to sexually assault women.
Having been greeted with sustained applause today, Clinton said nothing had made her "prouder" than to be a "champion" for women. "I know we have still not shattered that highest and hardest glass ceiling, and someday, someone will. And hopefully sooner than we might think."
"To all the little girls who are watching this. Never doubt that you are valuable and powerful and deserving of every chance and opportunity in the world. You deserve and achieve your own dreams," Clinton said.
"This loss hurts. But please. Never stop believing that fighting for what's right is worth it."
"This is painful and it will be for a long time"
Clinton said she had congratulated Trump on his victory and "offered to work with him on behalf of our country".
"I hope that he will be a successful president for all Americans. This is not the outcome we wanted or we worked so hard for and I am sorry we did to win this election," she told her staff, many of whom were in tears.
"I know how disappointed you feel because I feel it too. And so do tens of million of Americans who invested their hopes and dreams in this effort. This is painful and it will be for a long time. But I want you to remember this. Our campaign was never about one person or even one election.
"It was about the country we love and about building an America that is hopeful inclusive and big hearted."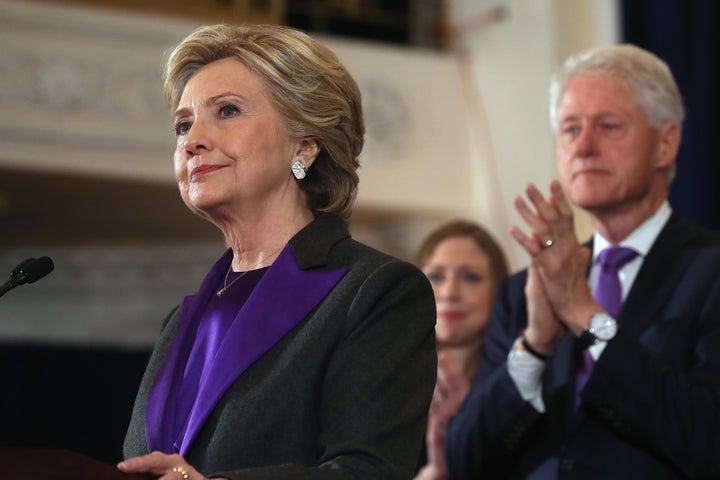 During the campaign, Trump hinted he may not accept the result of the election if he lost. However Clinton said today that her supporters must recognise that "Donald Trump is going to be our president".
"We owe him an open mind and the chance to lead. Our constitutional democracy enshrines the peaceful transfer of power, and we don't just respect that, we cherish it.
In words that will be seen as a warning to Trump, Clinton added:
"It also enshrines other things. The rule of law. The principle that we are all equal in rights and dignity, freedom of worship and expression. We respect and cherish these values too - and we must defend them."
Clinton meanwhile was dogged by allegations she had improperly used a private email server while serving as Secretary of State.
The 69-year-old today also urged Democrats not to give up in the face of Trump's victory. "Let us have faith in each other," she said. "Let us not grow weary. Let us not lose heart. There are more seasons to come. There is more work to do."
Earlier today, Obama called Trump, the man who long attempted to delegitimise his presidency by pushing the untrue claim he was not born in the US, to congratulate him for winning the race.
Obama also called Clinton, a woman he endorsed and campaigned for, "and expressed admiration for the strong campaign she waged throughout the country," according to a statement from White House press secretary Josh Earnest.
He said in a speech at the White House today: "I've said before. I think of this job as being a relay runner. You take the baton and you run your best race. And hopefully by the time you hand it off you're a little further ahead, you've made a little progress.
"It is hard and sometimes contentious and noisy and its not always inspiring. But to the young people who got into politics for the first time and may be disappointed by the results, I just want you to know - you have to stay encouraged. Don't get cynical. Don't ever think you can't make a difference.
"We're Americans first. We're patriots first. We all want what's best for this country. That's what I heard in Mr Trump's remarks last night, that's what I heard when I spoke to him directly. And I'm heartened by that."
Related