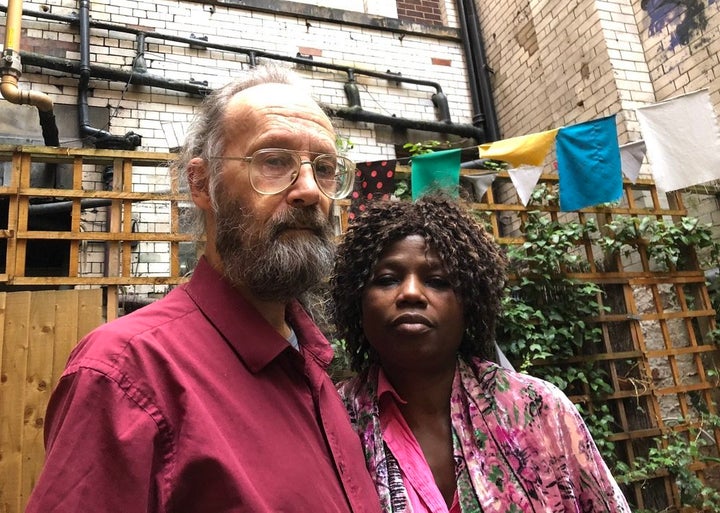 For more than 70 years British pensioner Barry Johnson has lived and worked in the UK, serving his community through volunteer work. He is married to Mary, who was trafficked to the UK as a victim of modern slavery.
Now, in the later years of life, the Manchester pensioner says the government is trying to force him out of his own country due to a "hostile" ruling over his wife's immigration status, which has been condemned as "cruel and inhumane".
Mary Adenugba Johnson was trafficked to the UK from Nigeria 14 years ago by a man known only as Uncle Kay. She faced the horrific ordeal of being forced into prostitution.
They have gone public with their story, speaking exclusively to HuffPost UK, in the hope of forcing immigration minister Caroline Nokes to intercede in their case.
Charity volunteer Barry claims he is being forced into exile as a result of the government's anti-immigration policies.
"I've never done anything wrong and personally I think I've contributed a lot to the community I live in," he said. "But the government is not interested in any of that. They're prepared to sacrifice me on the altar of their hostile environment policy."
Shadow immigration minister, Afzal Khan MP, has backed the couple's case calling for the government to stop them being forcibly sent to Nigeria.
"I was appalled to hear of how Mary had been treated by the Home Office given all that she has suffered as a victim of human trafficking," said the MP.
"It is utterly ridiculous of the Home Office to suggest that Mary and her 71 year old husband, a British Citizen, relocate to Nigeria, a country he has never been to and is unsure whether he would legally be allowed to remain in."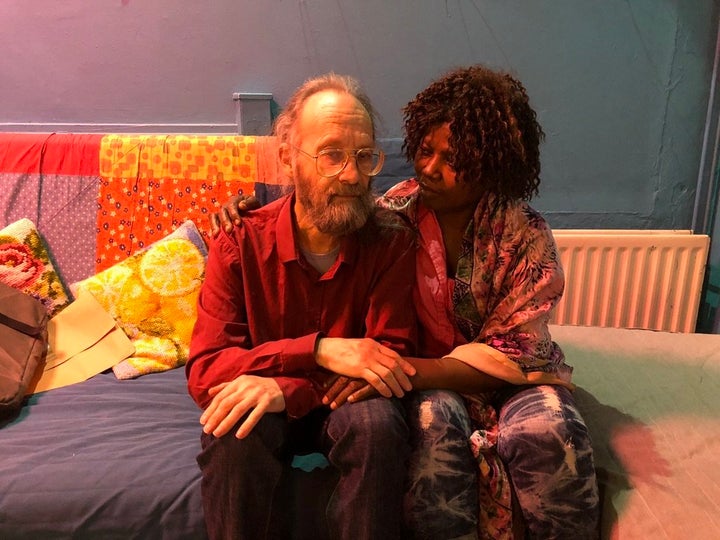 HuffPost UK met the couple to discuss their case in the Nexus Arts Cafe in Manchester, where they went to celebrate their wedding two years ago. The happy memories of that day have been clouded by the ordeal of trying to secure Mary's future in the country where she has lived for 14 years.
Currently considered an illegal immigrant by the Home Office, 47-year-old Mary has been fighting for permission to remain in the UK for a decade since escaping the traffickers who kept her captive and enslaved.
She was brought to London from Nigeria in 2004 when a church pastor in Lagos introduced her to a respected member of the congregation, who she knew only as Uncle Kay. This man offered to take her to the UK where she would be given a new name and date of birth.
"I was brought in by a generous man named Uncle Kay but I did not know that he was just going to take me to be used as a harlot," said Mary, whose dark eyes cloud over as she remembers the brutal experience. "So that is how I was put in that situation."
In a complicated case history, Mary first applied for asylum in 2007.
The Home Office accepted she was a victim of trafficking but refused her leave to remain in 2012. She appealed and was again turned down by a judge who cited medical history which appeared to contradict Mary's testimony that she was under the control of traffickers.
In fact, Barry claims the medical records, which are in the false name of Sola Roseline Akinbolaji, are evidence that she was trafficked.
"It seems to me that more than one woman might have been given that name," he says. "Because the medical records, which the judge seemed to seize upon in turning down Mary's asylum appeal, come from the trafficker arranging for Mary to have a national health number in the name of her trafficking.
"Something changes in the medical history of this supposed person, I think they change their height quite substantially in the medical records. To me that is actually evidence of Mary being trafficked, because here she is with an NHS number that appears to have belonged to someone else previously."
Despite the refusal of her case, Mary was permitted to remain in the country as she was working with police as a potential witness in a trafficking investigation.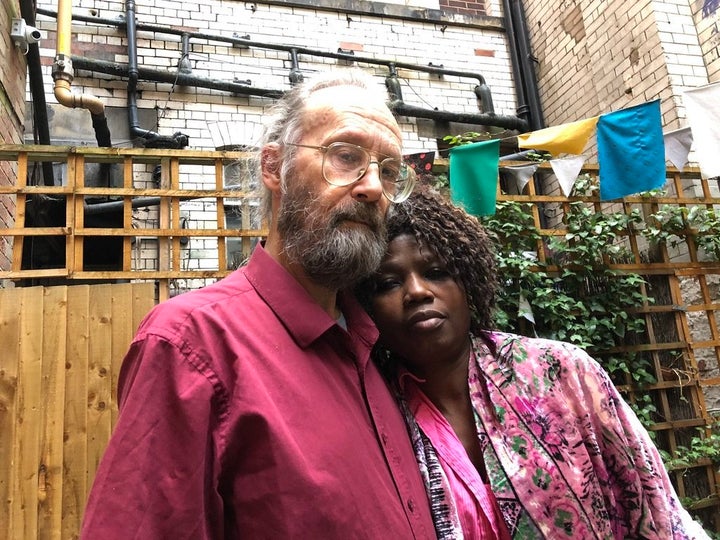 The couple have gone public about Mary's personal history in the hopes of forcing the Home Office to show a more compassionate approach to her case.
At the time she was tricked into coming to the UK Mary was destitute, homeless and extremely vulnerable. Her mother, two sisters and her daughter had been killed in an explosion in Lagos and Mary's father accused her of witchcraft and blamed her for the deaths.
The oldest of five children, Mary had been estranged from her Muslim father since converting to Christianity as a teenager. Alone and vulnerable, she fell into the hands of the traffickers. She was first held in London and then moved to Manchester and handed over to another man she knew only as Uncle Philip. She endured three years of enforced prostitution before escaping from the men who had enslaved her, when police stopped them one night.
She was taken to a police station and later freed with advice to report to the Home Office. But, still extremely vulnerable and scared, Mary fell under the control of other seemingly friendly people who exploited her to do unpaid domestic work before refugee charities eventually supported her to freedom.
"All this has been told to the UK Border Agency," says Mary. "They believed that I was trafficked, they believed my story, but they just like to tear me down. I am frightened and it has been a long time fighting like this."
Five years ago Barry and Mary met, singing in the Manchester Community Choir. They share a passion for community volunteering and Mary is a keen gardener on the local allotments, while Barry is on the committee of the allotment association. He also acts as secretary of his local housing co-operative, is an active member of the charity Vegan Organic Network, and a trustee of the heritage charity Victoria Baths Trust in Manchester, alongside many other volunteer roles.
In August 2016 the couple married. Remembering her wedding day, Mary explains the anxiety she felt that Home Officials would turn up and take her into detention as the couple knew of other cases where this has happened.
"When we came to this cafe and I had my marriage certificate, it was like a dream," she says. "That day I ate a plate of food. I asked for my favourite, which is a full English breakfast with hot chocolate."
Afterwards Mary submitted a new application for leave to remain as the wife of a British citizen.
Among the arguments put forward in her case, her lawyers said it would be unreasonable for Barry to move to Nigeria having lived in the UK all his life and cited Mary's fears she will be targeted by her father or traffickers if she is returned to Nigeria and pointed to her enduring depression, anxiety and post traumatic stress disorder as a result of her traumatic past.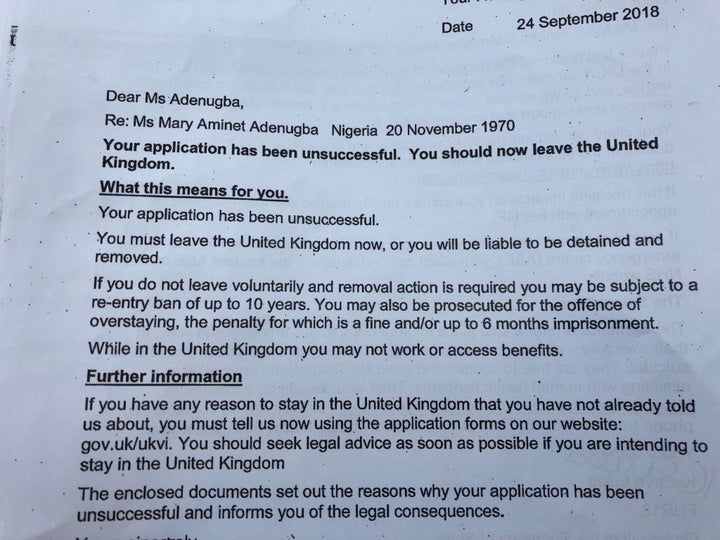 The Home Office considered the case and refused it on September 24 this year.
In the ruling, officials said the UK did not have to "accept the choice of a couple as to which country they would prefer to reside in" and that it was not "particularly harsh" to expect Barry to relocate to Nigeria. The decision also said the relationship was started in the full knowledge that Mary's immigration status was not permanent.
It came as a huge blow to the Johnsons. Barry remembers vividly the moment his wife had to report to the immigration centre days after receiving the decision, and breaks down in tears as he describes what happened.
"It was incredibly traumatic because we thought she may well be detained there and then," he says. "It cost us £500 just to get the solicitor to intervene and say we would be going for a judicial review.
"When she got out of the centre she was hysterical. From her account she was fairly calm inside, holding her feelings in, but she was hysterically laughing and then she started crying. I was also crying. Then she started screaming and screaming for a long, time."
In a decision the couple argue is unlawful, the Home Office has also blocked any right of appeal over its refusal to allow Mary leave to remain in the UK. This is because the Home Office says the new application is an extension of Mary's previous asylum case, which has already been subject to an appeal.
This has forced the couple to lodge judicial review proceedings which will cost thousands. Barry says the decision shows not only a callous disregard to Mary's vulnerability as a victim of human trafficking but has also ridden roughshod over his own human rights.
"What is happening is the government is effectively forcing me to leave the country," he said. "I'm born in this country and all of my ancestors are born in this country, if that matters, but they're effectively forcing me to go into exile."
Asked if he will be able to legally remain in Nigeria if the couple are forced to go there, he says he does not know.
"That's the arrogance of the British government to think that the Nigerian government will treat me better than they will treat Mary," Barry says.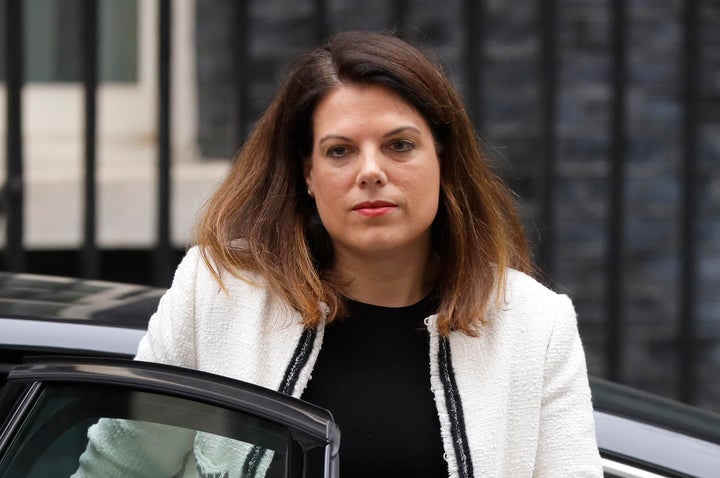 The couple are now calling on immigration minister Caroline Nokes to intervene and overrule the Home Office's decision to deny them a right of appeal.
"We hope to get the immigration minister to say to the Home Office officials - stop playing with these people's lives and let them appeal," said Barry.
"I want a fair hearing and I don't think the Home Office can give a fair hearing. It's almost like they're judge and jury because they have decided we can't appeal. And to me that system which gives an arm of government the power to prevent someone appealing their decision, that is not something you expect in a democratic society."
HuffPost UK contacted the immigration minister's office about the case but did not receive a response.
Solicitor Natasha Willett, of specialist immigration firm Latitude Law, who is handling the couple's legal proceedings, said it is not uncommon for a right of appeal to be refused in cases such as the Johnsons.
"Unfortunately, in the last year or two it's become increasingly common for the Secretary of State to take such a position," she said. "We've certainly seen other cases where human rights arguments have been raised – maybe because of a new relationship with a British partner or a child - and the Home Office has sought to rely on a refusal without a right of appeal purely on the basis of the credibility of a previous asylum claim.
"Basically, the Home Office has refused to accept that Mary's relationship with her British partner is fresh evidence, despite the fact that this was not raised or considered in the context of her previous asylum appeal proceedings.
"Their relationship has not been considered before by either the Secretary of State or a tribunal, so this is an entirely fresh claim and it should not have been refused without a right of appeal.
"They should have the opportunity to bring their case before a judge and have a judge make a decision on the particular facts of their case."
She said the Home Office is increasingly using paragraph 353 of the Immigration Rules to block rights of appeal in such cases.
"It is common for this paragraph to be raised to block a further right of appeal," the solicitor told HuffPost UK. "This is especially so when an individual has made an asylum application before, as this appears to increase the likelihood of the Home Office relying on this provision, regardless of the nature of their future application."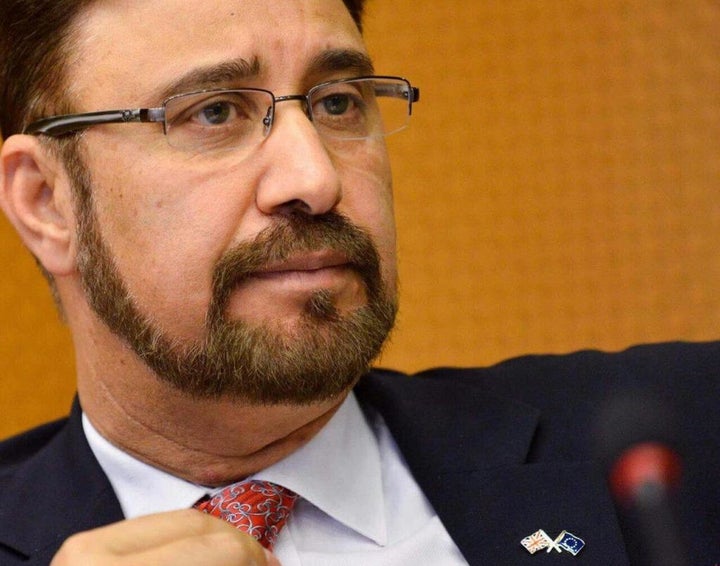 Shadow immigration minister Afzal Khan, who is the couple's constituency MP, said the Johnsons' case is not unique and has called for radical overhaul of government immigration policy to bring about a fairer system.
"I wrote to [immigration minister] Caroline Nokes on October 8 to ask that Mary's case be reconsidered in light of her circumstances and traumatic past, but so far have received no response," he said.
"Sadly, Mary's experiences are not unique. I am regularly contacted by constituents who have been subjected to cruel and inhumane treatment under the hostile environment policies drawn up by this government.
"Without a complete overhaul of the structure and processes of the Home Office and a complete end to the 'hostile environment', people like Mary and her family members, who are British citizens, will continue to suffer."
The Home Office said it does not comment on individual cases.
But after HuffPost UK put detailed questions to the department we were told Mary Adenugba Johnson's case would be reviewed by visa and immigration officials who have made contact with the couple's legal representatives.
In response to wider criticism of government immigration policy, a Home Office spokesman said: "The government is committed to a fair and humane immigration system which welcomes people here legally, but it is right we have a compliant environment to deter illegal immigration.
"The public expects the system to provide control in order to tackle illegal immigration, prevent abuse of benefits and services and remove incentives to enter and remain in the UK unlawfully."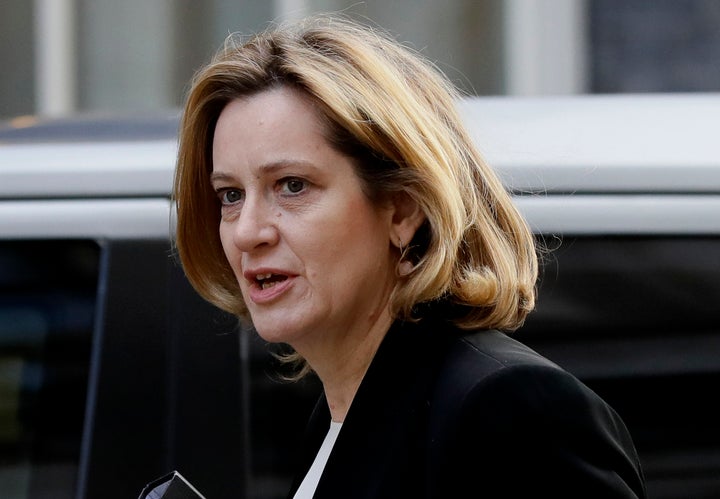 Former Home Secretary Amber Rudd was forced to resign her post after wrongly saying the Home Office did not have targets to remove illegal immigrants. She had been facing intense political pressure over the Windrush scandal in which some migrants from Commonwealth countries, who settled in the UK from the late 1940s to 1973, were wrongly declared illegal immigrants. Critics claimed the controversial decisions were influenced by the government's "hostile environment" policy on enforcing immigration laws.
Rudd's claim that the Home Office did not have targets was soon rubbished when the Guardian published a memo in which she set out the "ambitious but deliverable" aim to deport 10% more illegal immigrants over "the next few years". She resigned shortly afterwards and an official Downing Street report this month found Home Office officials had repeatedly given her wrong information.
Sajid Javid was appointed as Rudd's successor and vowed to ban the phrase "hostile environment" when it came to enforcing immigration laws. The term had been a key tenant of policy during Theresa May's time as Home Secretary, when she pushed on with a clamp down on illegal immigrants, and spoke of creating a "hostile environment" for them in the UK. Targets for the removal of illegal immigrants were created, and a van emblazoned with a 'Go Home' banner was driven around the streets of London.
Barry and Mary Johnson say they have seen no evidence of Javid's promise of a "fairer and more compassionate" immigration system.
As they await further information on their case, Mary is next due at the Home Office's reporting centre in four months time. It is unlikely she will be detained and deported while the judicial review proceedings for a right of appeal are ongoing. But the couple have no guarantee of that.
"What's going on now is the thing that's affecting Mary most at the moment, rather than what happened a long time ago," said Barry. "But what happened then makes it more difficult for her to cope with what's happening now and the way the Home Office is treating her now is making it worse and re-traumatising her."
Mary says simply: "I like to think of my future and I like to think of my present, but I don't like to think of my past. This is my home and my husband is here. It is my home because it is my husband's country. I am not an asylum seeker anymore and I have made my life here."
Have you been affected by a case similar to Mary's? HuffPost UK would like to hear from you. Contact journalist Emma Youle on emma.youle@huffpost.com
Useful websites and helplines:
Mind, open Monday to Friday, 9am-6pm on 0300 123 3393
Samaritans offers a listening service which is open 24 hours a day, on 116 123 (UK and ROI - this number is FREE to call and will not appear on your phone bill.)
The Mix is a free support service for people under 25. Call 0808 808 4994 or email: help@themix.org.uk
Rethink Mental Illness offers practical help through its advice line which can be reached on 0300 5000 927 (open Monday to Friday 10am-4pm). More info can be found on www.rethink.org.