Most people know cold weather can be deadly for people living on the streets of Britain, but now charities are trying to raise awareness of the dangers to homeless people of long-term heat exposure.
Monday is the sixteenth consecutive day of temperatures over 28C - the longest hot spell since 2013 - and Sunday was England's hottest day of the year, with temperatures of 32.4C recorded in Gosport, Hampshire.
"We are seeing an increase in people who are suffering in the sun," Let's Feed Brum, a Birmingham charity who redistribute food and drink to the homeless, told HuffPost UK.
″[This is] particularly amongst rough sleepers who are being moved along and having to walk around the hot city with all their belongings."
They say people sleeping and sitting outside all day are at increased risk of sunburn, sunstroke and dehydration.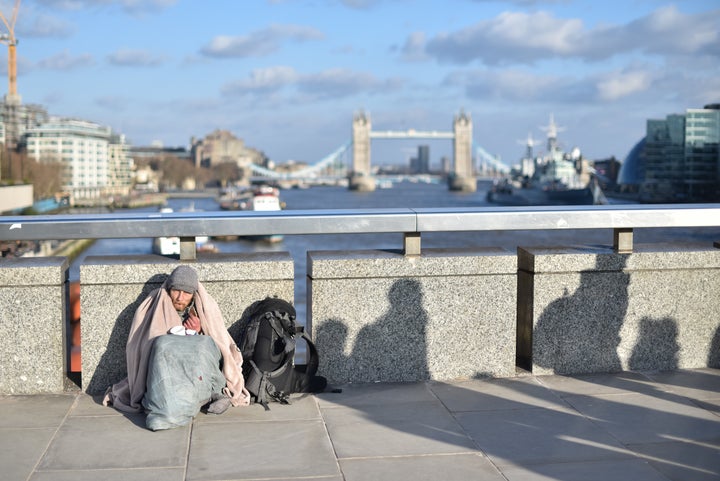 Last week outreach workers in Birmingham said conditions were "horrendous" as they witnessed people fighting over bottles of water after not drinking anything for "hours and hours" according to the BBC.
"They were so desperate, they were fighting over the bottles of water," said Tracey Patterson, founder of Birmingham Homeless Support.
"One woman we saw was so badly sunburned, all we could do was get her aftersun cream and try and keep her in the shade."
Teardrops, a charity supporting the homeless in Merseyside, has been handing out 'summer hydration packs' for those in need, which include a bottle of water, factor 30 suncream, wet wipes and deodorant.
Unlike in cold weather, when the government deploys SWEP (severe weather emergency protocol) to get more spaces in night shelters, charity CentrePoint told HuffPost it was not aware of any policy "specifically aimed at helping" during particularly hot weather.
"It may be that individual councils are providing water for rough sleepers during the hot weather, but obviously shelters may not provide much respite from the heat," a spokesperson added.
Now charities are encouraging the public to help.
Buy Water Or Give Them Suncream
Shelter posted on Twitter to tell people that an immediate way to help rough sleepers is to give them bottled water, suncream, sunglasses, hats or an umbrella.
Homelessness charity Evolve Housing + Support said giving people hand-held fans is a useful way to lower body temperature and prevent heatstroke. Baby wipes can also help with sanitation and avoiding athlete's foot.
Get Them Help
Paul Noblet, head of public affairs at Centrepoint said: "The most important thing is to get young people on the street to safety."
If you know a young person who is currently, or at risk of becoming homeless you can call or put them in touch with the Centrepoint Helpline, a Freephone number, on 0808 800 0661.

Those over 25 can also try StreetLink on 0300 500 0914.