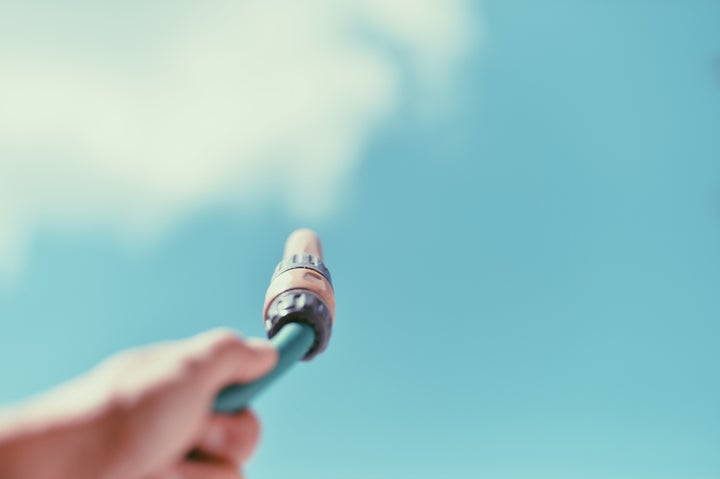 Thames Water, which supplies 15 million people across the south of England, has become the latest water company to introduce a hosepipe ban due to "unprecedented weather conditions" this summer.
Despite two days of rain and thunderstorms, the company said water levels in its reservoirs were "much lower than usual."
The company joins Welsh Water, Southern Water, South East Water and South West Water in implementing bans, with Yorkshire Water following suit on August 26 – meaning more than 29.4 million customers across the UK will be prohibited from using hosepipes by the end of this week.
This comes after a drought was officially declared across most of England, following the driest July in records dating back to 1836, and the driest eight-month period from November 2021 for the country since 1976.
Rivers have been left at shockingly low levels due to months of little rainfall combined with record-breaking temperature in July and a week-long heatwave in August. All of this has put pressure on the environment, farming and water supplies, and has fuelled wildfires.
Parts of the UK faced two days of heavy downpours and flooding last week, but the Environment Agency has said it will take weeks' worth of rain to replenish water sources and end the drought.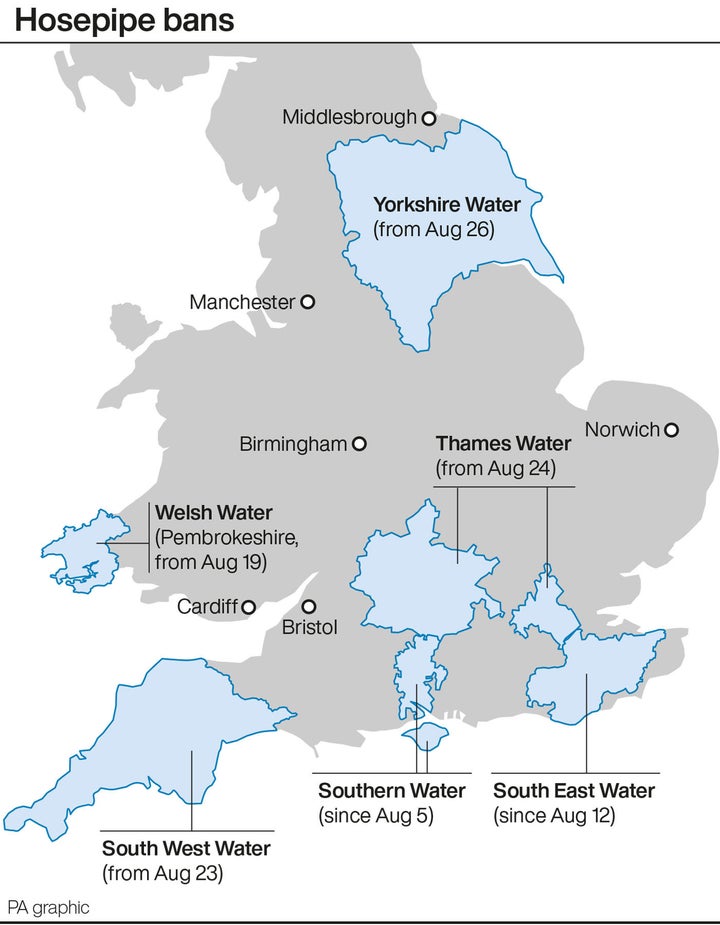 Why is the hosepipe ban being introduced?
Temperatures hit UK record highs in July and climbed into the 30s in the second week of August, leading The Met Office to warn there is "very little meaningful rain" on the horizon.
Although parts of the UK have been hit by flood warnings this week, the sudden but brief rainfall can not counteract the dry summer overall.
The situation has prompted calls for action to reduce water consumption to protect the environment and supplies, and to restore the country's lost wetlands "on an enormous scale" to tackle a future of more dry summers and droughts.
Where is the hosepipe ban being introduced?
Thames Water, Welsh Water (Dwr Cymru), Southern Water, South East Water, Yorkshire Water and Thames Water have all signalled hosepipe bans will be necessary to preserve supplies.
Southern Water has already implemented a ban for customers in Hampshire and the Isle of Wight.

South East Water's restrictions came in from August 12 in Kent and Sussex.

Welsh Water's hosepipe ban came into force for customers in Pembrokeshire and parts of Carmarthenshire on August 19.

South West Water introduced its ban on August 23.

Thames Water's ban came into effect on August 24 for customers in the south of England.

Yorkshire Water's ban will come into effect from August 26.
No hosepipe bans are currently in place in Scotland or Northern Ireland.
What are the hosepipe ban rules you need to follow?
Though the ban relates to hosepipes it also applies to anything attached to them, like sprinklers and jet washes. However, people will be allowed to use mains water from a watering can or bucket rather than a hose.
You can't use a hosepipe or sprinkler connected to mains water to water your plants, or your lawn (unless the lawn has been laid in the last 28 days).
Some water companies also allow you to use hosepipes for pot plants. South East Water, for example, says plants in an outdoor pot or within a greenhouse count as exemptions. Check with your supplier for details.
You can't fill a pool or paddling pool with a hosepipe either, but in some areas you are allowed to fill a hot tub – and a pond with fish in it if their welfare depends on a top up.
You can't use a hosepipe to clean your windows, but a professional window cleaner can use one if they are doing it for customers.
A hosepipe can't be used to wash your car, unless it's connected to a water butt. Nor can you use a jetwasher, but if you live on water, you can use it to clean your boat if it's your primary residence.
Thames Water's hosepipe ban will include:
• Watering the garden, allotment or plants
• Filling or maintaining paddling pools, swimming pools or hot tubs
• Cleaning vehicles and windows, walls, paths, patios and other artificial outdoor surfaces like artificial grass
• Recreational use like water fights and water slides
Again, you should check the individual restrictions and exemptions set out by your supplier.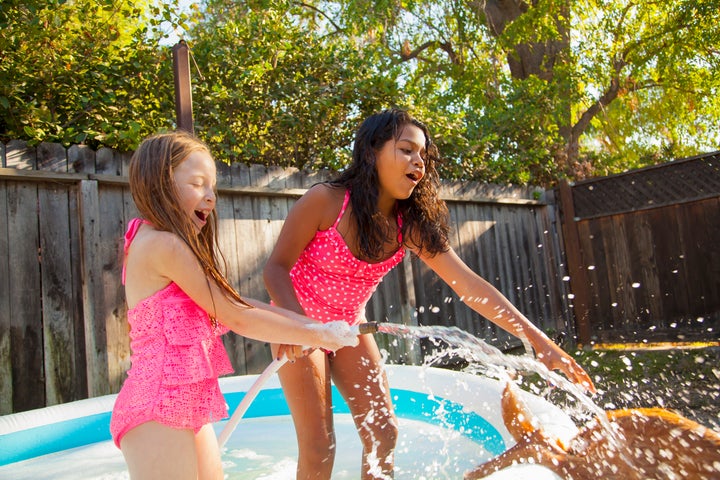 Can we expect more hosepipe bans in August?
Remaining firms have so far held off bringing in restrictions despite low water levels, though they say they may need to implement bans if the dry weather continues.
Householders who have not yet been hit by restrictions are being urged to avoid using hosepipes for watering the garden or cleaning the car.
Nature campaigners have criticised water companies for leaving it to "the last possible moment" to bring in restrictions, when rivers are in a "desperate" state, and for last-minute announcements that spur an increase in water demand before hosepipe bans come in.
The Rivers Trust is calling for accelerated metering, rapid reduction in leakage, support for households to reduce water usage, such as installing low flow toilets and water butts, and sustainable drainage including rain gardens, wetlands and permeable paving to build up local stores of water underground.