The spread of Covid-19 is picking up pace across much of the UK, with around 17,000 cases a day. But what is responsible for driving this rise?
Dr Simon Clarke, associate professor of cellular microbiology at the University of Reading, told HuffPost UK it's hard to know exactly how and when the virus is spreading.
"While the NHS Test and Trace service will have some idea about where infected people have been, which can give some hints as to the source of local outbreaks, very often it is impossible to say for certain where someone has picked the virus up," he said.
"What we do know is that you are most likely to pick it up from places where you come into close contact with other people. We also know from recent surveys of the general population that around two-thirds of people have Covid-19 without having any symptoms.
"That's why it is so important for people to act responsibly and respect the rules. Even if you feel well, you could be carrying a potentially lethal virus to others."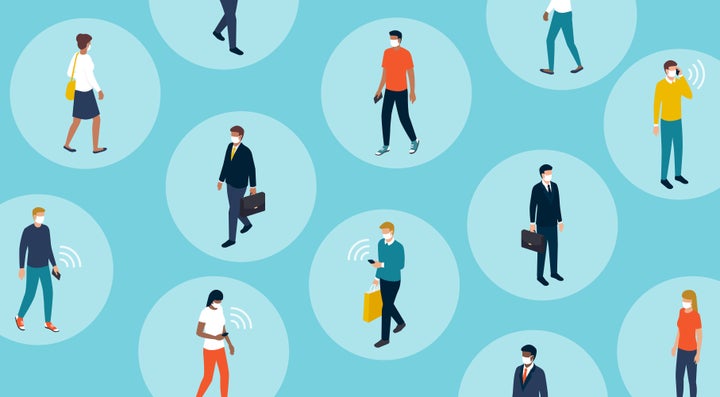 A common theme among countries in the UK is that those in their twenties are currently most likely to test positive.
In Scotland, most cases are now being reported in those aged 20 to 24 years old, in Wales it's among those aged 20- to 29-year-olds but also 50- to 59-year-olds, and in Northern Ireland, those aged 20 to 39 years old are most likely to test positive.
Data from the contact tracing app between August 21 to September 27 found possible exposure to Covid-19 was most likely to happen within a person's household, or through having a household visitor.
Other settings linked to some level of risk included leisure and community settings (which includes eating out and attending events and places of worship), visiting friends and relatives, attending workplaces, and education.
England's chief medical adviser, Professor Chris Whitty, previously called out household transmission as a key way the virus is being spread.
"We have to break unnecessary links between households because that is the way this virus is transmitted," he said. Studies have also found households to be a key place where transmission happens.
One of the ways Covid-19 spreads is through close contact interactions between people – so that's hugging, kissing, standing or sitting close (within six feet) to each other.
The virus can spread in droplets and smaller aerosols which are expelled from the nose and mouth when a person is chatting, laughing, singing and even breathing. These particles can then be inhaled into the nose, mouth, airways, and lungs of others, and cause infection.
"We have to break unnecessary links between households because that is the way this virus is transmitted."
When different households – and even members of the same household – get together, it's all too easy to relax the rules a bit because you're with people you trust. But it could be lulling people into a false sense of security.
And the longer you spend with another person who is infected with Covid-19, the higher the risk of catching the virus is.
People who tested positive for the virus also shared the activities they'd done prior to them developing symptoms, which may help shine a light on where people are picking up infections.
The most common activities by far were shopping and eating out, followed by attending a childcare education setting and visiting friends or relatives.
Some studies have found the virus that causes Covid-19 can remain infectious in the air for more than three hours. This is why there have been concerns about the virus spreading more as we head into the cooler months – people are more likely to socialise closely indoors, in poorly ventilated areas (especially as you don't tend to open windows in the winter), and the virus has lots of potential to infect people.
The virus can also spread through touching contaminated surfaces, although this is thought to be a less common route than close contact.
That said, it drives home the importance of regularly washing hands, as you could catch Covid-19 by touching a surface or object that has the virus on it, and then touching your own nose, mouth or eyes.
How can we combat the spread?
As ever, people are urged to remember: 'Hands, Face, Space' to prevent the spread of the virus. This means washing hands regularly, wearing a face covering in indoor public places and keeping 2m away from others at all times.
Individuals with symptoms of Covid-19 must self-isolate, and their contacts should also isolate.
Such measures could include: wearing a face mask, considering different seating arrangements, opening the windows, not sharing food, and maintaining good hand and surface hygiene. The same tips can be applied if you visit a restaurant with members of another household.
"Avoid crowded indoor spaces if possible, where there is poor ventilation and where people are unlikely to be wearing masks, like bars, pubs and restaurants," said Dr Julian Tang, a consultant virologist and Professor in the Department of Respiratory Sciences at University of Leicester.
"If there are many people inside, the probability that someone may be infected is higher and the smaller air volume is less able to dilute the virus."