HuffPost UK reader Judy asked: "I had Covid on 22 November 2020, how long should I wait to get the vaccine?"
With thousands of Covid-19 cases emerging each day, it's no surprise some people coming down with the virus are also being called up for their vaccine.
More than 15 million people have been given a first dose of the vaccine in the UK, with the clinically vulnerable and over-65s now being called up for the jab.
But what should you do if you've tested positive for Covid-19 and you've also been called forward for your vaccine? Or if you feel unwell on the day?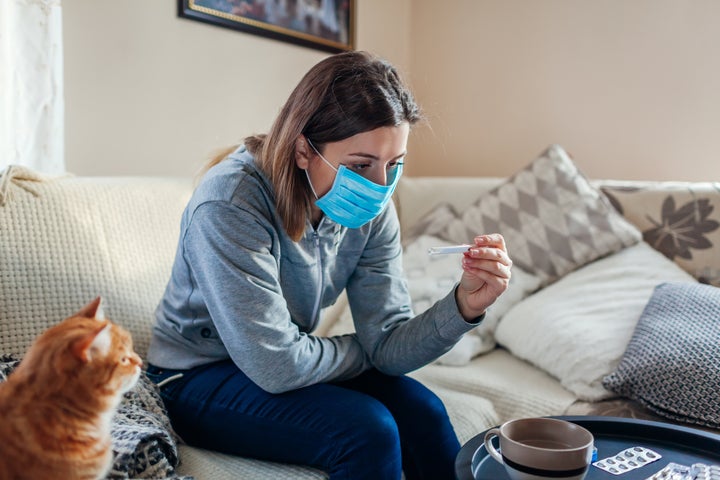 If you feel a bit unwell but don't have Covid symptoms
First up, it's worth noting that minor illnesses "without fever or systemic upset" are not valid reasons to postpone getting the vaccine, according to Public Health England (PHE) Covid-19 greenbook.
If you're "acutely unwell" however, you can postpone your vaccine until you have fully recovered. The main aim of postponing is to stop doctors from confusing signs of an actual illness with side effects of the vaccine.
If you have Covid symptoms or have tested positive for the virus
Vaccination should be delayed in people who have a confirmed infection of Covid-19.
Ideally this should be deferred by four weeks after symptoms first appear or four weeks from the first confirmed positive test (if you are asymptomatic).
What if you have longer-term Covid symptoms?
Having prolonged Covid-19 symptoms – or symptoms of long Covid – is generally not considered a reason to delay receiving the vaccine.
However PHE does note that if a patient is seriously debilitated, still under active investigation, or has evidence of recent deterioration of symptoms, deferring vaccination may be considered. If you are still having symptoms four weeks on and are due a vaccine, speak to your GP.
What about if you're asymptomatic and you still have the vaccine?
It's thought roughly one in three people are carrying the virus but don't necessarily know it as they don't display any symptoms. If you happen to be asymptomatic or incubating Covid-19 when you have the vaccine, PHE says it is "unlikely to have a detrimental effect on the illness".
There's currently no evidence of any safety concerns from vaccinating individuals with a past history of Covid-19 infection, or with detectable antibodies.
Experts are still learning about Covid-19. The information in this story is what was known or available at the time of publication, but guidance could change as scientists discover more about the virus. To keep up to date with health advice and cases in your area, visit gov.uk/coronavirus and nhs.uk.