James Shamsi is on a mission to free the nipple on Instagram -- or at least point out the social platform's murky policies when it comes to "acceptable" nudity. Like many women (and a few good men) before him, Shamsi noticed the double standard applied to men and women's nipples on Instagram. Namely, women's nipples are censored, while men's are not.
"I realized the absurdity in the over-sexualization of the female nipple," Shamsi told The Huffington Post via email. "I wanted to show Instagram just how silly their own policies were by showing them how easily male nipples could be interpreted as female -- and with the greater aim of highlighting the fact that the only real difference [between men's and women's nipples] are the weighting we choose to give to female nipples according to labels we arbitrarily assign to them as a society."
To test out Instagram's policies, Shamsi posted the below, cropped photograph of a man's chest on Instagram.
Since the nipples look as though they could be those of a woman, he suspected that if reported, Instagram would remove the image. He even asked his Facebook friends to report the image so he could test his theory.
Unsurprisingly, it worked. Instagram removed the image for being in violation of its Community Guidelines a few hours after it was posted. Shamsi then contacted Instagram, alerting them that the chest they had censored was actually a man's. Soon after, the post was reinstated. "Instagram reinstated the photo because these were male #facepalm," Shamsi wrote in a subsequent Instagram post (below).
Shamsi's nipple experiment follows a similar campaign first started by Associate Professor Micol Hebron in June 2014. She brilliantly suggested that women simply paste male nipples over their own scandalous lady ones. Problem solved!
Instagram seems to realize that creating guidelines for nudity is a seriously fraught process. In a statement to The Daily Dot regarding Shamsi's photograph, an Instagram spokesperson said:
Standards around nudity vary greatly by culture, country, age, and other factors. Our goal has always been to find a balance between enabling people to express themselves, while also making sure that our large, diverse, global community feels comfortable. Striking the right balance is hard -- and examples like this highlight the complexity of this issue. As always, we continue to analyze our policies to make sure that we're listening to people and meeting the needs of our global community.
In January, Instagram told The Huffington Post that they "recognize that we don't always get it right" when it comes to nudity on the platform. It looks like they are still grappling with where to draw the line.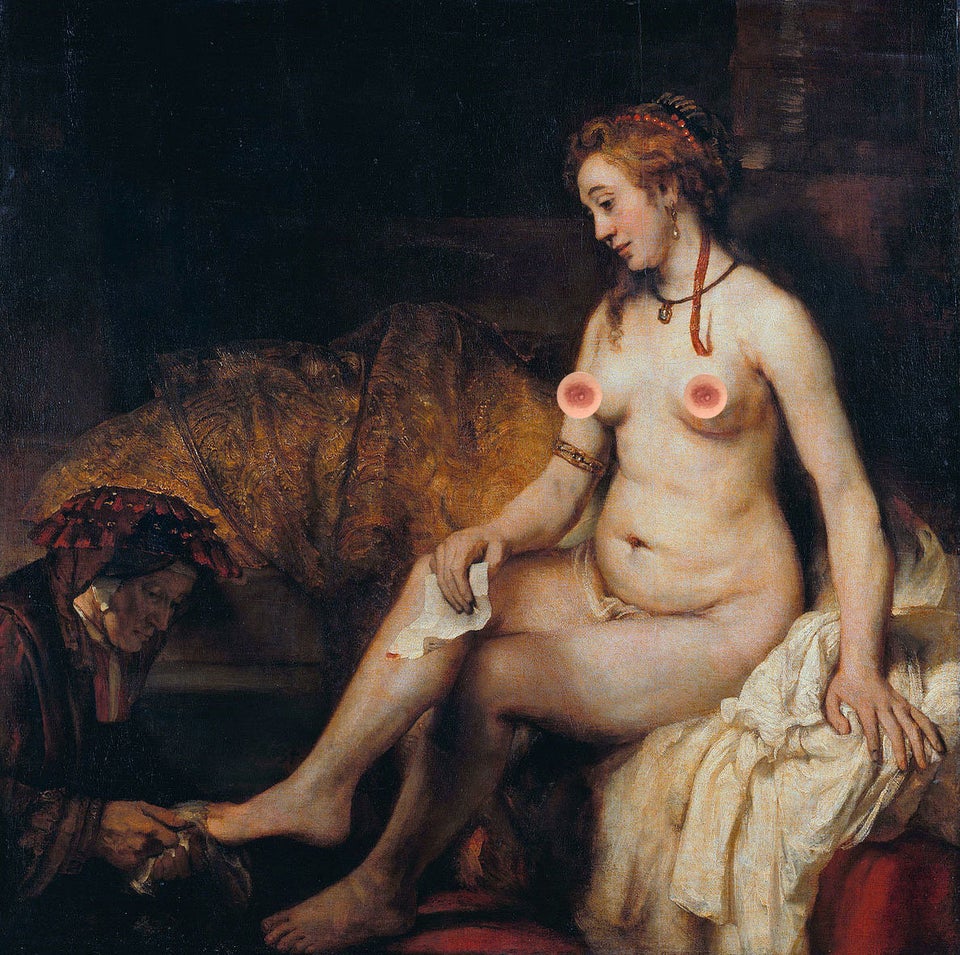 Art History With Male Nipples
Related