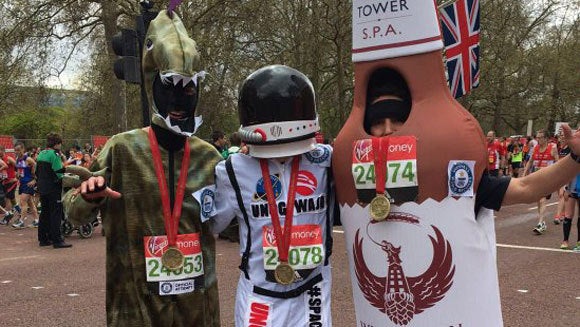 I have a very odd running style. My posture is very upright, my shoulders are tight and I drive my hands forward and back in short bursts. From a distance I resemble a Tyrannosaurus Rex.
My style shouldn't work, but for some reason it does. In the running community I am known as 'B-Rex.'
I made a pledge a couple of years ago that if I ever ran the marathon in fancy dress I would do so in a T-Rex outfit, and would also attempt to break the Guinness World Record for such a feat. The idea of a dinosaur warming up alongside the likes of Mo Farah and Wilson Kipsang felt too funny to ignore.
The first step in attempting a record is to apply to Guinness. The record can be one that already exists, such as 'Marathon Dressed as a Banana,' or you can apply to set a new record (subject to Guinness's approval). 'Marathon Dressed as a Dinosaur' had already been set in 3hrs 30 mins, so I had a fair target to beat.
Guinness accepted my application and provided me with a list of guidelines. The outfit had to meet strict specifications and I had to provide pictures to the World record team for approval. Here's mine: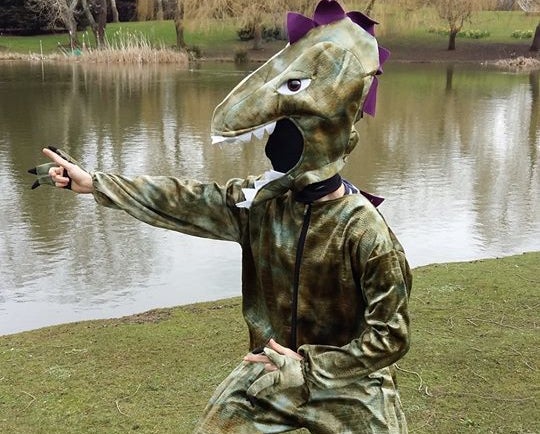 Yep, it's someone's job to analyse pictures like this.
A week later an email confirmed that the outfit was accepted. It was time to commence training.
I was running a high-mileage schedule to be in good shape for the marathon, but unfortunately very few sessions were completed in the dinosaur outfit. I did a few laps of our local track and I competed in a six-mile Sports Relief race - but other than that, the outfit sat on my bedroom door looking at me. It'd be fine on the day, would it?
Race day arrived. The starting area was littered with preposterous outfits. World record runners were placed in the same pen and given minor celebrity status. Press took photos, TV interviews were taken, small children even asked for autographs. I waited alongside a man in a crab outfit and discussed race tactics. "Do you have to run sideways?", I asked.
Then a fearsome sight came towards me. It was another man dressed as a dinosaur - a T-Rex no less. He sauntered up to me, tail snaking over the concrete.
"You going for the record too?"
"I'm going to try," I said.
"I'll just be happy to beat 3 hours 30. What about you?"
At least three diplodocuses ahead of you, I thought.
This would be the real race of the day.
The gun sounded and I set off fast - a man in crab outfit, a hot-dog, three bananas and 37,000 others runners behind.
The next 20 miles were the most fun I've had in my entire life. London is a magical race even on a normal day, but this experience was something special. Every time I passed a large group of spectators a loud cheer went up. "Go on the dinosaur!", they shouted. "Keep on running T-Rex!", "Move those little arms!" I high-fived everyone I could, ate handfuls of jelly babies and bananas and even had a swig on a can of beer. Over Tower Bridge the cheers were louder than a FA Cup Final. Even though the outfit was hot, I don't think I stopped smiling once.
With three miles to go the finish was in sight. I high-fived some cheerleaders, took a swig of Lucozade and waved to the thousands of spectators lining the street. I bounded passed Olympic athlete Kelly Holmes (surely a career low-point) and overtook a long line of struggling club-runners, for whom being passed by a dinosaur was the final straw. When I looked around there was no other T-Rex in sight. I was going to do it!
The final straight down The Mall arrived around twenty minutes later. I took a last swig of Lucozade, checked for certain there were no other dinosaurs, then raised my hands to the crowd.
'And coming in now, number 24053 – Ben Evans, from Guildford.'
I'd done it, 3 hours and 8 minutes. A world record!
The Guinness representatives were waiting as I crossed the line. I was presented with my certificate alongside an astronaut and man in a beer bottle outfit. We posed for photos and were interviewed for radio and TV. A surreal day had reached its highlight.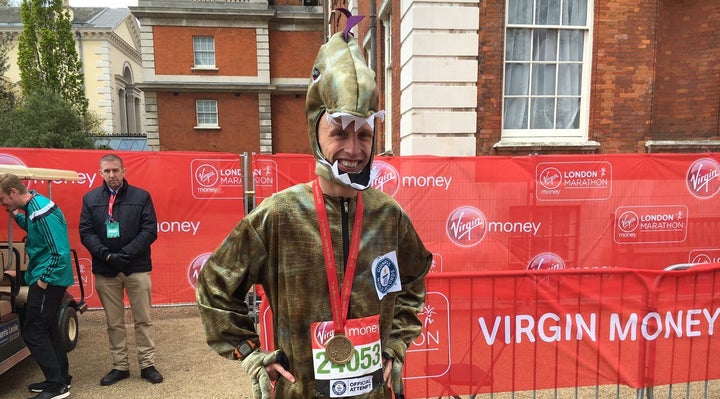 With the help of the record attempt I raised over £2000 for Aids research. I couldn't have done it without the B-Rex.
The deadline for record applications this year is the 9th February:
I strongly recommend giving it a try.