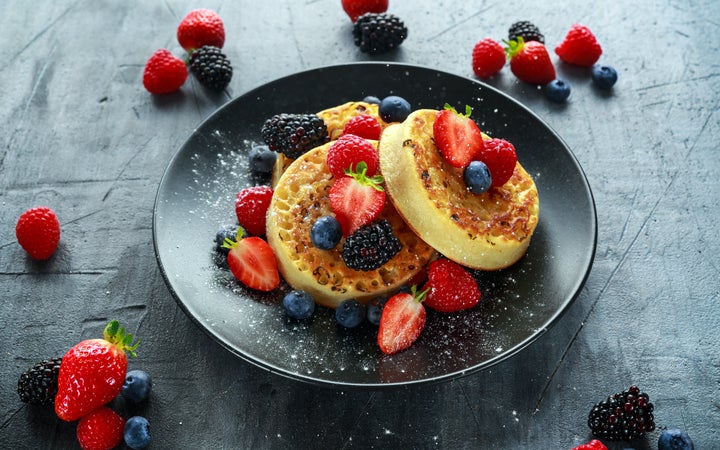 So here's a new challenge to add to your list of things to do: making your own crumpets. Given everyone's at home, Warburtons has unveiled the family recipe behind its famous crumpets, because apparently people have been searching how to make them.
And once you've tackled the main event, try experimenting with some different toppings, as suggested by a few chefs. Enjoy!
For the crumpets
You will need:
150g plain white flour
200ml water
½ tsp salt
½ tsp sugar
1 tsp baking powder
1 tsp dried yeast
Method
How to make the crumpet batter:
Add flour, water and salt to a mixing bowl

Mix vigorously with a whisk until your arm aches – at least five mins, they say – to create your crumpet batter

Mix a few ml of water into to your dried yeast

Add sugar, baking powder and yeast mixture to bowl and mix for another 30 seconds until you have a clear batter

Cover mixing bowl and put into a warm place for 15 mins. Top tip: make sure your mixing bowl is bigger than you need as it will expand.
How to bake your crumpets:
Place a greased metal biscuit cutter – any shape cutter you have to hand will also do the trick – into the middle of a non-stick frying pan

Pre-heat your frying pan on a hob on a medium-high heat setting

Before you start, give your batter a stir to remove any large air bubbles

Use a ladle to drop approx 60g batter into the cutter inside the pan

Wait for about four minutes, then carefully lift the ring off the crumpet

Remove baked crumpet from pan. If the top looks a bit gooey flip over in the pan for a few seconds. Let it cool

Repeat the above to make as many as you can eat!
And what about the toppings?
You could go for the standard slathering of butter for a simple topping, or you could become a bit more creative. In lockdown, I've had banana and peanut butter; avocado, hummus, and scrambled egg; as well as bacon on crumpets. So why not try something new?
Dan Kenny, chef and owner of The Set restaurant in Brighton is a big fan of crumpets. "Try rarebit as a topping," he says, "that's always a winner – the addition of marmite or sriracha is ace. Or fried chicken and blue cheese sauce is also delicious."
Rosie Mackean, chef and food stylist, suggests brown butter, egg and prosciutto. "For two crumpets, heat 80g of butter until it starts to froth. As soon as it turns a golden caramel brown, throw in six sage leaves and take off the heat. Crisp up four slices of prosciutto by laying flat on a lined baking tray and baking in the oven at 180 until crispy and fragrant. To serve, drizzle a bit of the sage butter on your warm crumpets, top with a poached egg if you like, shards of oven crisped prosciutto and dress with more of the sage brown butter."
Another suggestion from Mackean is egg mayonnaise and asparagus. "For two crumpets, boil two medium eggs for 7.5 minutes, cool in iced water before peeling and chopping finely. Mix the eggs with 1 tbsp mayonnaise, 1/2 tsp of Dijon mustard, salt and fresh black pepper. Blanche four spears of asparagus until just tender and refresh in ice cold water. Slice on an angle and then mix with a squeeze of lemon juice, 1 tbsp good olive oil, 1 tsp finely chopped capers and a handful of finely chopped dill. Dress your warm crumpets with the egg mayonnaise and top with the asparagus vinaigrette and more fresh dill."