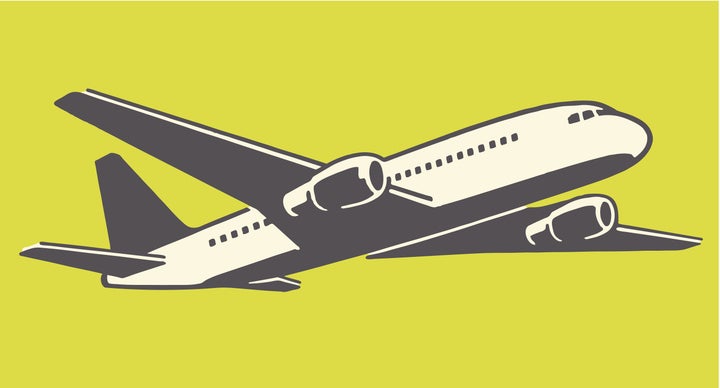 Planning a holiday with a big group can be a headache – finding dates everyone can do, in a country people actually want to visit, with a budget that suits all attendees. It's not an easy task – but it's do-able, if you're patient.
Thee people have shared with HuffPost UK how they managed to pull off a big group holiday, plus their tips that made it easier.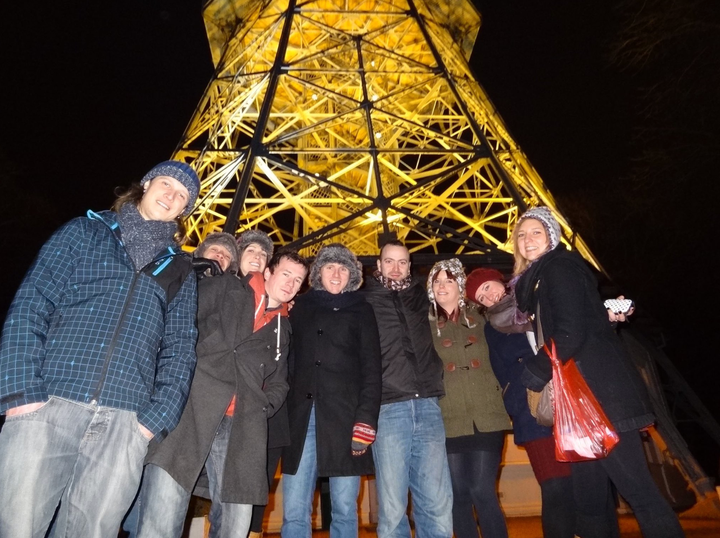 'We always stayed in one big shared hostel room'
Tom Walters, 35, Chichester:
"I've been the chief organiser for our circle of friends for well over a decade now. I've organised 10 years worth of New Year's Eve trips to lots of European cities for about 15 of us! It's a large group and we've all been friends since uni. The first 10 trips were spent in different European cities – Barcelona, Rome, Prague – and we soon gravitated towards slightly less touristy places.
"We always went from 29 December until 2 January, and I always picked hostels. We would stay in one big shared dorm (with a rough split of seven men/seven women) and met some incredible people over the years. Around 2007, we noticed a change in how hostels presented themselves – they started to become artistically interesting and kitting themselves out with good decor."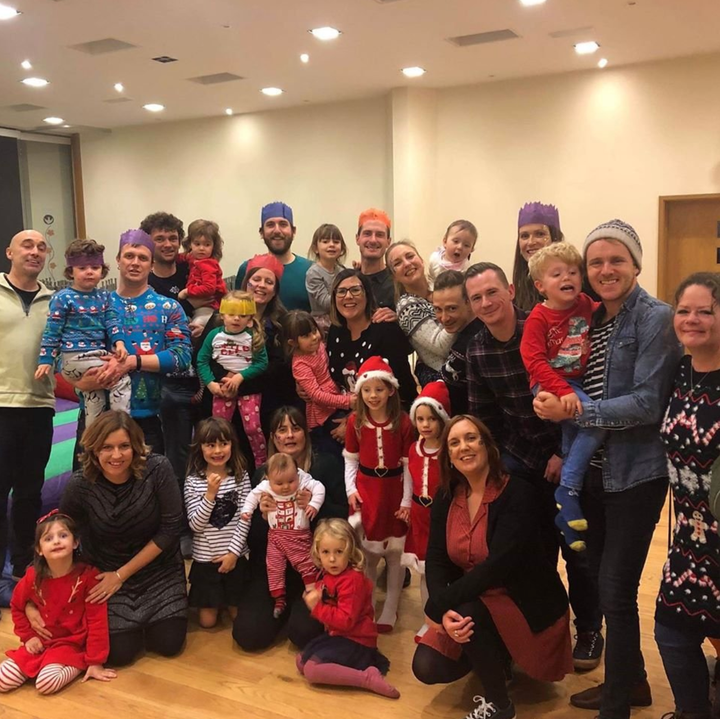 "After we'd been in the hostel for a day or so we'd get to work on making as friends with the staff. This way we'd get the insider tips on the best place to spend New Year's Eve. From songs around a campfire with a moustachioed guy from the UN under Charles Bridge in Prague, to letting off fireworks on Kuennsberg bridge in Berlin, to having a sing off with a group of 60-year-old Ukrainians in Krakow, each one of those nights will last long into memory.
"For the past few years, I've been responsible for the same search but now for 10 adults and 12 children, too. This usually means a large house somewhere in the west Country!"
Tom's three tips:

1. Finds cheap flights on Skyscanner – I either paid for everyone if I had enough wriggle room on my credit card – or checked in with everyone almost daily to make sure they'd booked them.

2. Don't plan what you're going to do when you get there. Plans are easily affected by an infinite number of variables so just plan the basics.

3. Know where you are, speak to as many locals as possible and always be as friendly and approachable as possible.
'Different people volunteered for different tasks'
"I did a group trip to Dublin in July 2019 with 10 girls – the result of a major group effort organising. It was often discussed in wider group events – 'Let's go away without the boys' – but one girl made sure it happened. She set up a Doodle poll and nudged everyone until we filled it in and confirmed a date. It took months to find one but Doodle was our best friend. The group includes civil servants and a fashion designer – and pretty much everyone in between – so it was seriously tricky trying to coordinate calendars. But we managed it.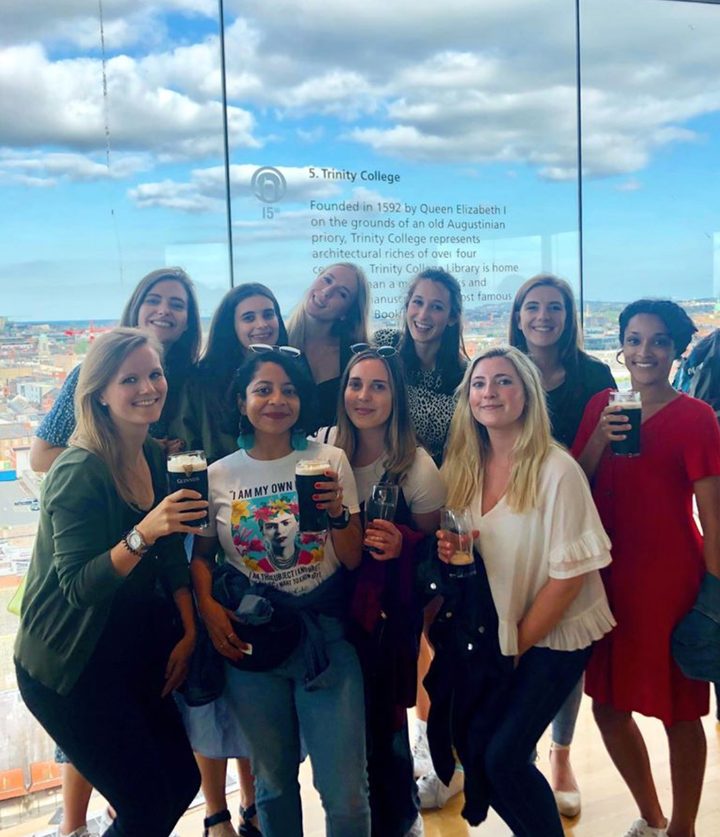 "Different people volunteered to plan different tasks – I was more than happy to take a back seat. One girl looked into different AirBnbs, another two volunteered to research the best nights out, for example.
"It was a jam-packed weekend of drinking and walking around Dublin. We went to the Little Museum of Dublin, Temple Bar, the Guinness Storehouse, Trinity College, and had some amazing food on Drury Street – the typical tourist spots. It was brilliant."
Celia's 3 tips:

1. Don't feel like you've got to do everything together all the time. It's everyone's holiday and there's no pressure to spend every waking minute together – people like different things.

2. Talk about money. Make sure everyone is comfortable with whatever splitting method. We loved Splitwise, which automatically splits between people. No mental maths headaches or uncomfortable financial chasers.

3. Pre-book meals out. It's easy to forget to do this if you're used to travelling solo or in a couple – most places find it difficult to accommodate large groups without forward notice.
'For the first time we managed to get our husbands and kids together at the same time'
Claire Gregory, 37, from Warrington:
"In 2000, I made some of my very best friends at university and we have all made a conscious effort to stay in touch. Last summer we all went on an amazing holiday together to Croatia – all 28 of us! For the first time we managed to get our husbands and kids all together at the same time and it was a dream holiday. We started planning it just before Christmas the year before we went.
"It's really hard to all get to spend quality time together and whenever we arrange something only half of us tend to make it. But I've organised trips for work so quite enjoyed doing this. I took on the task of finding a holiday home that would be big enough for all of us and have stuff to keep us all entertained."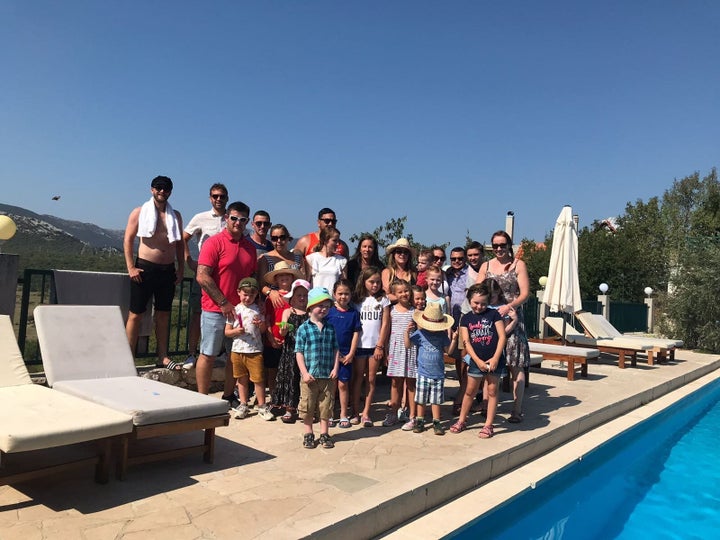 "We were limited to where there was a house big enough and narrowed it down to Spain and Croatia, choosing the latter as none of us had been before. We were lucky in that we found an amazing villa. It was big enough that we all had our own space, but had loads of social areas for the kids and adults. We hired speed boats and did a day island hopping, as well as lagoon swimming.
"It was absolutely amazing. There were so many kids that they entertained each other, which was great for us parents! We had our own pool, table tennis, play area, outdoor cinema, hot tub, and BBQ all at the house."
My 3 tips:

1. Don't offer too many options in terms of destination, accommodation and dates. Give people too much choice and you'll never make a decision.

2. Don't plan it on WhatsApp, there's nothing worse than scrolling through thousands of messages trying to find what someone had said. There's a great app called Padoq, that shows who has paid, who owes. You can upload files as well as having subfolders for key topics. It's really good for organising a holiday with a big group.

3. Before you go, set up a Google photo sharing folder so everyone can upload their pictures from the holiday. You'll end up with a great album.