Listen to our weekly podcast Am I Making You Uncomfortable? about women's health, bodies and private lives. Available on Spotify, Apple, Audioboom and wherever you listen to your podcasts.
Those impacted by the recession of 2008 may already be replaying the struggle over in their minds, with a sense of growing fear over what could happen in the months, and years, to come. It's a time to be kind to ourselves and to remember: we're all in this together.
It's understandable to feel anxious – a recession impacts the economy and people's lives, as Yuko Nippoda, psychotherapist and spokesperson for the UK Council for Psychotherapy (UKCP), explains. "Some people might lose their jobs, a recession can make it difficult to find a job, pay rises might stop or inequality can occur," she says. "Lots of negative things happen."
"For some people it's a matter of life and death. It is obviously natural to feel anxious for their future, and some people even feel in despair."
While there's no quick-fix for dealing with the uncertainty surrounding economic challenges, there are coping mechanisms and strategies that can relieve some of the burden.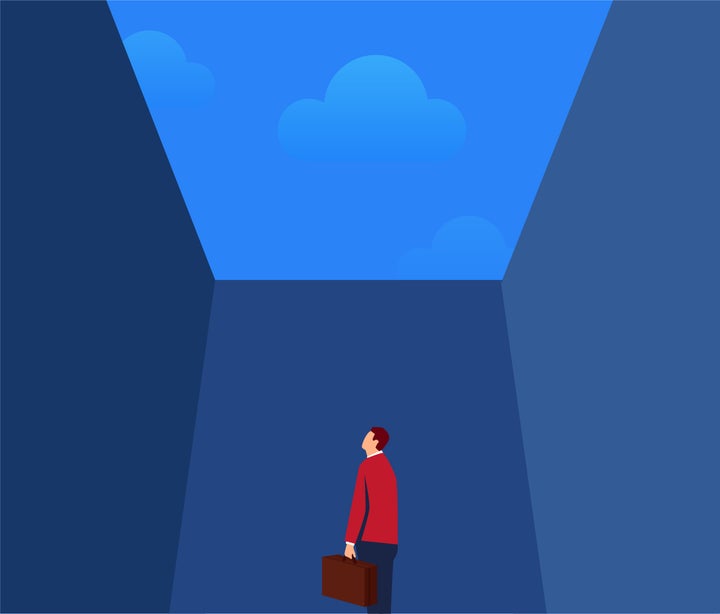 I'm feeling anxious, what can I do?
Nippoda says it's important to follow trustworthy sources of information. "There is too much information circulating, some of which is inaccurate," she says. "When we feel anxious, we tend to look for reassurance and go for any information that we want to hear. However, we need to be careful about random information as our life might be catastrophic if we follow fake news."
Psychotherapist Rakhi Chand, a member of the British Association for Counselling and Psychotherapy (BACP), agrees: "Not over-doing exposure to the news could be helpful." Limit news notifications to your phone and try not to spend hours scrolling social media if you're feeling overwhelmed by it all.
It might be useful to take five minutes and write down what kind of information you need and want to know – then investigate some trustworthy articles from financial specialists, suggests Nippoda. "Then, we will be able to find out more details of the trend, and deal with the situation more effectively," she explains.
Other coping strategies Chand recommends include: regularly exercising, getting a good night's sleep each night, eating healthily, and being aware of what you need for self-care. All of these can help build resilience.
"Being able to say no to things that aren't what we actually want is also vital in maintaining resilience," says Chand. This is important – if you're increasingly worried about money and feel unable to say no to social events or things that will cost you more than you can afford, it will only add to your worries.
A person's financial situation understandably has a huge impact on their mental health – this is especially the case for people with existing mental health problems. A Money and Mental Health survey of nearly 5,500 people with experience of mental health problems revealed 86% said their financial situation had made their mental health worse.
People hit badly by the previous recession may feel an even greater sense of despair over what happens next – especially as the last time will have been traumatic for some. If this is the case, reflect on how you survived previously, says Nippoda, remembering you have a reserve of strength to call on.
"It is important to remember the positive things you did and use the resources for your future experiences," she says. "This can lead to you having hope."
Chand agrees, adding: "Do what you can to prepare, but try consciously to let go of what is out of your control," she says. "It's a bloody hard thing to do, but try. Stay in the present as much as you can – think about managing the short-term rather than thinking too much into the future, if possible."
Activities like reading, seeing friends, going for walks, listening to music or taking a bath can help you to stay in the present.
I'm seriously concerned about how I'll cope
A report on the 2008-2013 recession by the University of Bristol suggested economic recessions can lead to increased levels of mental illness, suicide and suicidal behaviour. Often, key stressors include job loss, financial difficulties, debt, loss of home and relationship stresses.
There's a big difference between feeling a bit anxious about what the future holds, and feeling suicidal or like there's no way forward. If you're in a bad place, it's imperative to seek help – whether that's speaking to someone you trust about how you're feeling, calling your local NHS urgent mental health helpline, or, if you don't feel like you can keep yourself safe, going to A&E where a team of trained mental health specialists can offer further support.
Charities such as Samaritans, Papyrus and the Shout Crisis text line can also lend an ear if you don't feel like you have anyone close to you to speak to. In some parts of the UK, crisis houses are available for people to stay in for a number of days during a mental health crisis – you can find one here.
Speaking to others about how you're feeling, or what you're experiencing if you have lost your job or are worried about money, can be a relief – especially if you feel like there is no clear solution on hand.
Helpful places to get advice during a recession include: the Citizens Advice Bureau (CAB), the Money Advice Service (try its money navigator tool), local Job Centres, debt advice agencies (find a free debt advisor here), and mental health charities like Mind, Rethink Mental Illness, and Young Minds – some of which can offer discounted therapy sessions. You can also get a limited number of therapy sessions for free on the NHS or pay to go private. Some charities, like Turn2Us, offer money grants for people struggling financially.
"Talk to others, if at all possible," says Chand. "Having spoken to many during lockdown, I repeatedly heard that difficulties were vastly assuaged because of connections."