Claims about Weinstein have prompted women to come out and speak about their own experiences of sexual assault and harassment at work.
A 2016 report showed more than half of women have experienced sexual harassment at work - from unwanted touching to demands for sexual favours.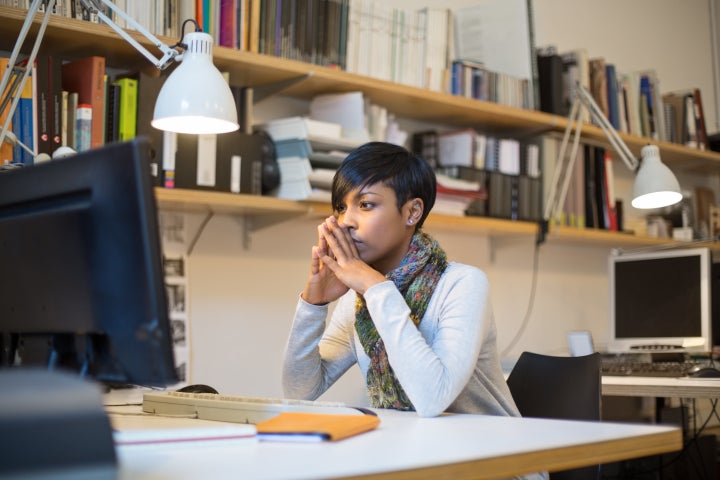 Sexual harassment is described by Citizens Advice as being unwanted behaviour of a sexual nature which: violates your dignity; makes you feel intimidated, degraded or humiliated; or creates a hostile or offensive environment. It is a form of unlawful discrimination under the Equality Act 2010.
Examples of sexual harassment include:
:: making sexual comments or jokes
:: physical behaviour, including unwelcome sexual advances, touching and various forms of sexual assault
:: displaying pictures, photos or drawings of a sexual nature
:: sending emails containing sexual content.
A 2016 report from the Trades Union Congress (TUC) in collaboration with the Everyday Sexism Project found 52% of women and 63% of young women (aged 18 to 24 years old) had experienced sexual harassment at work. Of those who said they had experienced it, 79% did not tell their employer about what was happening.
Frances O'Grady, general secretary of the TUC, reiterates the importance of creating a culture where women can come forward for help.
"Sexual harassment is unacceptable in any workplace. Many women feel too frightened to come forward," she told HuffPost UK.
"That's why every employer must adopt a zero tolerance attitude, treat every complaint seriously and take action against men who harass women."
Here, Alice Hood, head of equality and strategy at TUC, reveals her tops tips for dealing with sexual harassment at work:
1. Tell the person to stop
"If you feel able to, let the person know that their joke, actions or comments made you feel uncomfortable," Hood explained. "You might prefer to do this with a friend, union rep or another colleague present."
2. Keep evidence of their actions
"Make a note of what's happened and when, and any witnesses. And if you're in a union, tell your rep what's going on," Hood suggested.
"Keep copies of any emails, texts or social media posts related to the harassment.
"If you know that an individual's actions make other people uncomfortable, even if they aren't directed at them, then that's important too and you should make a note of it and ask if they'd be willing to speak up if you decide to raise it with managers."
3. Raise the issue with a senior member of staff
"If it's not your manager harassing you, then raise it with them straight away, and if it's your manager who is harassing you, then tell another manager, someone higher up in the organisation or the HR department if your company/organisation has one," she added.
4. Take notes on what steps have been taken to address the problem.
"You should also keep notes of any steps you take to address the problem and the responses you get from the harasser and your employer," Hood advised.
"All of this will be useful if you choose to go to a formal grievance or an employment tribunal."
You can raise a formal grievance. Ask your manager or HR team for further information on the company's grievance process.