Even in the midst of a global pandemic, racism doesn't take a day off. Another wave of Black Lives Matter protests have reignited around the world.
Justice is being fought for Breonna Taylor, Tony McDade, George Floyd, and other Black victims of police brutality, with attention being drawn to how anti-Blackness permeates throughout every level of society.
What makes this wave different, however, is that it has gained traction outside the Black community, with many keen to express their solidarity. I've spoken to some Black British people about this sudden outpouring we've recently witnessed – and what meaningful and lasting support looks like to us.
Britain is not 'less' racist than the US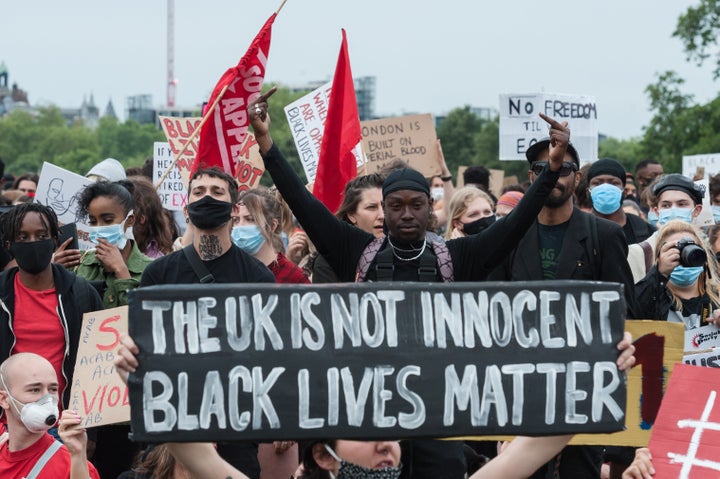 In spite of all this, racism is not seen as a UK problem. Tara Olajidé, a 23-year-old contractor from London tells me that people "feign ignorance but perpetuate the very same oppression and endorse the same exclusionary frameworks". Claims that the UK racism is 'less severe' or 'more covert' than in the US only serves to gaslight those who call attention to it.
Communications intern Tiwa Adebayo, 21, also from London, says: "I've reflected a lot on what it means to be racist. I've come to the conclusion that there is no small racism." Racism is racism, there are no levels to it.
Non-Black Brits instinctively separate themselves from the US, expressing shock or denial when confronted with stories of racism in the UK. This active ignorance is the highest marker of privilege. As Essex student Amaka Okafor, 21, puts it, "If you didn't know, it's because you didn't want to know. You have the privilege of being blind to injustice."
Why are you rushing to label yourself an ally?
It is now clear that there is no neutrality when it comes to racism: silence is complicity. Non-Black people need to use their voice to denounce anti-Blackness. "Just because you're not Black, it does not mean the situation doesn't affect you," says credit analyst Lois Akinola, 21, also from Essex.
Yet, this new wave of Black Lives Matter had led to a series of 'Allyship 101' resources, answering the question many non-Black people are asking: how can I show that I'm an ally?
"By praising people when they do the bare minimum, we normalise bigotry."
As well-meaning as this question is, it centres non-Black people, focusing on making them feel like they've done something, rather than actually doing what's necessary. Even the act of naming those who engage in anti-racist work as 'allies' presents anti-racism as something that deserves a reward. By praising people when they do the bare minimum, we normalise bigotry.
Articles titled 'Show allyship in these five steps!' list actions that avoid confronting one's own privilege, while allowing non-Black people to absolve themselves from their guilt.
But being a decent person isn't an achievement, it's something you work on every day; it requires discipline and dedication to unlearning. "Allyship is becoming a buzzword now," says student Rachel David, 22, from London, but are you actually going to be practising it in your everyday life?" If some people were honest with themselves, the answer to this would be "no".
Publicist Jay Colley, 26, from Bristol expresses her frustration at individuals and organisations showing fake solidarity "for their own gain". "They look like they're doing it for the greater good but it's more about protecting their own image".
The Black community is not interested in empty statements made by those that are feeling the pressure. Tinashe Wadi, 21, a student in London tells me that "because of them, this has quickly become a trend, an aesthetic".
Within a few days, the risk is that a wider public believes supporting Black lives starts and ends with a post on social media. Little thought is given to the effect that has on Black people. Student Jamie Macdonald, 22, also from London, talks about the people he knows who were silent in his struggle, but are now actively denouncing racism on social media.
"It seems like they're only happy to act in an anti-racist manner when it is aesthetically appealing and doesn't cause any sort of conflict," he says. "They're more interested in what people think of them than actually combatting white supremacy".
What does real support look like?
When it comes to helping the Black community, short-term support and long-term support are just as important as each other. They also look very different. In the long term, overcoming white supremacy requires a collective unlearning and re-education. But right now, Black people are dying, so in the meantime, focus on what can be done now. London-based singer Kai Exos tells me: "engage with the movement. You have a voice, and you can use it, believe me."
Essex-based student Tiana Francis-Irwin, 22, tells me we need real, concrete action in moments of crisis. "People retreat into this place where all they do is acknowledge. They say 'yes, I have privilege!' And that's it, they're done. Ok, you have privilege, what are you going to do about it? How are you going to stop that? How are you going to change that?"
There is a worry in the Black community that soon this passion will die out, and Black people will be left to fight for themselves. How can we prevent this from happening? Technology apprentice Paul Frimpong, 21, from London says: "If you have the money to support Black movements, DO IT! Because ultimately, money is what drives change in this world." Sign petitions, write to your MPs, protest if you can, we need all hands-on deck.
Amaka Okafor, 21, another Essex-based student, sums it up perfectly: "Don't sit on the fence – we cannot allow ourselves to become apathetic, because with apathy comes acceptance."
Things you should be doing, not just now, but in general
Show your solidarity in the short-term by:
Checking out this resource (credit to @_nmtr) on practical ways to show support in the UK. It includes emails to write, petitions to sign, and funds to donate to.

If you don't have the money to donate, read this Twitter thread on alternative methods of donating to Black Lives Matter.

Here is an excellent article from Gal Dem on what to do if you can't protest on the streets for Black Lives Matter.

Uplift Black voices already discussing these issues on social media: @ukblackpride, @jasebyjason, @ChantayyJayy, @divanificent are just a few accounts to follow on Twitter.

Don't DM your Black friends telling them all the ways you're showing support. We aren't going to validate you!

Don't share violent videos. This Gal Dem article explains why.

Don't use this as a time to promote your work. Parris Walters, 21, from Essex tells me "support is certainly not turning our pain into art projects"
Show your support in the long-term by:
Boycotting racist brands and celebrities. Don't engage with organisations that show anti-Black practices, or that profit off Black culture while failing to protect Black people.

Supporting UK Black business – here is a Twitter thread of Black businesses you can support.

Speak out in the face of injustice. Speak out even when it makes you feel uncomfortable.

Don't centre non-Black voices. This isn't about you! As Parris says: "Take accountability. Understand that whether you like it or not, you have been complicit in racism and benefitted from privilege"
Ultimately, when the dust settles, we all still need to be active in our support. Do your research and educate yourself, so that Black people don't have to do the work for you. This Google Doc (credit to @HettieHMcIntyre) is full of resources to get you started.
Big thanks to Parris Walters, Tara Olajidé, Jay Colley, Kai Exos, Jamie McDonald, Tiwa Adebayo, Amaka Okafor, Lois Akinola, Paul Frimpong, Tinashe Wadi, Rachel David and Tiana Francis-Irwin for their insight.