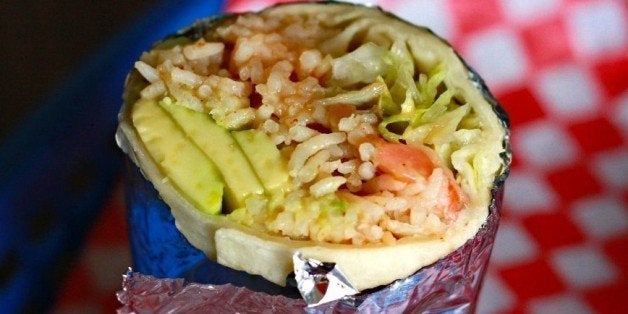 Burritos are glorious. Stuffed with beans. Loaded with cheese. Filled with all the guacamole. It's no wonder so many of us are addicted to these overstuffed tortillas. Their vast size also means that they don't come cheap. A burrito at Chipotle can easily set you back over $10 -- and then there's the issue of guacamole. We are here to save you money by providing you with the know-how to make your own burritos, just as good as the pros do.
Before you can wrap your burrito like a boss, you have to properly build it. The folks at Qdoba filled us in on the best way to do that. First, start with a warm tortilla -- this will make it more pliable and easier to roll. Second, add rice. The rice helps absorb the flavors -- er, juice -- of the other ingredients. Next, add your warm ingredients. Then, your cold ingredients. And now, get ready to roll.
Once you have all the fillings in place, pull the bottom half of the burrito over to meet the top half.


YouTube: Tammy's Recipes
Then, pull the tortilla back. This will form the filling into a roll.


YouTube: Tammy's Recipes
Next, fold one side in.


YouTube: Tammy's Recipes
And then the other side.


YouTube: Tammy's Recipes
With both ends folded, tightly roll your tortilla until you have a perfect, beautiful burrito.


YouTube: Tammy's Recipes