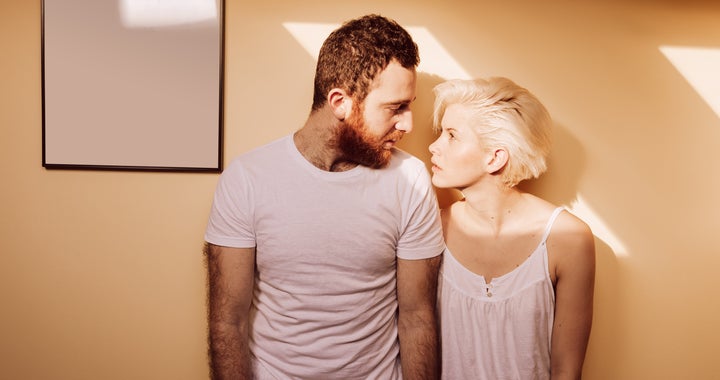 Period sex can get a bit messy ― and The Flex Company knows that fact very well.
"FLEX allows couples who wouldn't have previously had period sex a new opportunity to talk about it and try it," head of acquisition and growth at The Flex Company, Erika Jensen, told The Huffington Post in 2016. "And for those of us who were already comfortable having period sex, FLEX saves our white sheets and allows us to enjoy the moment more, instead of running to the shower."
Jensen, along with The Flex Company founder Lauren Schulte, conducted a survey to find out how people really feel about period sex ― and some of the results are somewhat surprising.
The questionnaire, published in August 2016, surveyed 502 people from around the world, though the majority of participants hailed from the U.S. Eighty percent of the pool identified as female, 17 percent as male and the rest as trans, intersex or gender queer. Around 85 percent of participants identified their sexual orientation as straight.
The Flex Company collected the data in a series of charts.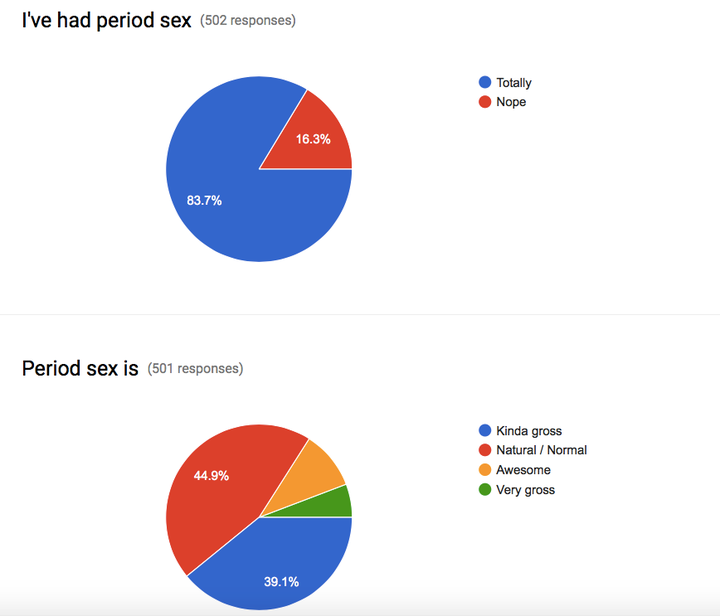 Out of the 500-plus people surveyed, 83.7 percent reported they've had period sex and 16.3 percent said they have not. A whopping 55 percent thought of period sex as "natural" or "awesome" with around 39 percent saying it's "kinda gross."
Since it's no secret that period sex can include some post-coital cleanup, 70 percent of respondents said they have a conversation with their partner prior to having period sex about whether or not to have sex while one partner is on their period.
When asked what their biggest issue with period sex is, 86 percent of those surveyed said "the mess and clean up." The clean up plan does need to be addressed pre-coitus: Towel? No towel? Shower sex? Whatever you do, communication is key.
Some people think there's absolutely nothing bad about period sex, with 6.4 percent of respondents saying they have no issue and "love period sex."
According the survey, women are two times more likely than men to be unwilling to have sex with a new partner due to her period. Forty-five percent of straight women, however, reported they've had a guy turn down sex because they were on their period. One good piece of news: 30 percent of those polled want to have more period sex.
Scroll below to see more graphs from The Flex Company's period sex survey.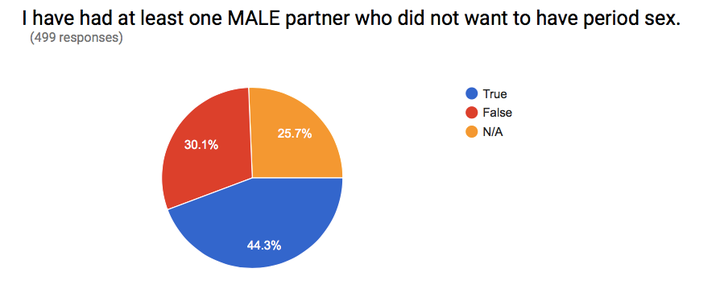 Jensen explained some of her thoughts on the survey's findings in a blog on Medium.
"Period sex isn't the problem. The problem is our perception of things unknown," she wrote. "... If there is something you've never done because you're scared or embarrassed or (worst of all) set in your ways just because, I urge you to do it. Or talk to someone who has done it. Explore a new perspective."