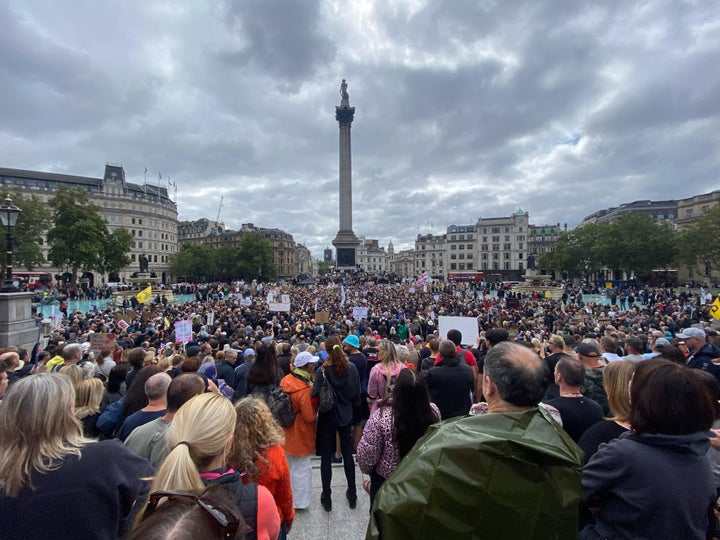 A large crowd has gathered in Trafalgar Square to protest against Covid-19 lockdown measures.
The 'Unite for Freedom' event, which started at midday on Saturday, was organised by a number of anti-lockdown groups, who claim the government has responded with disproportionate force to the virus.
More than a thousand protesters are thought to have assembled in central London, describing the virus as a "hoax" and demanding restrictions are brought to an end.
Face-coverings were near non-existent, with banners with slogans such as "masks are muzzles" and "stop 5G" – a reference to baseless links between the technology and coronavirus – on display.
Covid-19 has killed more than 40,000 people in Britain to date.
Among the key speakers at the event were climate change denier and and anti-5G campaigner Piers Corbyn and David Icke, a conspiracy theorist perhaps best known for claiming that the world is run by reptilian aliens.
In a poster shared online to publicise the event, organisers called for "no more lockdowns, no social distancing, no masks."
The poster also demands "no mandatory vaccinations". No vaccines are mandatory in the UK and there is currently little evidence to support claims that a coronavirus vaccine will be mandatory in the UK.
Protesters are also calling for the government to "restore all human rights that have been violated." In April Robert Buckland, the UK's justice secretary, said the UK's response to Covid-19 represented a necessary "infringement" of human rights – but in doing to they protected Article 2 of the Human Rights Act, the right to life.
While demonstrators have garnered significant support online – particularly on Facebook where public pages and groups dedicated to opposing lockdown have thrived – many have responded angrily to the gathering, or simply pointed out that a potential second wave probably can't be stopped by a protest alone.
A similar, much larger, protest in Berlin was ordered to disperse earlier on Saturday after around 18,000 people took to the streets to speak out against restrictions.
The demonstration had initially been banned, but campaigners won a legal battle on Friday night allowing them to go ahead.
Authorities imposed mandatory mask-wearing and social distancing, rules which were broken by attendees leading to the dispersal of the protest.