It is ridiculous to be this nervous about icing a cake. Yet here I am, chef's hat askew, hand shaking, as bright white mirror glaze cascades onto a pristine chocolate circle. Never has a steady pouring action been so important: too fast and it will gloop right off the cake; too slow and lagoons of dark cocoa rudely repel the sleek finish. The terrible danger of air bubbles looms.
There's a reason I have never mirror-glazed a dessert fit for a queen before. Largely, it's because I'm not a skilled patissier with a royal warrant. Happily the man who has kindly invited me into his kitchen is exactly that – and today Brice Diallo is going to try and show this complete amateur how to make a right royal wedding entremet.
A right royal wedding what? Entremets, for those not nearly invested enough in Bake Off the Professionals (what are you doing with your Sunday evenings?), are posh, delicious delights that consist of sponge, mousse and fruit layers, usually with a mirror finish and intricate decoration. They are what the Queen might send round instead of a Victoria sandwich if she wanted to give you a cake.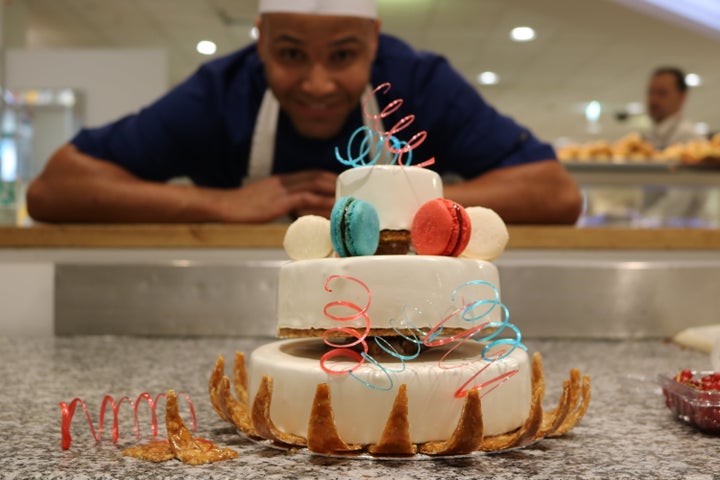 In fact she might very well send one of Brice's entremets. Brice moved from France, to work at Heidi's, a patisserie and bakery in Daniel's department store in Windsor, a mere stroll from the castle. For 100 years the same family have owned the store, which has held the royal warrant since 2004: Supplier of Gifts by Appointment to HM Queen. Essentially, if the Queen wants to give someone a gift, Daniel's is one of the places she – or let's be honest, her staff – shops for them.
Everyone in the store is very discreet about the royalness of their goods. Despite my best attempts they are not going to share the Queen's shopping habits, but eventually I wheedle out of them that yes, cakes from Heidi's have indeed gone over the royal moat.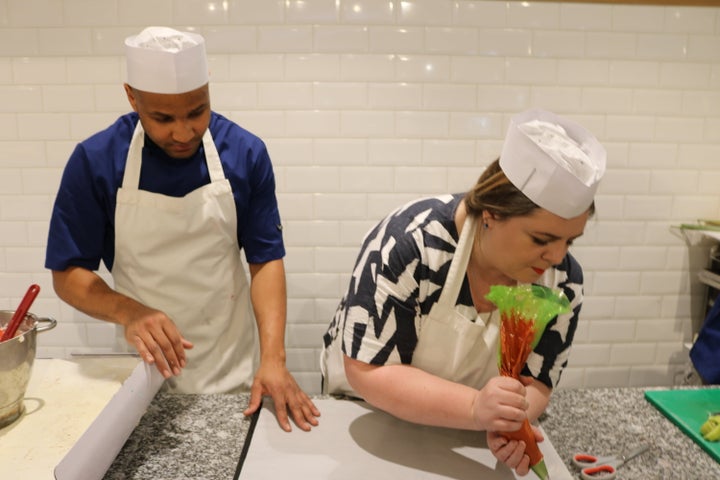 Which is why I'm here to make a royal-standard cake. And also why Brice, when he's not giving patisserie lessons to clueless journalists, has been preparing an incredible chocolate sculpture he hopes to present for Meghan and Harry's wedding. Given that it consists of impossibly large scrolls, spheres and flowers that will have to balance together in a manner defying gravity, our task of making a cake fit for a queen – or princess, duchess, or whatever else it is that Meghan will become – seems almost simple by comparison. Almost.
There are a lot of steps to making an entremet. You need to start whisking, and then not stop for an eternity. There's a sponge base to bake. A rich, smooth chocolate mousse to knock up – essentially made like a custard, with added chocolate and whipped cream to give it body – and a passionfruit cremeux, in which fruit puree, egg yolks, sugar, butter and gelatine are combined to create something halfway between a curd and custard that is deliciously, mouth-puckeringly sour. All of these elements need to be made, poured and then frozen into a kind of massive gourmet hockey puck, ready for decorating.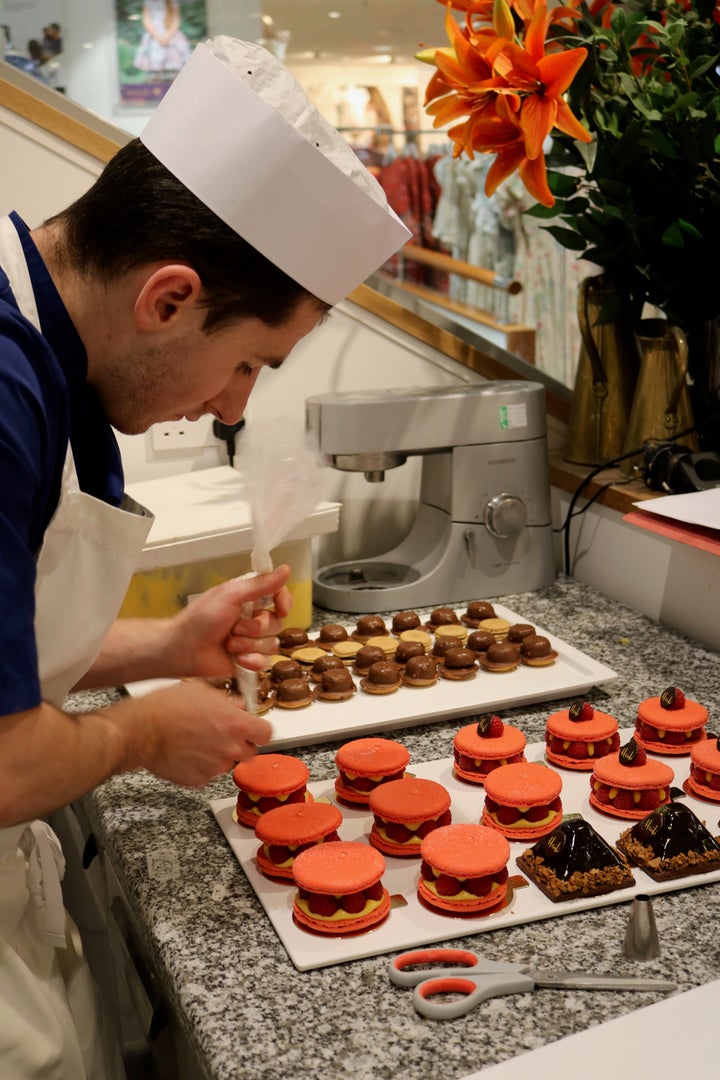 And the decorating is frankly terrifying. The mirror glaze isn't even the half of it. Also on the to-do list: nougatine, patriotically coloured macarons, hand-pulled sugar spirals. Brice, who is charming and long-suffering, has sensibly decided to get a bit of a head start on the nougatine – sugar, glucose and almonds heated into a luminous caramel and then shaped while still warm. But, as he reaches for the isomalt, it appears he has not saved my hands from the molten burning sugar altogether…
We pop this sugar substitute into saucepans, add colouring and melt until it is hotter than the surface of the sun. At which unlikely point, we pour the sugar onto a silicone mat and start manipulating it. Then, with little regard for our hands or fingerprints, it's time to start rolling the sugar into fat red and blue sausages, stretching the ends out and folding them back onto themselves, watching for the texture to become satiny and for a sheen to develop.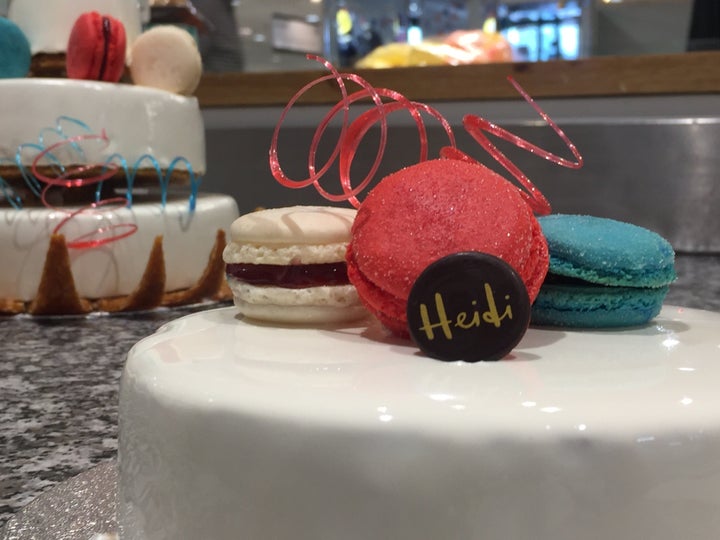 It is exactly the kind of thing you see Cherish and Benoit peering at as they stalk the Bake Off Professional kitchen, except this time it's being attempted by an unprofessional who has realised she actually quite values the skin on her palms, and so is slacking terribly.
Eventually we (he) gets the sugar to its optimum stretchiness, whereupon we have a tiny window of time in which to very gently hand-pull a selection of elegant spirals to sit atop our wedding cake, teasing the delicate and increasingly brittle sugar round mini rolling pins. Weirdly, I turn out to be quite good at this. Of all the possible undiscovered niche patisserie skills, this is not the one I would have bet on uncovering.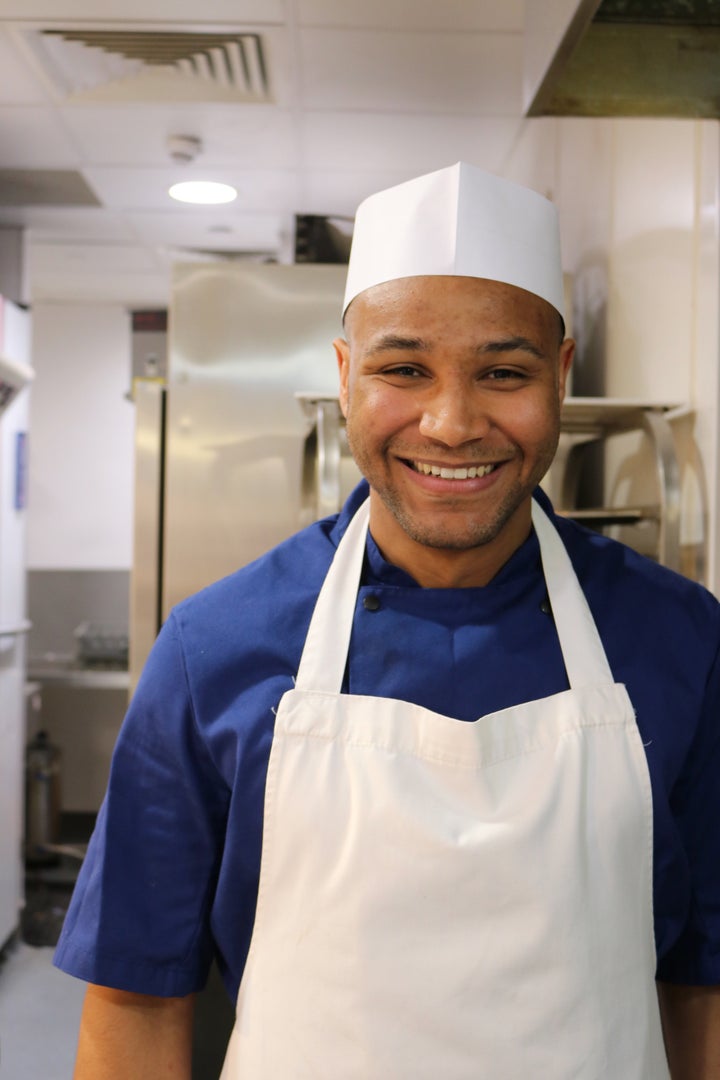 Also oddly untapped: a slight flair for macarons. We heat egg whites and sugar before whipping into meringue, then fold in ground almonds, icing sugar and stridently royal colours. (Inside, I know Meghan would not approve of bright red and blue macarons – which is why she is having a relaxed lemon and elderflower cake, while I am making an elaborate wedding entremet – but I'm too much in the royal wedding swing of things to care).
Next, the piping: immaculate circles all the same size – mine obviously aren't – finished with a little patissier's flourish that keeps them flat on top, rather than like confectionary nipples. The macarons get a rest (alas, no banging the tray on the table as television often suggests), a sprinkle of sugar and a short 11 minute bake, before my nascent piping skills are once more put to the test. Jam, it turns out, is less compliant than meringue.
But frankly, by this point I am beyond worrying about jam smudges. Cakes filled, frozen and glazed, spirals pulled, macarons sandwiched, nougatine moulded – it's on to the most dangerous part of proceedings. And Brice has absolutely no intention of breaking out cakeboards and dowel when he has large amounts of what is essentially posh toffee with which to build the wedding entremet.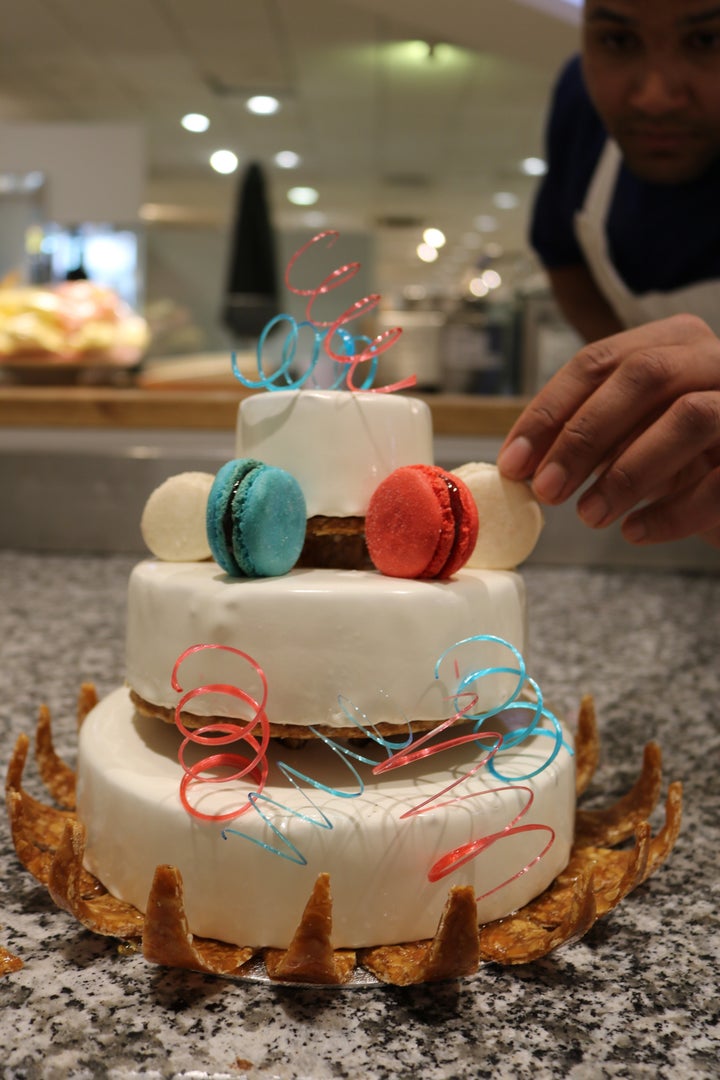 Using nerves of pure steel and caramel of industrial strength, we manoeuvre the cakes onto their nougatine bases, and construct nougatine scaffolding to support them. The entremets wobble, seemingly as nervous as us as we gingerly place fragile sugar springs and slightly-too big macarons onto the immaculate white glaze. I hold my breath – and the cake holds firm.
Fit for a queen? I very much doubt it – even with Brice's amazing help. Totally delicious and fairly impressive? I'll definitely take that.