Iain Duncan Smith has rejected the portrayal of the benefit system shown in Ken Loach's new film 'I, Daniel Blake'.
The former Tory work and pensions secretary who oversaw big changes to the welfare system, said some of the situations shown in the film were "simply not true".
Loach's film, which was this year's Cannes Palme d'Or winner, tells the fictional story of a carpenter who suffers a heart attack and is told by doctors he can no longer work. But he is ruled too healthy to receive benefits by Department for Work and Pensions (DWP)-commissioned assessment.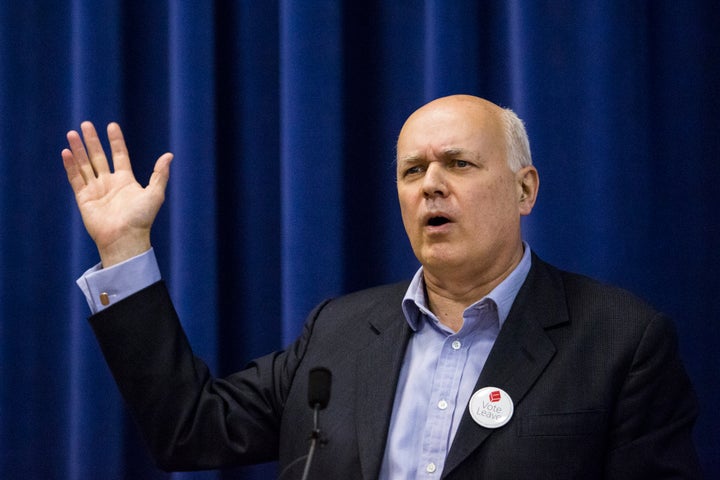 Speaking to BBC Radio 4's Today programme this morning, Duncan Smith said he had "a high regard" for Loach as a film director, but said:
"The film has taken the very worst of anything that can ever happen to anybody, lump it all together, and say this is life absolutely as it lived by people and I don't believe that."
The former Conservative cabinet minister said the film also showed Job Centre staff in the wrong light. "This idea that everybody is out to crunch you has really hurt a lot of Job Centre staff," he said.
Duncan Smith said the "vast majority" were there to "work to help people" not punish them.
"When we [the Conservative Party] came back in 2010 you had one of the worst situations, some off the highest number of long term unemployed we had ever had and a lot of people who simply weren't able to get the right support and assistance. The system has turned this around dramatically," he said.
On BBC Question Time last night, Loach, a ardent supporter of Jeremy Corbyn, said he believed sanctions placed on benefits claimants - where the part or all of the payment is docked - are deliberately cruel.
He said: "People are living in fear, and it's an absolutely intolerable way to live. There's a conscious cruelty to the way the benefits system is being imposed. The Tory Government knows exactly what it is doing.
"We know that the Government knows it's wrong because if you appeal against the assessment you will almost certainly win. They know they are teasing people in a very cruel way.
"When you're sanctioned your life is forced into chaos and people are going to food banks - there was 1.1 million people getting food parcels. People who would starve otherwise."
"How can we live in a society where hunger is used as a weapon?"
Loach has said his team "talked to hundreds of people" at the DWP to create the story.