Forget the flat-pack furniture – most of us are excited to go to Ikea for one thing and one thing only: the meatballs. Catering to all, the Swedish furniture giant already offers up a veggie version of its Scandi treat, made from chunky, chopped-up bits of chickpeas, carrots, peas, peppers, sweetcorn and kale.
The trend these days, however, is not for vegetables to please vegetarians. It's for plant-based foods to look and taste like the real meaty deal and draw in the carnivores. You only have to look at McDonald's McBluffin.
And now Ikea has jumped on this, too, upping its plant-based game by bringing out a new vegan version of its iconic Allemansrätten. With sales of plant-based food products surging in lockdown, it could be a wise move.
So, we went balls to the wall and blind taste-tested the new vegan copycat side-by-side with the meaty OG meatballs to see how they compare.
Created with some of the leading suppliers of vegan protein in the industry, Ikea's new 'plant balls' are made from a combination of pea protein, oats, onions, apples and potatoes.
On first inspection, the meat and vegan balls look almost identical, especially when smothered with the gravy (the recipe for which isn't vegan, containing cream and butter, though it's easily made with plant-based alternatives).
Honestly though, I can't tell the two apart. When taking my first blind bite of meatball, I'm instantly reminded of stuffing at Christmas. Packed with herbs and seasonings, and brimming full of flavour. Texture-wise it's pretty spot on, too.
Soft without being crumbly, tightly packed 'meat' that stays together when bitten into and moist, but there is something missing.
I'm eating the vegan version, I realise – which is almost there but slightly drier than its meat counterpart and missing that essential juiciness quality, which is notoriously hard to replicate in vegetarian and vegan foods.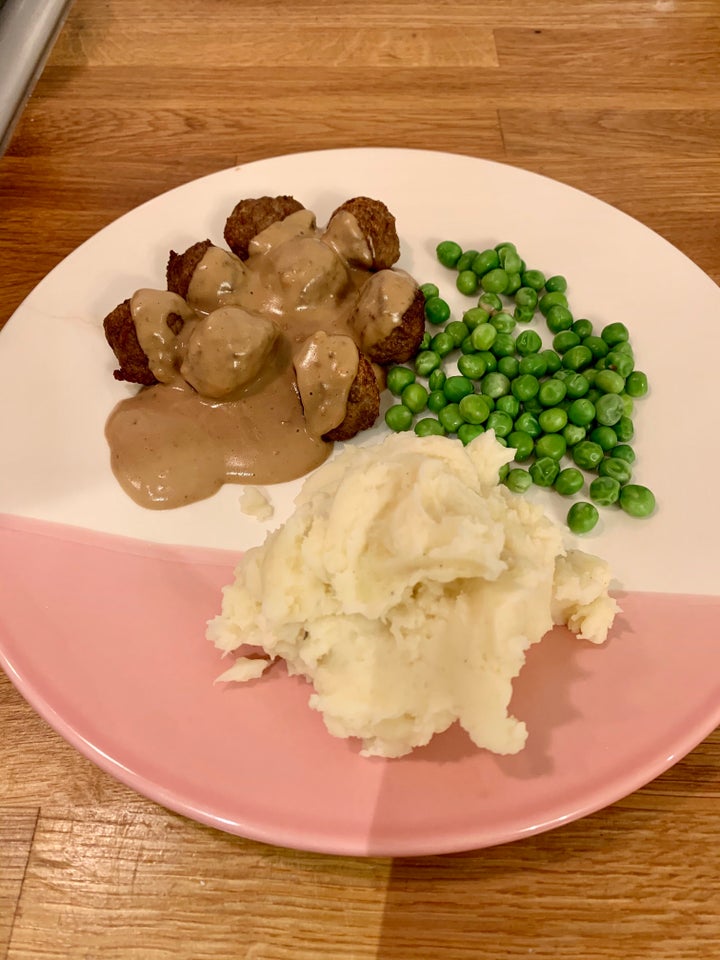 The vegan balls have been "developed with one main purpose to recreate a meatball without the meat," says Hege Sæbjørnsen, sustainability manager for Ikea UK and Ireland.
"With the new plant balls, we can offer meat lovers a great tasting, more sustainable alternative – without compromising on the Ikea meatball experience that is loved by so many."
Now, I'm only nitpicking here because I'm eating them side-by-side. If I'd only been given the plant-based version, I don't think I'd be able to tell the difference and as a meat-eater, I would happily eat these again.
If you want to try them for yourself, you'll have to wait until the end of October when Ikea starts rolling them out in its restaurants. Or, if you can't wait and want to recreate them at home, they'll be stocking the plant balls in the bistro from August 3.